Now this is going to get a bit technical for Running Insight+ readers, but it is important to know and understand because a new technology developed by W.L. Gore will eventually have a significant impact on running and trail shoe design and manufacturing.
Last month Gore's consumer business unveiled what it is calling "expanded polyethylene (ePE) as a new complementary material platform to serve as the basis for their membrane technologies." Gore's new ePE membrane will appear in Gore-Tex brand consumer products beginning in the Fall/Winter 2022 season.
Products featuring Gore's new ePE membrane will be introduced in a selection of consumer end uses such as general outdoor and lifestyle garments, lifestyle footwear and snow sports gloves from select customers such as Adidas, Arc'teryx, Dakine, Patagonia, Reusch, Salomon and Ziener.
Now here's where it gets real technical: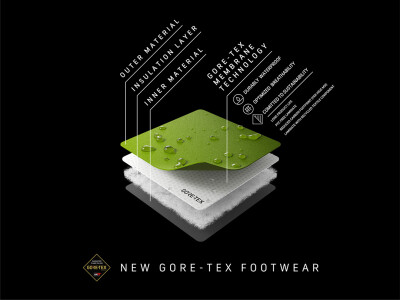 Microporous polyethylene (PE) has been available in different markets for many years. However, PE-based membranes that were suitable in other applications lacked the durability for waterproof, windproof and breathable apparel.
The challenge was knowing how to expand it and make it durable.
So Gore applied its more than 40 years of material science knowledge and polymer expertise to manipulate PE to create this highly porous, strong polymer scaffold. The result: a light and thin yet strong microporous material.
"As a materials science company, much of the knowledge that we've developed over the last 40 years isn't specific to a singular material," explains Matt Decker, Gore's global technical and innovation leader for consumer fabrics. "This expertise and deep understanding of our applications is what enables us to create complementary, durable ePE products for use in Gore-Tex brand consumer products."
The development of the materials is the starting point to building integrated and highly functioning systems. Combining ePE with polyurethane (PU) exploits its light, thin yet strong characteristics and creates a durably waterproof, windproof and breathable membrane. The membrane can then be bonded to textiles (such as backer or face textiles) to form a Gore-Tex laminate. The laminate is used by customers to create finished products including footwear, gloves and garments that are backed by the brand's "Guaranteed to Keep you Dry" promise.
"The membrane material is the functional foundation of a broader system," adds Decker. "It is a microporous material that is a wonderful scaffold as a base material for creating waterproof and breathable fabrics."
And just a little bit more about the technology: According to the company, the new ePE membrane:
● Leverages high strength-to-weight ratio to create extremely lightweight and thin composites that are still mechanically robust.
● Enables durable performance and a low environmental footprint.
● When combined with polyurethane (PU), the result creates a durably waterproof, windproof and breathable membrane.
● Combination of the ePE material and low membrane mass results in a lower carbon footprint, as measured by Higg MSI.
● Advances Gore Fabrics Division's goal for being free of PFCs of Environmental Concern* (PFCEC) over the lifecycle of its consumer products.