With the recently-announced retirement of Blaine and Robin Lewis, franchise owners of the Fleet Feet Roanoke location since opening the store in 2003, the franchisor announced that GM Matt Thompson will purchase the store with an anticipated transaction finalized sometime this month.
The Lewis' established Fleet Feet Roanoke and built a reputation of being a local resource for shoe fittings and a trusted partner for medical referrals. Additionally, the Lewis' demonstrated their commitment to supporting the Roanoke community through numerous charitable giving initiatives and in 2015 they launched Project Forward, a non-profit dedicated to helping the people of Roanoke with access to quality footwear and a means to move. Over the past two years, Project Forward raised and donated more than $230,000 through 22 fundraising campaigns, supporting 10 local non-profits.
"Blaine and Robin have been tremendous leaders and fixtures of the Roanoke community for nearly 20 years," says Joey Pointer, CEO and president of Fleet Feet. "Their passion for healthy living supported and inspired the emergence of an outdoor and active lifestyle throughout Roanoke.
"More than that, Blaine and Robin have modeled what it means to be servant leaders, dedicated not only to each and every customer who walked through their store doors, but to those elsewhere in the community, looking for a helping hand, support and encouragement," Pointer adds.
"We feel truly blessed to have been a part of and supported by the Roanoke community," adds Blaine Lewis. "We've been very fortunate to have had a great team of employees that shared our vision and helped Fleet Feet Roanoke become the business it is today.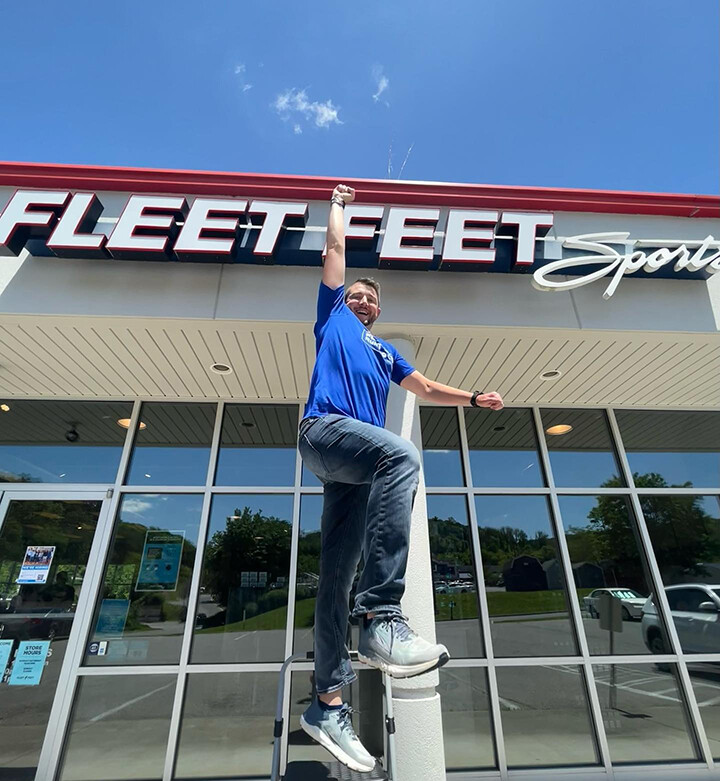 When Matt Thompson joined our team earlier this year, it was immediately evident how deeply he cared for the brand and for the Roanoke community," he adds. "As we thought about the future of our business, it became clear what a natural fit he is to lead Fleet Feet Roanoke into the future."
Earlier this year, Thompson lost his wife Tabitha in a bike accident. Four days later, Fleet Feet Roanoke established the #Miles4Tab Virtual Run and Walk, a fundraiser dedicated to supporting the Carilion Clinic Foundation, the NICU where she worked. During the fundraising period, the Lewis' got to know Thompson and brought him onto the Fleet Feet Roanoke team as a financial consultant, eventually leading to his role as general manager.
"I was moved when Blaine and Robin said they wanted to organize an event in Tabitha's honor," says Thompson. "There was an incredible outpouring of love and support from everyone in Roanoke. This community helped me get through one of the hardest times in my life; I'm grateful to have the opportunity to become a Fleet Feet owner, to give back, to help others achieve their goals and to carry the torch of this amazing couple."