Running Insight, the leading industry news source for businesses in the sport of running via its digital and print magazine, announced today the launch of Running Insight Market Week, a digital hosted buyer experience for retailers and exhibitors that will virtually take place July 20-23. Retail education and networking sessions will also be included over the event's three-day agenda.
Running Insight Market Week is working with a platform called Grip to execute the digital experience. After registering and in advance of Market Week, retailers and exhibitors alike will enter the platform and be asked a series of questions, including which retailers or brands they would like to meet. The system will then match the retailer and exhibitor based on the preferences that were chosen. If a retailer and exhibitor both request to meet each other, the platform will create a virtual meeting at a time that both parties have available on their calendar.
"Connections are the most important thing right now, so we decided to launch Running Insight Market Week based on numerous retailers and brand conversations over the last few months," said Christina Henderson, Executive Director for the event. "As the future of events will continue to look different, we will continue to be nimble and open to new ideas from our partners so that we can better support this community."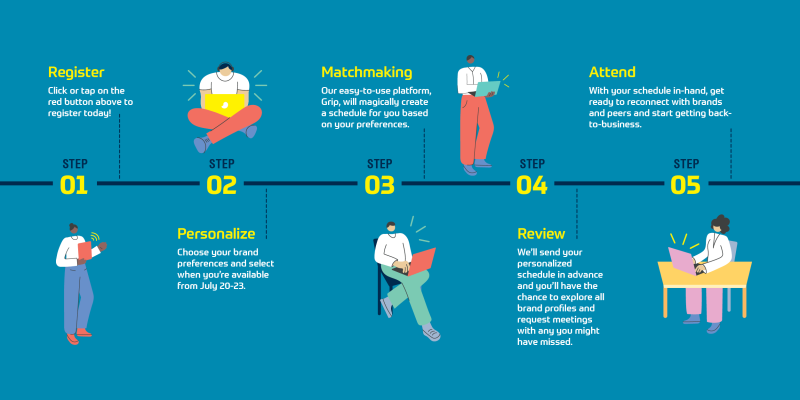 Retailer Benefits
It's free!
It's easy. Retailers simply select which brands they'd like to meet with and what times they'll be available from July 20-23 and the easy-to-use platform will schedule meetings for them.
Meeting schedule will be sent in advance. After the matchmaking platform works its magic, retailers will have the chance to explore all exhibitor profiles and request meetings with any exhibitors they might have missed.
Provides an opportunity for much needed face-time with brands to discuss inventory strategies and check out what's new.
The ability to reconnect with peers and dig into what business looks like for the remainder of 2020 at virtual networking roundtable sessions.
Access to educational sessions addressing timely topics.
Retailers who attend meetings with 75% of exhibiting brands will get a free Retailer Pass to The Running Event.
Exhibitor Benefits
Ability to request meetings with all attending retailers on one platform.
Valuable meetings in one digital setting at a low cost with no physical set up.
The Hosted Buyer platform will match, schedule meetings and create daily schedules for retailers and exhibitors.
Meeting schedules will be provided in advance with the ability for exhibitors to request additional meetings with any retailers with whom they did not originally match.
Brand exposure and visibility in Running Insight and all pre-event promotion.
Running Insight is the sister brand to The Running Event and Best Running Stores - all produced by Diversified Communications. For more information or questions around Running Insight Market Week, please visit: www.runninginsight.com/market-week.