Coming out of The Running Event last November, Shawn Hoy and his Saucony colleagues were a giddy bunch. Saucony's upcoming three-shoe Endorphin footwear collection, headlined by the carbon-plated Endorphin Pro racer, was one of the most talked about products in Austin, an undeniable belle of the annual industry ball. Into 2020, that shine persisted.

In conjunction with the U.S. Olympic Trials Marathon in late February, Saucony offered a sneak peek of the Endorphin Pro at a VIP event hosted by Big Peach Running Co.'s Midtown Atlanta location. Two days after that triumphant gathering, Saucony athlete and marathon rookie Molly Seidel captured a runner-up spot in the women's race sporting the Endorphin Pro.
With a hit on their hands, Saucony leaders like Hoy, the vice president of global product, began earnest conversations about dropping the Endorphin Pro into the marketplace sooner rather than later.

Then COVID-19 made landfall, sweeping over the U.S. landscape and shuttering run shops across the country. The unprecedented punch to American life forced brands to reconsider so many plans, including how footwear drop dates might mesh with a running retail marketplace only now beginning to reopen and resume quasi-normal operations.

Over recent weeks, a slew of updated models hit the market as planned, including the 37th edition of the Nike Pegasus and Mizuno's Wave Horizon 4, while some highly anticipated new entrants such as New Balance's speedy FuelCell Prism debuted as well.

Other footwear models, however, have had their targeted drop dates moved. From supply chain and inventory concerns to marketing, a mix of factors have played into brand leaders' ultimate decisions to alter shoe-launch dates — and the rejiggering might not be done.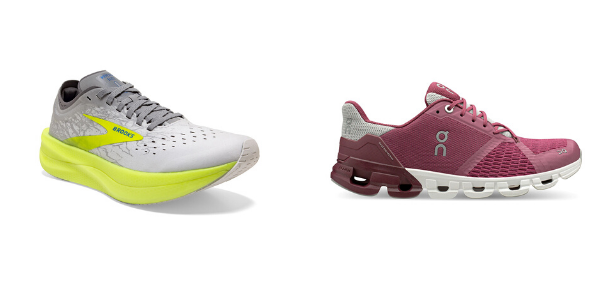 Delaying Key Models

In the Running Industry Association's (RIA) COVID-19 Brand Survey released on May 18, one quarter of run specialty brands reported they would delay new product launches in an effort to manage excess inventory amid a high level of order cancellations. In the impending third quarter, nearly half of brands anticipate delaying product launches at least one month.

Such delays capture outsized attention in the footwear space, where running shops and their most fanatical consumers tend to eagerly await hyped-up new models and fresh editions of old favorites — perhaps even more so amid a global health pandemic.
While Brooks initially planned a limited release of its much-ballyhooed update to the Hyperion Elite at the close of April, the Seattle-based run specialty pacesetter has since decided to do a full-run launch of the Hyperion Elite 2 on September 1. "Amidst the disruption of this global pandemic, we are maintaining our focus on the needs of the runner while also being mindful of the retail landscape," Brooks chief marketing officer Melanie Allen says, adding that the debut of the Levitate 4 and Bedlam 3 have also been pushed from June 1 to August 1.

In setting the new launch dates, Allen says Brooks carefully considered the evolving retail and running environments as well as the unique challenges facing retailers.

"It's important for us to acknowledge the inventory that these retailers are balancing as a result of shutdowns," Allen says. "By shifting launch dates, we're hoping that these staggered intros can help them manage their business as they reopen their stores."
Brooks is far from alone in delaying footwear introductions.
Though the third iteration of its popular Cloudflyer model was set to debut June 18, On Running backed up the release to August 20 to ensure that the company's run specialty partners could activate on the launch with their doors open.
Altra Makes Its Move

Altra had planned to release its Torin 4.5 Plush and Superior 4.5 in May, yet both of those models are now slotted for June. The Escalante 2.5 and Paradigm 5 slated for June and July, respectively, will both now appear in August. "We have decided to make the change in releases to allow our retail partners to clear through their existing inventory of old styles prior to these releases and ensure that they are not over-inventoried in our product coming out of the current situation," Altra product line manager Alex Lind tells Running Insight.

361 Degrees had two key models scheduled to drop in the second half of 2020: the Strata 4, the hero of its stability collection, and a new everyday trainer called the Fierce. The Strata 4's debut has moved from July to September, while the Fierce will now make its marketplace entry in February 2021. "Our first delay was a result of our supply chain being impacted in Asia. Then as the retail environment here became impacted, it changed the pace at which we moved our existing inventory," 361 Degrees USA president Jim Monahan says.

Mizuno, meanwhile, repositioned the release of the Rider 24 from June 12 to August 1. Chuck Couch, VP–running for Mizuno North America, says the decision to delay the drop of its always-popular flagship model was made in unison with Mizuno regions around the world and resulted from "aggressive listening" to retailers.
"It was clear to us in mid-March that we had to be proactive and sympathetic to what's happening in the retail landscape," Couch says. "Sticking with our normal cadence seemed insensitive to what's going on and felt like putting hurdles on [retailers'] plates at a time when they were already full."

By shifting to the August release date, Couch says Mizuno's retail partners have more time to get their bearings and can introduce the Rider 24 amid the important back-to-school season.
"We lose months on the clock [by delaying the Rider 24], but it's the right thing to do for all involved," Couch says.
Pushing Up Endorphin Pro

Despite its post-Trials' interest in quickening the Endorphin Pro's market arrival, Saucony announced on April 8 that it had made the "difficult decision to shift the Endorphin Pro launch date to July 1."
But a funny thing happened on that march to summer. First, stay-at-home orders amid the coronavirus pandemic pushed people into outdoors activity in record numbers. Tracked running workouts in the MapMyRun app, for instance, jumped 144 percent over 2019, while new users soared 428 percent. "We saw people out there running and we were feeling that energy," Hoy says.

After the Endorphin Pros arrived on Saucony's doorstep earlier than expected and a limited, early-May pre-sale of the $200 model online at Saucony.com sold out in about 48 hours, Saucony leadership decided to bring the Endorphin Pro to market ASAP. On May 18, select running retailers began taking pre-orders for the Endorphin Pro on their own websites and the model is now arriving at brick-and-mortar run specialty stores."COVID-19 was incredibly disruptive on retail, but we had seen enough pockets of positive news to come out with the Endorphin Pro earlier than expected," Hoy says. "The product's here, the appetite's there, so let's get it out and onto runners' feet. We didn't see value in waiting."

Over the last two weeks, running shops like Boston-based Marathon Sports and Big Peach Running Co. promoted the Endorphin Pro's arrival on their digital channels, adding a positive jolt of energy amid the talk of altered store operations and safety precautions.

"There's a need for the run specialty marketplace to continue to have newness and excitement and we want to make sure we're serving our run specialty partners with exciting product," Hoy says.
The Endorphin Pro isn't the only model release Saucony decided to elevate. The Triumph 18, originally scheduled for a November release, will now drop in August."We feel we're in a healthy position from an inventory perspective and that enables us to bring newness into the market," Hoy says.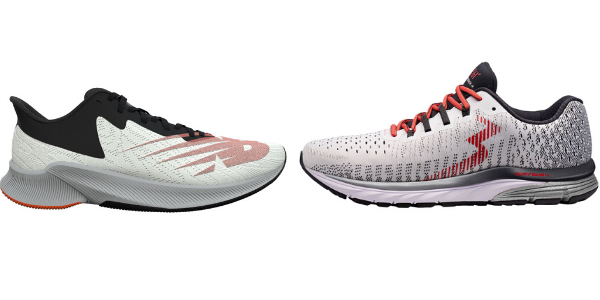 The Foggy Crystal Ball

While COVID-19 spurred many brands to reconsider and subsequently alter footwear launch dates, brand leaders express guarded optimism that normal schedules will resume. According to the RIA survey, only 15 percent of brands expect product launch delays in Spring 2021, though nearly half of brands consider it "too early to tell" if delays will occur.

For now, Mizuno is leaving its January and March 2021 footwear launches in place, according to Couch. The bigger shift, he says, concerns the upcoming Rider 24's lifecycle. While Mizuno traditionally adds new colorways halfway through the model's year-long run, it is foregoing that practice given the Rider 24's abridged lifespan."That's been received well by our accounts," Couch says. "We don't want to compound problems … and have made decisions with the long-term in mind."

At 361, where 18-month footwear cycles are the norm, Monahan acknowledges the "fog level of that crystal ball we all like to look into is at an all-time high." The longtime industry executive suspects 361's product introduction schedule will reset by Spring 2022 and assures that decisions will be based on inventory levels of existing items and how well they are holding their value in the market.

"The primary goal is not to saturate the market with off-price goods to make room for the new," Monahan says. "If we can extend the life of a shoe another three-to-six months because consumer demand is there, we will do it."

Saucony, meanwhile, will continually work to strike a balance between clean inventory levels and injecting newness into the market, Hoy assures.

"We will continue to monitor this, speeding up or slowing down as the marketplace dictates," he says.