Running shoes and beer – two of this editor's favorite things. And Brooks Running has brought them together in its unique and appropriately named Run Hoppy collection in collaboration with Oregon's Deschutes Brewery.
Drawn from runner insight and the special bond between beer and runners, Brooks has launched the oh-so quirky Run Hoppy collection in collaboration with Deschutes Brewery, which has locations in Portland and Bend, OR.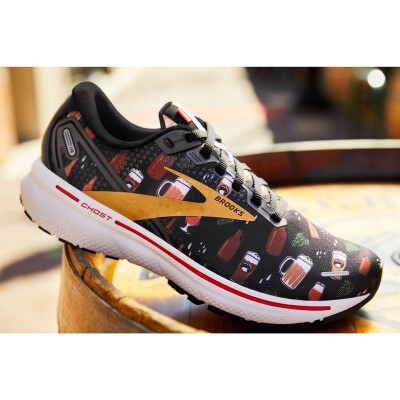 The limited-edition collection includes styles from apparel, accessories and the smooth and soft Ghost 14. With the launch of the carbon-neutral Run Hoppy Ghost 14, runners receive the same 100-percent DNA Loft foam midsole technology while sporting their favorite post-run reward.
After Deschutes surveying runners to learn what they want in a refreshing, post-run beer, to commemorate the partnership of two PNW brands Deschutes Brewery released a special Run Hoppy Gold IPA recipe developed by runners for runners.