It has been a very good year at Brooks Running as the brand set new records in 2021, ending the year with global revenue exceeding $1.11 billion, an increase of 31 percent year over year. This result marks the first time the running brand has reached $1 billion in annual revenue.
"Brooks had a record year across every metric we track," says Jim Weber, Brooks CEO. "Crossing the $1 billion threshold is especially gratifying as it reflects the outcome of a 20-year focus and commitment from our global team to inspire and serve runners better than any brand in run.
"We enter 2022 with strong demand for Brooks products in all retail channels as the only major brand exclusively anchored in performance across the run lifestyle, from sport enthusiasts to fitness seekers," Weber adds. "I am optimistic the best is yet to come for the run community and for Brooks."
Among the 2021 highlights:
In 2021, Brooks sold 25 percent more pairs of shoes globally compared to prior year and according to NPD data Brooks was again the leading brand in the running specialty channel, which Brooks views as an influential, community centric channel.
In the athletic specialty and sporting goods (ASSG) channel, Brooks also earned the number one market share in adult running shoes, with 28 percent dollar share in 2021 — a year-over-year increase of four percentage points, again according to NPD.
Across all U.S. retail channels combined, Brooks was the number two ranked adult performance running footwear brand in 2021, with 19 percent dollar share, gaining two percentage points year over year, reflecting strong sales growth up 37 percent.
Brooks produced the industry's top two franchise styles for adult performance running footwear: the Ghost at number one and the Adrenaline GTS in the second spot.
Finally, Brooks' direct e-commerce revenue in North America grew 149 percent over pre-pandemic levels in 2019.
In other news, on the heels of announcing its commitment to achieve net zero carbon emissions by 2040, Brooks introduced the Ghost 14, making its highest-volume style carbon-neutral through a combination of recycled materials and carbon offsets. Brooks continued to invest in innovative experiences for the runner, introducing the Aurora-BL shoe from the brand's BlueLine Lab. The Aurora featured cutting-edge biomechanical and product engineering, including DNA LOFT v3, a new, nitrogen-injected cushion compound, and a unique decoupled midsole to support natural movement.
The company also made progress in attracting and retaining diverse talent, adding 147 new employee roles in the year and achieving a North America workforce with 35.7 percent BIPOC employees, up 2.6 points from 2020.
Brooks also fostered inclusivity within the running community in 2021, continuing its leadership in and support of the Running Industry Diversity Coalition (RIDC). As well, it spotlighted stories of diverse runners across several identities through the "Who Is A Runner" video series and announced sponsorship of Angel City Elite, a professional running team actively working to bring more BIPOC representation to the sport.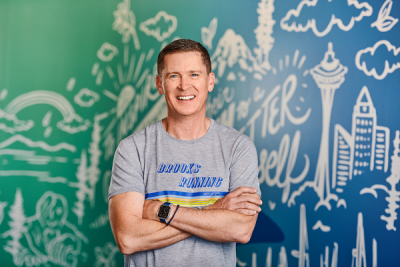 Dan Sheridan named President, COO
Following this record-breaking 2021, Brooks Running named Dan Sheridan as a new president and chief operating officer, partnering with CEO Weber to support continued growth of the brand.
"Dan's leadership growth, capabilities, and track record for strategy and execution make him perfectly positioned to lead Brooks into our next phase of growth," says Weber, reflecting on Sheridan's 24-year journey with Brooks and as a respected leader in the industry.
Sheridan will continue to play an integral role in guiding the business' supply chain and operations, along with IT and digital products functions. Additionally, as president he will now oversee finance, strategic planning, legal and risk management for the brand.
"I'm honored and proud to be part of the Brooks team and excited about the opportunity we have ahead," says Sheridan. "With the growth in running around the world, we hope to engage more people through the best products, programs, and execution."
In addition to Sheridan's promotion, Matt Dodge has also been promoted to VP and managing director of Brooks International, adding responsibility for the brand's APLA and China businesses to his ongoing leadership of the EMEA region, which has experienced record growth in recent years.