With the aim of showcasing individuals and organizations who embody the spirit of ASICS' founding philosophy, "A Sound Mind in a Sound Body," the running footwear and apparel brand recently unveiled a new Sound Mind, Sound Body brand ambassador campaign.
"Last year, we set out to highlight individuals who were uplifting communities across the country through running and what we found was so much more," explains Richard Sullivan, president, and CEO of ASICS North America. "Not only will we welcome back our original ambassadors, but we have expanded our program to highlight a new group of individuals who are living out the mission of our brand – Sound Mind, Sound Body – and championing change in their communities."
The five ambassadors returning to the program are Lance Woods (WeRun313), Judge Craig Mitchell (Skid Row Run Club), Major Kim "Rooster" Rossiter (Ainsley's Angels), Lupita Hernandez (Run For Their Lives), and Tenia Fisher (F.E.A.R).
In 2022, ASICS unveiled unique content across its social and digital platforms highlighting the work that each ambassador was doing in their local communities. The ambassador team was also heavily involved in ASICS events and activations throughout the year. Tenia Fisher and the F.E.A.R. team joined the brand for the Cherry Blossom 10-Mile Race in early April, while Lance Woods and WeRun313 came to Massachusetts for the Falmouth Road Race in late August.
Throughout this upcoming year, ASICS will continue to compose unique content spotlighting each new ambassador and the ways in which they embody the Sound Mind, Sound Body philosophy in their daily lives. Beyond the content rollout, ASICS will continue to support each ambassador's efforts in their local communities and continue to involve the ambassadors in ASICS-sponsored programs.
To introduce the new 2023 Sound Mind, Sound Body Brand Ambassadors, ASICS has unveiled a teaser film to help launch the program. The 2023 team includes:
• Asia Rawls. Asia has always believed in the power running has on your body and mind, especially as a Division I NCAA qualifier and record holder from Eastern Michigan University. Currently, Asia serves as a leader in her community as the owner and founder of Machine Athletics, LLC, the women's assistant track coach at Cass Technical High School, and volunteers as a Track Coach for WeRun313, a diverse Running Community with over 1,800 participants in Detroit, MI.
• Eric Barrera. A member of the Board of Directors of Skid Row Running Club, a local foundation in Los Angeles providing a running program for the Skid Row Community, Eric has made an impact on the lives of others through his determination and dedication. Partnered with his job as the Lead Peer Navigator of Healthcare in Action, a Street Medicine non-profit program that brings essential medical care and housing navigation to the homeless population in Los Angeles, Eric gives back to the community while encouraging people to be their best selves.
• Shaun Evans. Shaun serves as both the senior VP–of programming for Ainsley's Angels of America and as an active runner in the organization while pushing his son Shamus. In fact, at Shamus' suggestion, the father-son duo ran across the United States from Seattle to New York raising awareness for Ainsley's Angels. As Shaun puts it, "running is an individual endeavor but doing it as part of a team is so much more rewarding."
• Benjamin Garcia. Benjamin is a former Army Captain and a current police detective who has become an ultramarathoner and participant in "Run For Their Lives," an ultramarathon aimed at PTSD awareness. In 2000, a motorcycle accident left Ben in a wheelchair with very little likelihood he would be able to become a police officer or join the military. Due to his persistence and understanding of a sound mind and body, he overcame this obstacle to run multiple 100 and 200+ mile races.
• Danielle Nabak. Danielle is a captain of F.E.A.R. (Forget Everything And Run), a group aimed at bridging the fitness gap and ensuring that runners of color feel welcome and accepted. With a career in health while also continuing her education at Johns Hopkins she is dedicated to understanding the connection between a healthy mind and body.
• Mohammad El-Haj Ahmad. The sport of tennis has emerged at pivotal moments throughout Mohammad's life, beginning with his upbringing in Palestine, to his current role as the Program Director at the Kings County Tennis League (KCTL) in Brooklyn, NY. Ultimately, Mohammad and his colleagues at KCTL are on a mission to use the sport of tennis as a vehicle to unlock the potential for kids living in public housing.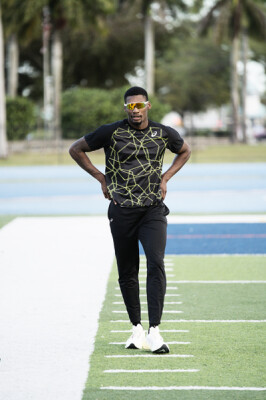 ASICS Signs Fred Kerley
In other ASICS news, the company has signed Fred Kerley as its newest athlete ambassador. The 27-year-old is one of the top sprinters in the world, with a growing list of medals and achievements in his young career. Most recent, and notably, Kerley won his first individual World Championship Gold Medal in the 100m race at last year's World Athletics Championships Oregon22.
Growing up, Kerley was a multi-sport athlete through high school. He was a member of the football, basketball, and track teams before specializing in track and field during his collegiate career at both South Plains College and Texas A&M University. In his final year at Texas A&M, he won the USATF 400m title, NCAA Indoor & Outdoor 400m titles and set a new NCAA 400m record. After racing in the 400m during his first years as a professional, Kerley opted to transition to the 100m and 200m distances in 2020.
"I am excited to join the ASICS athlete roster and compete on behalf of the brand as one of the top sprinters in the world," says Kerley. "Ultimately, I hope to inspire more kids to participate in track and field. Partnering with ASICS will only help as we collectively aim to grow the sport into the future."