In an industry where avid runners typically take pride in lacing up in all kinds of weather, running stores are happily open year-round to accommodate. But Mother Nature sometimes has other plans, and no one knows that better than the specialty running stores in and around Buffalo, NY.
At the height of December's gift-giving season last year, Buffalo got smacked with its third snowiest December on record. More than 50 inches of snow fell across five days — and that doesn't count all of the white stuff that fell earlier in the month. This forced local stores to shut their doors – not that they could have physically opened them, anyway.
While New York is no stranger to snow, the timing of this snowstorm was its biggest downfall. So, in this special Sustainability issue of Running Insight we wondered what does it look like when the environment ruins your store's plans for holiday sales. We talked to Ellen Brenner, from Fleet Feet Buffalo, and Rob Fox, of Runner's Roost Orchard Park and Runner's Roost East Amherst, about their experiences.
________________________________________________________________________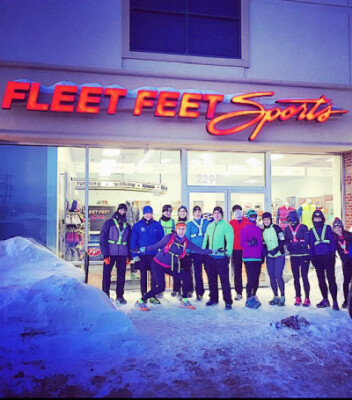 With warmer weather now on the horizon it may be tough to remember, but how were your stores impacted by the storm in December?
Ellen Brenner: We were closed from December 23 through December 29 due to the travel ban and reopened December 30, thus lost sales leading up to Christmas and New Year's. Our plow company wasn't even allowed to go in to clean the lots until December 26 or 27, as the road plows needed to get through first.
Rob Fox: The two weeks leading up to the blizzard are typically a very busy time for us with Christmas approaching. Both the Runner's Roost Orchard Park and East Amherst locations carry UGG, OluKai, and Vuori, which are very popular during the holiday season. We lost the two days before Christmas (lots of accessories and gift cards, usually). We were closed in Orchard Park from December 23-26 and December 23-27 in East Amherst. Business was still very slow to recover for the next few days until after New Year's, as Western New York was still in recovery.
So exactly how many inches of snow did you get?
Brenner: Where we were located was six to seven feet of snow. We are in the city of Buffalo, where it took a lot longer to clear things.
Fox: We received roughly 50 inches of snow within the five days of the storm. Typically Orchard Park gets hit a bit harder with storms with Lake Effect snow, but this time it was the East Amherst area where cleanup took the longest.
Did you or the staff do anything to prepare your store for the storm?
Brenner: We did not, as there really isn't anything to prepare in our case. We did our normal close process Thursday, December 22, and honestly had no idea the type of impact that actually would occur. We are used to snow, so it was normal end-of-day closing procedures. We didn't even lose power at all through [the storm].
Fox: Buffalo does experience storms every fall and winter where we need to prepare to be home for a few days. Prepping for the blizzard, I feel our staff just planned on hunkering down a bit longer at home and have supplies/plans for power outages.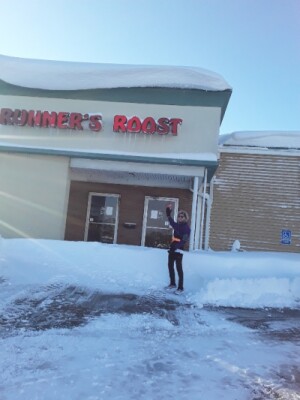 Are there any action plans to be created to prepare for future storms?
Brenner: For us, there really isn't an action plan. We took appropriate steps as we knew a travel ban was coming, so we closed the store before it was in effect. We even informed our customers via social media on December 22 to shop for Christmas that day as we didn't know how long we would be closed due to the storm. We also made sure our staff got paid for the days we were closed and they were supposed to work. Once the travel ban was lifted late on December 27, we chose to delay opening by one day so we could assess any issues inside the store. There were none, but we wanted to make sure all was good.
Fox: If it is in the forecast where we might experience a storm, we typically wait until early morning the day of business to decide if we are to open or not. With the blizzard forecast, we planned on being closed for a few days, but did not fully communicate with everyone until the morning of. With it being the days before Christmas, closing is not a decision you want to make, but it was the right one for the safety of our staff.
Have you had any other weather experiences that have impacted the store?
Brenner: Any large amount of snow will slow business to a halt. When we bought the store in 2014, two weeks later the eight-foot snow storm came and we couldn't get to the store. Interestingly, there was no travel ban for that one except on the New York Thruway. We did also have to close the store for the eight-foot snow storm in November 2022, but that was for a day.
Fox: Roughly a month prior to the blizzard, our Orchard Park store had over six feet of snowfall, having to close for a few days. We also had to close our East Amherst store even though they had a significantly lesser amount, due to staff members being stuck at home or within travel bans.
With the need to close and the loss of sales, was there any emotional toll on you or the staff during the closure?
Brenner: Technically, this was nothing compared to what we've been through, so we basically just keep moving forward. Nothing you can do, so you just do what you can control.
Fox: Yes, it can emotionally draining. There are many costs in a retail business and anytime you have loss of business or are impacted due to weather, it does worry us. In the end, we have to remind ourselves to do the best we can as a team and it will work itself out.
So even with all of this tough weather news, what's your favorite part of running a running store in upstate New York?
Brenner: Experiencing the lives changed through a perfectly fit shoe, a training participant reaching a goal or simply just being able to work in a space were we are working with peoples' hobbies. It's a pretty positive environment. It's tough to beat that.
Fox: There are many favorites, but what I do enjoy most is fitting customers, especially when receiving a thank you note of some form or a review.
STORE PROFILES:
Fleet Feet Buffalo
Fleet Feet Buffalo opened in April 2002. Ellen and her husband David Boutillier (known as Boots) purchased the store from the original owners in November 2014. However, their Fleet Feet origins began back in July 2004 when they opened their own store in Rochester. They also have a second store in town called Victor outside of Rochester, which they opened in September 2019.
Runner's Roost – Orchard Park and East Amherst
Runner's Roost has two locations in the Buffalo, NY, area. Their most recent location is in East Amherst, New York, which opened June 2021. The Orchard Park store opened in May 1983, with its original location on Hertel Avenue in 1978. Rob and his wife, Michelle, took ownership in November 2017.