Liz Pagonis grew up in the Poconos playing soccer and skiing and started running after she graduated high school and moved to Philadelphia, figuring it was an easy way to explore her new home city. She eventually signed up for her first race, the Broad Street, and got hooked. She joined a number of local group runs, including the store runs from Philadelphia Runner, while attending school to get her Masters degree in public health and working in the criminal justice field. Looking for a change, she started working at Philadelphia Runner part-time and quickly fell in love with the job, gradually moving from the sales floor into helping with events. She has worked her way up to CMO, overseeing marketing, social media, outreach, partnerships, events.
So what is your "typical" day like these days?
I usually start the day off with an early morning run or strength workout then head into one of the stores. From there, it depends on the day. One of my favorite things about my job is the variety.
What are some of those favorite parts of your job? What gets you going in the morning?
The people! I feel so lucky to have an incredible team of people to work with, to be surrounded by the best darn running community in the world – a totally unbiased opinion of course – and to have the opportunity to meet and interact with new people every day.
On the flip side, what about your job sometimes keeps you awake at night?
Can I use the same answer?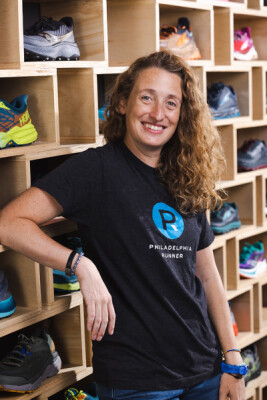 Sure, go for it.
I think a lot about the growth and development of our staff, how we support the local running community and what we can be doing to have more of an impact in the general community by reaching more people out there and supporting their movement journey.
What is your running routine like these days?
I try to run most days of the week — usually with some friends in the morning or with a local group run in the evenings, although I do enjoy solo miles too, especially on the trails. Running helps me focus and feel centered.
Is there a person who has been your mentor or inspiration?
There are so many incredible people in the running industry and that I have met through my job, I am inspired all of the time. While I have never had an official mentor, there are many people that I have been fortunate enough to learn from throughout my life and career in the running industry, starting with owners of Philadelphia Runner who took a chance on hiring me. My boss, Ross Martinson, has believed in, trusted and supported me from day one. I have learned, and continue to learn, so much from him.
What makes your local Philadelphia running community unique?
The running community in Philadelphia is incredible in so many ways. There are so many groups active in and around the city — there really is something for almost everyone with more groups popping up all of the time. I think one of the most unique aspects of the local running community is the overlap and support the groups have for each other. It's really special. You'll see people running with one group then heading to another later in the day or week and groups sharing events, runs, races for each other.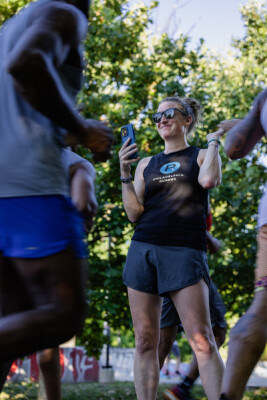 Here's a question that gets various responses: Do you view yourself as a woman in the run specialty business or simply a professional in the run specialty business?
Both. Most of the time I think of myself as a professional in the run specialty business, but there are times when I view myself or feel like a woman in run specialty.
Many people feel that run specialty is actually more equal in gender participation than many other businesses. Just look around The Running Event and see how many women walk the aisles and work in the booths. Do you agree with this? If so, why do you think that is?
I like to think that the run specialty industry is growing to be more inclusive and more representative, but there is a lot of work to be done. I see more and more women at TRE and other industry events. (Thank you empowerun! And the first retreat for women of color in the industry, take the lead, is happening soon.) But the majority of the ownership/management in the industry is white, able-bodied people because historically run specialty has been a white male-dominated industry. There are a lot of people missing from the rooms at TRE and in the run specialty industry.
What do you think you bring to your business with a woman's perspective as compared to your male colleagues?
I think we all have unique lived experiences that shape/influence our perspective and gives us a different voice in the conversation. Variety is a valuable asset.
Do you think having a woman in the business has helped your store reach more female customers?
Absolutely. Representation matters and people want to see someone who they can relate to or ask questions based on our experience as a woman — trying on apparel, running in certain places and so on.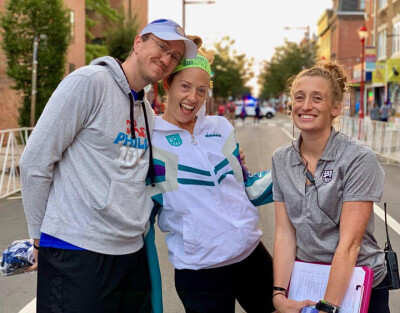 What advice would you give to other run specialty retailers about reaching out and merchandising to female runners?
Meet people where they are. One of the most frequent things we hear every day from people coming into our stores is that they are not a runner. Most of the time I reply that I'm not a runner, but I like to run and want to be comfortable while I'm moving. Being comfortable never goes out of style, it just may look different as technology and trends change. We carry a wide range of products for a wide range of people and their activities that we are always trying to update and make sure we are providing the best so people can continue to move comfortably.
What advice would you give to any young (or older) women considering following a similar career path in the run business?
Change is a constant in life and business. Embrace it. Ask questions, try new things, never stop learning and don't be afraid of making mistakes.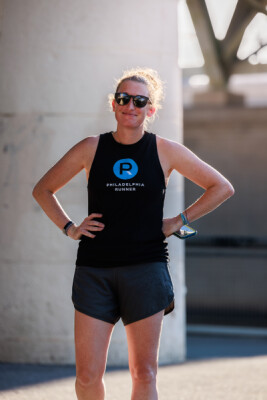 Finally, what are you expecting for you and your store as 2022 nears the finish line and what is it going to take to achieve that?
Building on the basics. We were recently named one of the Best Running Stores and will soon celebrate the year anniversary of our new flagship store in Philadelphia's Center City. The success of Philadelphia Runner would not be possible without the amazing people who have worked and continue to work there and the unwavering support of our community. My hope – and goal – is that we continue to learn and grow to reach even more people out there.
All photos are by Colin Lenton from Colin M. Lenton Photography except for the race photo, by Matt Stanley from Stanley Photography.