Christi Beth Adams started working at Fleet Feet when she was 25, a time when she was "in that classic quarter-life crisis stage where you wrestle with your purpose and your profession against these imaginary timelines, so you feel like you're falling behind." Running retail came naturally to her, but at the time she viewed it as a stepping stone, a place to have fun and draw a paycheck until she figured out what she really wanted to do with her life. But after being there for a year the existing store owner wanted to sell the business, but she didn't have access to the necessary capital to buy it. Thankfully for her, Fleet Feet created a three-year employee to ownership program and through that she was able to purchase Fleet Feet Nashville in 2011. Now in 2021 there are three locations in middle Tennessee with 74 employees.
So, how has the past year been for you, personally and professionally, in dealing with the pandemic?
There have been many high points — COVID vaccine access for myself and now my nine- and 11-year-old children, getting married in July, a return to in-person school after a year of virtual and our most profitable year of business ever.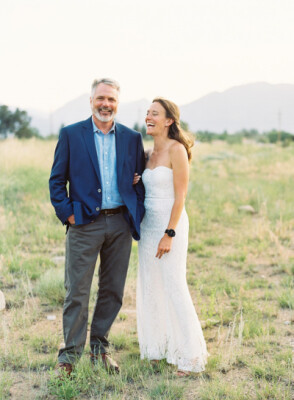 Well that was quite a year!
Yes, it was and there are plenty of reasons to be grateful and joyful. Yet many of us are still recovering from what an emotionally exhausting year 2020 was. Our emotions – even the positive ones – are somewhat dull.
So how have you been able to deal with it all?
In April, Adam Grant published an article that dubbed languishing as "the dominant emotion of 2021." That article really struck a chord with me and helped give me some language around how I was feeling. There's been a lot of talk about burnout – especially in this environment where we find ourselves short staffed to handle the growth we're experiencing – but I think this middle ground of languishing more accurately describes what I've seen and felt the past year.
What is your "typical" day like these days?
The pandemic certainly impacted my work routine. Because my ex-husband and I decided virtual school was the best option for our children, I started working from home and relied more heavily on our Leadership Team and support staff in each store. I also split my time between Nashville and Indianapolis, where my husband lives. When in Nashville, I do school drop off and pick up so I schedule my work calls and in-person meetings between 8 a.m. and 2 p.m.
What else is on your daily schedule?
On any given day you'll find me reading customer feedback reports, running payroll and managing employee benefits, onboarding a new employee, on a call with one of the eight folks on our Leadership and Support Staff Team, discussing our digital marketing strategy or choosing the paint color for a store renovation. My email inbox is like a black hole, so most folks text or call me.
Well, thanks for answering our email about this article. Do you get a chance to be in the stores these days?
I rarely if ever fit customers these days, but I still love to show up at store events and training runs and give out hugs freely.
Here's a question that gets various responses: Do you view yourself as a woman in the run specialty business or simply a professional in the run specialty business?
A college teammate of mine is now a lawyer in North Carolina. She sent me a note this summer that said, "There's a large group of women lawyers called "Girl Attorneys." What the f*ck is that? Would a group of men call themselves "Boy Attorneys"? Hell no."
How did you react to that?
She was fired up about it, but it just made me laugh. I mean, she's not wrong. The standard is male. Just like the standard is white, which is why All Lives Matter is different from Black Lives Matter. I view myself as a women in the run specialty business. I do believe I have a voice and perspective to offer that is uniquely shaped by my female-experience.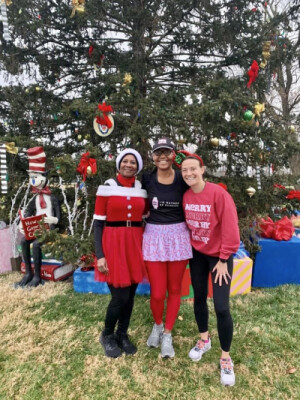 Many people feel that run specialty is actually more equal in gender participation than many other businesses. Just look around The Running Event earlier this month and see how many women are walking the aisles and working in the booths. Do you agree with this?
First, I believe gender participation, among other things, is something that we should be able to measure so I'd love to see a collaboration between Fleet Feet, RIDC and the RIA to gather information and report on this.
An excellent idea.
Anecdotally, I have seen increased female representation on vendor advisory boards and the RIA board, but those are mainly existing owners that are just now being pulled into the conversation. I'm really proud of what Kathy Dalby and Burke Beck have created with empowerun to amplify the female point of view in the industry. We still need to see increased female participation at the store owner level and vendor middle and upper management roles. Hiring a female tech rep here and there doesn't cut it. Of course, this isn't just a run specialty problem.
What makes your local running community unique?
I think this is an unpopular opinion, but I would say nothing. Just like communities all over the world, we're mostly a group of folks who tend to wake up early, run or walk some miles, chase goals, battle setbacks, have TMI conversations and show up – literally and figuratively – for people.
That is an interesting way to put it.
We want to experience life to the fullest, be our best selves and we do that through the physical, mental and emotional challenges of running. Maybe the only unique thing to Nashville is you have to dodge pedal taverns and bachelorette parties mid-run.
What do you think you bring to your business with a woman's perspective as compared to your male colleagues?
I know what it's like to wear a sports bra, chafe in awkward places and journey back to fitness with a few extra pounds post-baby. It's the slight but important difference between empathy and sympathy that allows me to relate to our largely female base. I don't know that that makes me a more inspiring leader or more successful business owner, but there's a pretty good chance I've witnessed more tears than my male counterparts — whether that's from an employee, a customer in a dressing room or my own.
Do you think having a woman running the business has helped your store reach more female customers?
I want to say yes, but I actually think your bedside manner has a stronger correlation to success than your gender. Plus, a male owner has a mother/sister/wife/daughter, so it's not like they're clueless about the needs of a female customer.
Thanks for sticking up for the men in the business.
Any smart business owner is going to surround themselves with people who can fill the gaps and offer a more diverse perspective when it comes to buying product, marketing, providing an unbelievable customer experience, etc.
With that in mind, what advice would you give to other run specialty retailers about reaching out and merchandising to female runners?
First, look to see if your team reflects the customer you wish to serve. That could be gender, but also ethnicity, age and body type. As for product, buying shouldn't just be about the products that you love personally, so testing different brands, styles and colors is important and being open-minded to what you learn.
That is good advice. Anything else?
If there's one thing my lead buyer has taught me is that every run shop could use more mannequins. Yes, it's a financial investment, but product displayed on body always wins, so don't be stingy.
Yes, more mannequins!
I also believe women are deeply supportive of female-owned businesses and causes, so finding brands that have that as a part of their story ­– whether it is a female founder or give-back initiatives – is meaningful.
Also, what advice would you give to any young (or older) women considering following a similar career path in the run business?
I would say that even when things feel hard, it doesn't mean you're bad at them or you're doing something wrong. I cried every day for the first six months of ownership. I'd call Denise Corey at Fleet Feet (who now does business coaching) and she'd ask, "Is the store on fire? Is anyone bleeding?" I'd of course reply "no" through my sobbing and she'd just say, "Then it's another day of business. You're doing great!"
Have you gotten better at understanding all of that?
I can be extremely tough on myself and this helped me put things in perspective.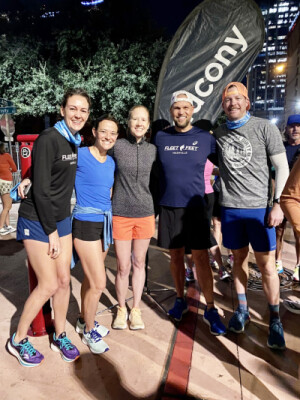 What else has helped?
I would also say that finding a mentor is important. I 100 percent would not be in this position if it weren't for our president and CEO at Fleet Feet who told me I could own a store. Though I had been in leadership positions my whole life, owning a business was not on my radar, nor did I believe I had the skill set necessary. I respected and trusted these leaders when they believe in me and that set me on the path toward ownership.
Finally, what are you expecting for you and your store going into 2022 and what is it going to take to achieve that?
It's been a banner year and there are still ways we can show up stronger for our employees and our community. I want to be one of the best places to work, so that means constantly re-evaluating our compensation, benefits and personal/professional development opportunities for our employees.
You mentioned the Running Industry Diversity Coalition earlier. What are your plans for involvement with that going forward?
We also have a long way to go before we can truly say the run space is safe and welcoming for everybody. Joining the RIDC and being an active participant in the retail sub-committee will help generate ideas and accountability in these efforts. I like how Britt Olsen, GM of North America for On, says yes, this is "work," but it is also fun and exciting and we'll all be better for it.