Her Background
After Cathy Pugsley finished grad school she moved (back) to the Washington, DC, area to work in management consulting. About three months into that job she was invited to join the Reebok Enclave, one of the original post-collegiate training groups in the U.S., created by the Georgetown coaches. She became the first woman at her company to create a flex schedule for something other than maternity leave so she could go train two afternoons a week during business hour, something that seems normal now but was most certainly not then.
The Potomac River Running Company Story
Ten years later, Cathy had met my husband, Ray (in the Enclave) and hatched the idea of Potomac River Running with him and her sister and brother-in-law. They started with two stores (for the two families) and grew from there. Today Potomac River Running boasts nine stores (eight in Virginia and one in the city) and it's just Ray and Cathy and "an amazing team that keeps it all going." Cathy's official title is president, but she admits to doing everything from buying to HR to cleaning the bathrooms. "I like dreaming up what's next and planning it, so I most enjoy the strategic thinking," she says.
So, how has the past year been for you, personally and professionally, in dealing with the pandemic?
It's been a roller coaster. Early on, we had a few weeks of pure terror and panic – our team is like family. Would we be able to keep paying everyone? Would we be able to reach our customers in new ways? Would we lose our business? Our house?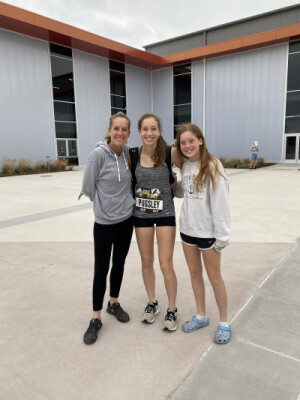 That is a familiar story within run specialty. How about personally?
Once we got past the initial business fear, the more personal struggles set in. Our daughters (now 16 and 13) weren't learning well virtually, and they were struggling with isolation and anxiety — so were we. As the months went by and we began to pivot as a business, were fortunate to get some PPP assistance, and had some amazing team members step up; things started to look better. Then we had more down days.
Being near the Nation's Capital had to add another level of challenge.
It's been a tough year as a nation and we really felt that in DC with protests and riots and our downtown store being fully shut for almost six months. When we finally reopened, we saw few customers and a lot of ongoing uncertainty about the risks to our staff of not only COVID, but unrest.
How does it feel today?
Now I feel like we are coming out on the other side . There are still some ups and downs, but there is a light at the end of the tunnel and we're hoping that running can be a positive force to change lives coming out of everything.
What is your "typical" day like these days?
Is any day typical when you own your own business? Kidding aside, these days I spend a lot of time in my home office, where I sit in the epicenter of all things HR, financial and strategic for PRRC. I spend a lot of time on the phone with some of our key team members, but less time in person with them than I used to. I'm on Zoom calls with our team, our vendor partners and other store owners around the country just about every week as well.
Here's a question that gets various responses: Do you view yourself as a woman in the run specialty business or simply a professional in the run specialty business?
I look at the world through the lens of "who can get stuff done" the most efficiently, effectively, and awesomely? Who can multi-task and make it seem easy? Of course, often that answer is a woman – in run specialty or outside of it!
Of course!
That said, I think I try to be the best leader I can be – and the fact that I'm a woman isn't front and center to me all the time, although it probably informs the way I look at strategy and decision-making. A few years ago, I probably would have answered differently — then I found myself the only woman in the room frequently, but our industry is moving forward with more talented woman joining the leadership ranks.
We agree and many people feel that run specialty is actually more equal in gender participation than many other businesses. Just look around The Running Event (when we have it again back in Austin in November!) and see how many women are walking the aisles and working in the booths. Do you agree with this? If so, why do you think that is?
There are definitely more women walking the trade shows now than in the early 2000s when I started and that's great to see. I think we can still do more to encourage and support women who want to take on more leadership roles — sometimes it takes some creativity to find ways to work around the unique challenges women face as they start families and need to juggle everything, but especially with folks who aren't always on the floor, it can work with the right approach.
What do you think you bring to your business with a woman's perspective as compared to your male colleagues?
I'm probably an Alpha Female – I like to get stuff done and get it done now. I'm always looking to the next thing and that sometimes means looking at how we can multitask better and keep the focus on big picture initiatives while making sure we don't lose the details. Since I'm in business with my husband, I won't say my way is better. It's just different at times.
That's a good way to put it. So do you think having a woman running the business has helped your store reach more female customers?
I don't think that our customers necessarily focus on a woman being Oz behind the curtain. We try really hard to have women on the front lines working with customers and engaging them at retail, training programs and events so that they feel welcome. That one-on-one experience is probably more meaningful than what I am doing in the background.
What makes your local running community unique?
The Northern VA/DC area is transitory and super diverse. Every four years there is a new administration, there's a large military population and there is big international representation as well. We're very multi-cultural and I see that as a big plus, especially as we as a running industry try to do more to embrace diversity.
How does that dynamic impact your business?
The turnover in our region means there is an ongoing population of potential new customers, but we see fewer lifelong ones than some other communities. We also have a lot of traffic and commute times are long, so store events, training and even shopping patterns are different than elsewhere. We are lucky to have some amazing events, too, including the Marine Corps Marathon, Cherry Blossom Ten Mile Run and Army Ten Miler.
What advice would you give to other run specialty retailers about reaching out and merchandising to female runners?
I'm the first to admit that I don't have style and the best thing I've done is find smart, talented people who have that great eye and see things well. I will say that easy to understand signage, well-lit space, comfortable dressing rooms and clean bathrooms can make a huge difference in my book. On outreach, listen to the teenagers! My girls are a great sounding board and they help me balance my own experience and the things I think will work with another (younger, hipper!) point of view.
Also, what advice would you give to any young (or old) women considering following a similar career path in the run business?
I'd say take the risk. When we started, it was walking away from a corporate track that would have been much more financially secure and gambling that doing something that was meaningful to me would be better than doing something meaningful to other people. If you follow your passion you end up loving what you do, and everything else falls into place.
That is sound advice. Anything else?
Find a mentor and ask questions. There are so many things I wish I had known earlier. Finally, surround yourself with smart people who you respect and keep learning. The relationships I've built in this industry with other store owners, brands and my own people are what make it special.
Finally, what are you expecting for you and your store in 2021 and what is it going to take to achieve that?
We're almost halfway there and I truly do see the light at the end of the tunnel. I'm still a little bearish on the downtown DC area – that's something a lot of owners with stores in urban areas are dealing with – but the Virginia suburbs are filled with folks with a new focus on fitness and wellness and we're poised to be a big part of their journeys. On a personal note, I'm excited to see my girls get more involved in track and see where the sport can take them.