The Swiftwick Story … Swiftwick was started in 2008 when an athlete saw the need for high-performance socks with superior moisture-wicking and incredible fit. Today, based out of Nashville, TN, it is an international brand developing performance socks for all of adventures.
The Tech Angle … While each of its sock collections include differentiated features that are purpose-built with specific activities in mind, all of their socks start from the foundation of the company's two technology pillars — Fiber First™ Moisture Wicking & Contoured Compression Fit™. "This means that every sock from our catalog is guaranteed to provide a perfect fit and superior moisture-wicking," explains brand marketing manager Racheal Hubarth. Additionally, all Swiftwick socks are crafted with seamless toes and y-shaped heel pockets for an irritation-free fit and an arch band for support.
2021 Product Plans …Swiftwick is most excited to launch three new fresh colorways this spring in their most technologically advanced sock, FLITE XT®. Engineered to improve stability during activities that require quick movements, FLITE XT® incorporates GripDry™ Fiber and AnkleLock™ Technology, which prevents your feet from slipping in your shoes and offers extra support around the ankle during high-intensity training. Simply put, it is the perfect sock for runners.
"We sell more than socks" … "We are confident that Swiftwick socks are the best you will ever wear; however, we are so much more than just a sock company," says Hubarth. "We pride ourselves on using the most sustainable practices available to us, employing all local-USA manufacturing, giving back to our communities, and fostering an amazing employee culture. All of our product developments, marketing campaigns, and team events are built through the lens of these brand pillars."
The Swiftwick Difference … Swiftwick offers several socks that are specifically designed for a runner's needs and wants, and what sets their running socks apart from the others is a variety of compression, cushion, and cuff-height options, all made with high-performance fibers and moisture-wicking technology that keeps your feet dry, cool, and blister-free. Additionally, each of their socks are backed by their Best Sock Guarantee, meaning runners can confidently try and wear their Swiftwick socks completely worry-free.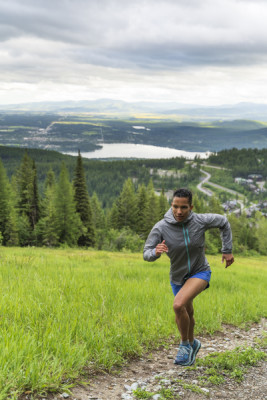 "Best Sock You Will Ever Wear" Guarantee … The "Best Sock You Will Ever Wear" guarantee simply means that Swiftwick will stand behind its products 100 percent, no matter what the reason. "In-store customer experience is as important as ever, and our guarantee empowers retailers to take care of any of their customer's issues with Swiftwick on the spot," points out Hubarth. "We have made the process of taking care of returns streamlined and simple with a single point of contact and a promise to work with retailers on their returns both big and small."
The Target Market … "Our target consumers are people who care about bettering themselves and the world around them," explains Hubarth. "They are interested in the outdoors, staying active, personal wellness and the communities that surround them."
The Swiftwick Market … In the early days of Swiftwick, its socks were found primarily on cyclists and runners. While the company is still very strong in these verticals, its reach continues to expand across many more activities such as hiking, fitness, travel and general lifestyle.
Made in America … Manufacturing in the USA allows Swiftwick to make a positive impact in its own communities, providing jobs and a better way of life for its neighbors. Additionally, producing in the USA reduces garment miles and allows the company to selectively choose materials and processes that further minimize waste and energy consumption.
The COVID-19 Impact … Hubarth reports that COVID-19 has had a significant impact on the company's operations. "However, we are happy to say that we have adapted and adjusted quite well." Despite our changing environment, our company is continuing to effectively and successfully collaborate, develop product, grow the brand and come together as a team," she says. "We couldn't be prouder of how far we've come over the past year."
Athletes and Ambassadors … Swiftwick has several athletes and ambassadors from all corners of active communities to help spread the word about its brand and products.
Getting Social … Swiftwick's primary social media focus is to foster and grow a community of like-minded individuals while encouraging engagement with the brand and with each other. Most recently, they ran a 12 Days of Giveaways which provided winners with awesome new socks, just in time for the holidays.
Swiftwick in 2021 … "Expect amazing things from Swiftwick this year," Hubarth says. "Although the pandemic and its impacts are likely far from over, we are riding a tremendous wave of momentum from last year that we know will continue into 2021. We're also looking forward to launching several new colors in our FLITE XT® Collection, which is our most technologically advanced sock focused on providing stability. " In addition to developing and launching new sock designs and styles throughout the year, the company plans to place a stronger focus than ever before on its Sustainability and Philanthropic efforts.
Advice for Run Specialty … "Conversations about products other than footwear on the fit stool are as important as ever," Hubarth says. "There is a huge influx of new athletes taking up running and many of them are on a more conservative budget than normal. As a result, they may have or will only be looking at shoes on their initial transaction. Plus, your customer is also not as likely to be spending time to browse the store as much as in the past. Fitters need to be proactive about recommending items that will enhance their running experience and educating their customers about them. These conversations plant seeds about products that can turn lightbulbs on down the road for that customer, driving them back to the store."
The Sock Category … Socks remain one of run specialty's top-selling categories as new and long-time runners are more active. And, in discussions with Swiftwick retailers, the category tended to be down as a whole, but there is optimism that it should normalize in 2021. "The sock category has started to command more attention from retailers over the last two years as people realize what a high margin item socks are, coupled with the relative ease of adding them to a transaction versus other items in the store," Hubarth says. "This causes socks to be a great tool to drive extra revenue in stores with the main investment being working with fitters to get them more comfortable with bringing socks up consistently on the fit stool."