Running apparel has gone high tech. Stoko has developed the ultimate running tight that allows runners to protect their bodies, push their limits, and perform their best. The Stoko K-Line offers medical grade bracing, targeted compression for faster exercise recovery, and full lower body support in an ultra comfortable pair of athletic tights.
The Stoko Story: It all started on June 21, 2016 in Vancouver, BC. Zack Eberwein, Stoko's future CEO, was competing in the 'Multi-Grind' challenge to see how many times he could climb the Grouse Grind in one day, raising money for BC Children's Hospital in the process. He had previously had two knee surgeries and that morning he decided to leave his $2000 knee brace at home, deciding it wasn't worth the hassle. By Grind number 6, his knee had completely blown out.
So Zack, a UBC Engineering Graduate, teamed up with Scott Morgan, Olympic Gymnast, and Cameron Mussullo, a Kinesiologist, to create the world's first Supportive Apparel (both Scott and Cameron have stepped away from day to day operations of Stoko and Zack is currently CEO).
Born from first-hand experience, Stoko was created by athletes who were sidelined by injuries during the peak of their careers. Frustrated by outdated, bulky and rigid knee braces, the team's desire was simple: create something better.
The Beginning … The first product sold by Stoko was the K1 tight, going to market October 2020. The company now has three products as part of its K-line: The K1, the K1 Breathe Edition and the K1 Tempo
The Elevator Pitch … Stoko created a new product category that it calls "Supportive Apparel," which is unlike anything else on the market. The K1 is an entire lower body support system that has completely reimagined how we deal with knee injuries. Leveraging proprietary technology, the Embrace System™, the K-Line was designed to provide medical-grade knee bracing and customizable lower body support within the comfort of a compression tight.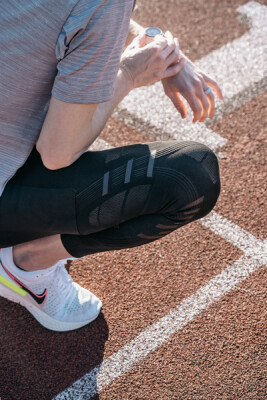 The Tempo Product … Built for running, hiking, training and everyday use, the K1 Tempo (Stoko's newest product launch) offers the Embrace System™ technology, 3/4 length, pockets, color options and state-of-the-art knit ventilation for breathability in warmer environments. It was designed with runners in mind based on athlete feedback.
How It Works … From your waist to your calf, the K1's patented Embrace System™ wraps your legs with over 90 feet of high‐strength yet lightweight support cables that are directly integrated into a compression tight. The cabling is positioned to naturally move with you. providing medical‐grade support to your knee when you need it most. You can adjust your level of support with two control dials in the waistband.
The K1 is designed to move with you and provide support in compromised positions. This is thanks to the placement of the cables in a way that mimics your natural support systems — your muscles and ligaments. When your knee goes into a compromised position, the cables pull taut, helping to restore natural alignment. This helps support potential imbalances in a runner's stride.
The Process … To achieve this, Stoko uses 3D knitting to integrate the Embrace System™ directly into the fabric, creating the lowest profile medical-grade brace on the market.
The Recovery Benefit … Runners will like how the K-Line supports faster exercise recovery. Innovative technical knitting within all K-Line products allows it to provide targeted compression zones. These areas of compression put pressure on muscles to help minimize delayed onset muscle soreness. The K1 Tempos are designed to increase blood flow and promote healing so that you're able to benefit from faster recovery times between runs.
Even More Benefits … While Stoko's products were originally designed to support the knees – specifically intended for moderate to severe ligament injury, general knee instabilities and sprains and strains – Stoko has repeatedly received feedback from its athletes reporting that its K-Line products also improve lower back and hip pain and decrease in patellofemoral pain.
Best of All, Natural Movement … Instead of relying on rigid material to create structural support, the Embrace System™ is made up of 90 feet (30 meters) of high-strength fibrous cables that are inserted into the fabric and designed to facilitate the body's natural movement. This allows you to have a full range of movement while running. Not only that but the tights can help support imbalances in your stride.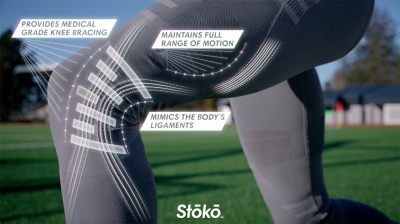 "Integrated Support Cables" Explained … The cables Stoko uses are made out of Dyneema® fiber, which is 15 times stronger than steel at the same weight. It's commonly referred to as "the world's strongest fiber" and won't stretch or sag during prolonged use or when exposed to water. While extremely strong, the cables are very thin and lightweight, contributing to the comfort of the K1. The cables are inserted into the fabric and strategically placed along the legs to allow for complete range of motion and to support natural movement. Not only that but the tights can help support imbalances in a stride.
The Supportive Apparel Difference … Stoko set out to be the world's first Supportive Apparel company and there is really nobody else playing in this space. It has built a full medical-grade support system into the type of clothing athletes are already wearing. The Embrace System is proprietary to Stoko; therefore, there is nothing else on the market that is truly comparable with the K-line. There are other products that incorporate knee support into a pair of athletic tights; however, they only provide compression to the knee, which provides a much lower level of knee support than the K1. The Embrace System provides nearly the same amount of knee support as a custom rigid knee brace, while competing products provide the support of a compression sleeve only.
The Target Market … Stoko likes to split its target market into three groups:
Peak performer: Looking to perform to their highest potential. This is someone who is training at a high level; for example, an elite marathoner looking to improve their time, who uses the K1s for faster muscle recovery and better body alignment. As well, for runners who often run on uneven surfaces such as trail runners, the K1 helps to protect against injury.
Return to play: Looking to protect their bodies. This is typically someone who has had a previous knee injury (for example, tore their ACL) and is looking to get back to running. They need extra support and the K1s help them feel more confident and pain-free.
Aches and pains: Looking to push their limits. These athletes are typically 40-plus and are looking for something to help them train harder, speed up their recovery and help protect themselves against future injuries. Stoko has received plenty of great feedback from "aches and pain" athletes using the K1s to help mitigate against those small, nagging injuries or pains.
For All Athletes … Stoko believes that their K-line K1 is for all athletes and they consider anyone who is moving their body and getting active as an athlete. That could be a young up-and-coming Olympian, or a 60-year-old-plus individual who wants to stay active and keep doing what they love.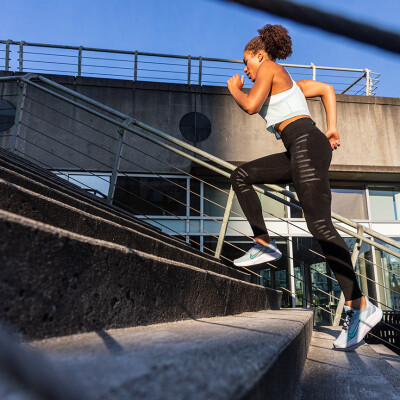 Can someone run a marathon in the K-Line? … Absolutely. As Stoko expands its presence in the running market, they're excited to hear feedback from athletes who have completed marathons in their K1s. Currently, Stoko Ambassador and ultramarathoner Andreanne Morisette is training for her next 100k trail ultramarathon and the London Marathon in her K1 Tempos.
Spreading the Technical Message to Runners … Running apparel really hasn't changed much in the last number of years – better waterproofing, better breathability and other new features – but the K1 is truly a transformative product that helps runners to protect their body, push their limits and perform their best. Because of the technical nature of the product and because there is nothing else like it on the market Stoko would love to have a conversation with retailers to help educate and enroll in the product.
Sampling and Demos … Stoko also believes that seeing and trying the K1s are the best ways to experience the product. They can often support with demos for team members to ensure that they are as comfortable as possible speaking to the product, its features and the benefits of it.
Advice on Selling a $298 Product … The Stoko K-Line products are packed full of tech. They offer a full medical-grade support system into the type of clothing you are already wearing for your athletic endeavors. When compared to other medical grade braces, custom options can cost upwards of $1000– $1500. However, the real value comes from their ability to unlock an individual's true athletic potential, to support whatever goals they have in a far better way than anything else does currently on the market. We are so confident that once somebody tries and experiences Stoko's products they will love them, and if they don't we offer our Get Stoked Guarantee, which offers a risk-free 30-day guarantee. Try them out, sweat in them and if they're not right for you, you can return them back no questions asked. We also offer a one-year product warranty.
Athletes and Ambassadors … There is a roster of Stoko ambassadors made up of an engaged global network of recently retired and active elite athletes across various sports who live and breathe #mystokolife. The ambassadors help inspire the company and its community and provide valuable feedback on products. They help spread the word about Stoko, by referring their friends and networks, sharing Stoko on social media, and helping validate the brand.
Medical Input … Stoko's K-Line products are registered by the FDA and Health Canada as a Class 1 Medical Device. The team at Stoko has worked closely with medical professionals since inception and are now partnered with and recommended by physiotherapists, orthopaedic surgeons and athletic trainers across North America.
Social Media Efforts … Overall, the brand's social strategy is broken down into four parts:
Product Education: Educating its audience on the new product category it has created: Supportive Apparel. Since the product is so unique, the company places a big emphasis on this.
Stoko in Action/Brand: Visual brand content that captures one of its three athlete personas with an inspiring caption.
UGC/Community: Sharing stories from Stoko athletes
Partner/Event Updates: Showing reciprocal love to its partners (clinics, retailers, etc.)
Stoko's Social Accounts

The Running Effort … As ski season ends and we move into the Spring/Summer months, Stoko have been posting mostly about running/trail running and hiking as it looks to raise awareness and consideration within these communities.
Running In 2022 and Beyond … Stoko is excited to be launching two more products next year to expand its K-line. The brand has listened to athlete feedback and is adding highly-requested features to the K1s. It will also continue to focus on building its community of athletes and sales partners, with a specific focus on the running market. Stoko wants to expand its brand awareness within the running community and solidify its position as the world's best running tight.
Interested in potentially working with Stoko? Reach out to their team on their Contact Form
This story is part of a sponsored content campaign.