With the goal of being much, much more than just a place to sell shoes, the Veja x Darwin shop that recently re-opened following a post-pandemic shutdown in Bordeaux, France is all about building a brand, sending a very strong eco-message to the world and, okay, selling a few pairs of shoes.
But in this case the shoes primarily being sold are not the latest and greatest from the running shoe and lifestyle brand. Here's the story: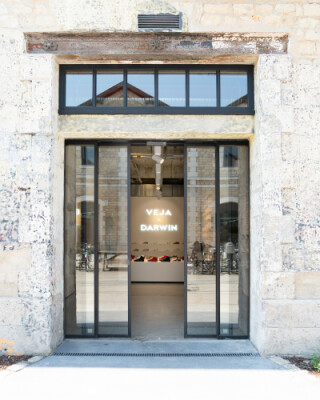 One year ago, Veja opened the Veja x Darwin test-hub for repairing and recycling in a region called Darwin in Bordeaux. Darwin is described as "a life-size playground for ecological and social innovation, inspired by urban cultures." Launched back in 2007, its founder Philippe Barre had the desire to renovate the former barracks into an alternative space for sharing and reflection on the role of the company in the service of the general and collective interest.
The space now brings together 50 associations and 200 companies, breaking the traditional ways of integrating art, commerce, culture, work and sport. Performing as an activist core, Darwin has developed an urban farm, skate-park, spaces for graffiti artists, an organic grocery store and an organic restaurant called Le Magasin Général. In recent years, Darwin has even welcomed refugees and has been the Mecca of solidarity during the confinement.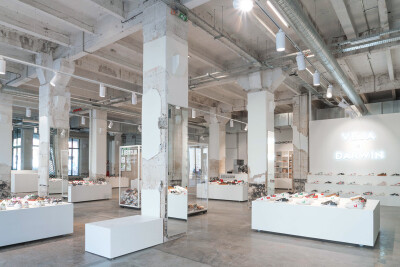 That's where Veja and its concept shop comes in. According to co-founder Sébastien Kopp, the company chose this hybrid place to launch its new project and retail concept as a space to clean, repair and recycle used shoes.
Since the company opened the 350-square-meter Veja x Darwin in June 2019, it has collected approximately 5000 pairs of Veja and other shoe brands. It has a cobbler who repairs all of the sneakers to help reduce waste — to date, Nadège, its in-store cobbler, has repaired around 900 pairs of sneakers.
The Bordeaux storefront then sells these repaired shoes along with other minimally defective models – perfectly usable shoes with slight manufacturing issues that make them unsuitable for traditional retail – at a discount. This is a natural extension of its mission, acknowledging that discarding the imperfect creates waste.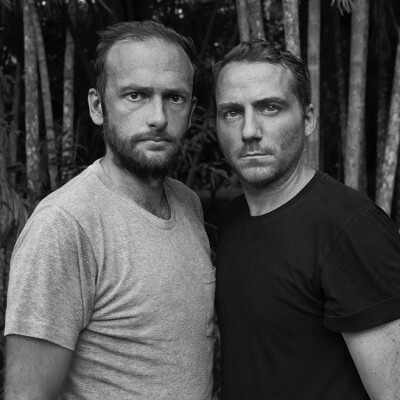 For those pairs that cannot be repaired, including old Vejas and other sneaker brands, it has installed recycling boxes both at Darwin and at its Veja Paris store to collect and give them a second life. The idea is to sort the different materials of a Veja shoe, such as Amazonian rubber, organic cotton or leather, to establish a recycling chain.
An additional unique part of the retail concept is what Veja terms a "pop-up" shop within the store that "celebrates the brand's desire to create quality running shoes with sustainability in mind." Its newer lines, including the recently-introduced Marlin running shoe, are displayed alongside brands such as Patagonia, NOSC and Girlfriend Collective, all of whom share Veja's commitment to defying performance gear's reliance on pollutive materials.
The running pop-up will be remain until the end of the summer and the company has plans for the shop to host panel discussions and product activations with a focus on transparency, climate initiatives and sustainability.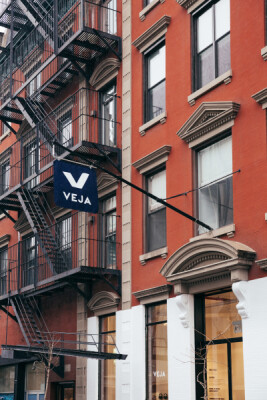 The U.S. Market Expansion
With an eye on building the brand slowly in the U.S., Veja opened a store in New York City's Nolita neighborhood (at 205 Mulberry Street) just before the pandemic began last year. Having weathered the year effectively, the 200-square-meter location is back to normal operations carrying the brand's full running line and has begun hosting a running club with the non-profit A Second U Foundation, which gives formerly incarcerated people a second chance by training them for jobs in the fitness industry.
"After the many months of the pandemic, for us, it was important to keep working on projects we believe in and help people connect with meaningful initiatives,'" says Kopp, who points out that in addition to retail Veja will host initiatives such as panel discussions, product collaborations, book signings and events when the situation allows it.
A big start to all of this took place on May 15 when Veja inaugurated its New York City running club accompanied by A Second U Foundation. The club offers all runners an opportunity to join a free guided run one Saturday per month by reservation. Every running group has a limit of five people per run to respect the sanitary measurements. To get involved: [email protected].
The New York City store is just the first of many planned slow and steady steps into the U.S. market.
"We don't want to open too many stores in the U.S.," explains Kopp. "We would be very glad with one, two, four stores, but not too many too fast because then it becomes too big with too many problems. We open in the cities we like."