couring mainstream headlines last fall, it wasn't hard to come across the name Veja.
The niche Parisian footwear brand, one that had rapidly curried favor with fashionable hipsters, Instagram models and A-list celebrities, landed attention in Fortune and Forbes, Glamour and Elle, the Wall Street Journal and Wired. With its latest footwear release, the Condor, Veja had entered the running marketplace with a bang, not to mention a shoe billed as the world's first post-petroleum running shoe.
But Veja isn't only chasing buzz. No, it's chasing something that can be much more elusive: a stable spot on running store shoe walls.
From Veja's start in 2005, the company's founders, Sebastien Kopp and François-Ghislain Morillion, envisioned bringing a fair-trade sensibility to sneakers, seeing creative sourcing and fabrication as tools to a more sustainable product — and a more sustainable world.
Veja's original run of 5000 pairs of casual sneakers quickly sold out as the upstart French brand found an immediate foothold among the fashion-forward crowd. Veja is now distributed in more than 40 countries – it entered the U.S. market five years ago at high-end doors such as Nordstrom and Barneys as well as independent fashion houses – and has sold more than four million pairs of its casual sneakers to date. (Ironically, fashion, not necessarily Veja's thoughtful environmental pursuits, has driven much of that success, company leaders readily acknowledge.)
Internally, though, Veja leadership – and some of its loyal consumers – hungered for more.
The Condor is that hearty dish.
A four-year project that included a team of specialty engineers and 80 testers, the Condor blossomed from Veja's maturation, its escalating R&D capabilities and earnest interest in bringing a more sustainable edge to the performance run marketplace.
"There was an opportunity to fulfill something we wanted for some time," Veja running project manager Arnaud Dabir says, adding that the success of niche brands like Ciele and Tracksmith in the performance run market demonstrated interest in "boutiquey" brand's with a unique story.
Admittedly, it has been a tough, complicated climb.
Dabir, whose resume includes sales and marketing roles at Nike and Saucony, says Veja "had everything to learn on every step," especially since the brand claimed limited sports background and wanted to shun the traditional materials – namely, climate-damaging plastic – that characterized traditional running shoes.
"Working with natural materials is a different and difficult approach," Dabir says.
In time, Veja found its formula for both performance and sustainability. The $150 Condor's upper is crafted from 100 percent recycled plastic bottles; its midsole combines EVA with banana oil, sugar cane and rice waste; and its outsole blends wild rubber from the Amazonian forest with rice waste. Veja promises a shoe with eco cred as well as the functional chops necessary to deliver a positive on-the-road experience for the recreational runner.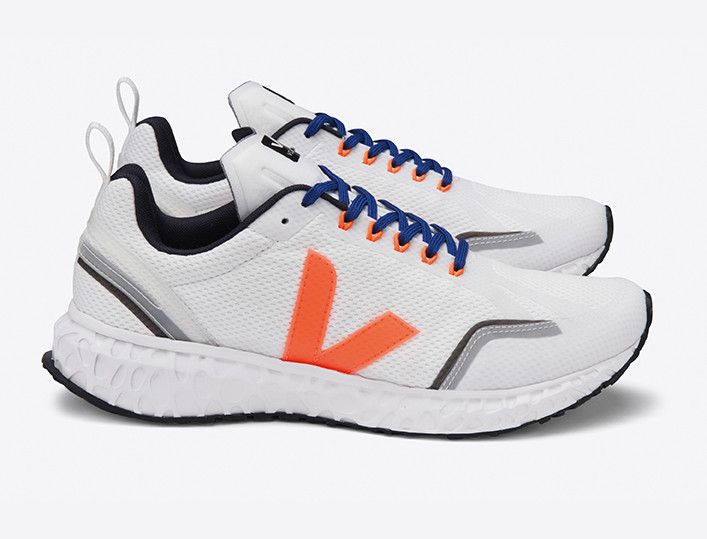 Dipping Into Run Specialty
Veja leadership has called the Condor a first step in its prolonged march into the performance run world. While Veja allocated small volumes of the Condor to high-end lifestyle stores where the brand already has a foothold, it also strategically developed distribution in the run specialty channel, specifically favoring partners possessing a strong digital presence, merchandising skills and curated assortments.
"We sought out partners with the proper approach on sales and presentation, partners who are like-minded," Dabir says.
Palmetto Running Company, a two-unit operation in South Carolina, was one of those select partners. The nine-year-old company with a slick digital presence and its own sustainability principles jumped at the chance to carry the Condor given its fashion following and eco-friendly traits.
"Veja's story separates them from anyone else and people are connecting to story nowadays," Palmetto Running Company co-owner and general manager Christian Fyfe says, noting that his customers are largely using the Condor as a lifestyle shoe or light running shoe.
While Dabir says Veja "absolutely" wants to be in run specialty with operations that are "knowledgeable, close to the customer and offer high-caliber service," the brand is not interested in hustling into as many doors as possible. Rather, Veja plans to mimic the steady, consistent approach it had on the lifestyle side, where it earned credibility by producing on orders and giving supportive service to retailers.
"We don't want to push risk onto retailers, rely on discounts or put pressure on stocks. We want to focus on building long-term partnerships and growing together," Dabir says, noting that Veja's 2020 releases will be limited to new colorways of the Condor.
Notably, Veja also eschews advertising, a decision that allows them to reach competitive price points despite more expensive materials and production.
"We break some codes because we're not the traditional running shoe company," Dabir says.
Dabir and his colleagues understand it will take time for Veja to prove itself in the running world with both consumers and specialty retailers.
"There's a lot of trust to be established," he admits. "We're beginning with the early adopters and working to deliver a positive experience, so they talk about us and stay with us."
While Veja's early approach into run specialty might be methodical, leaders insist that's all part of the plan, a calculated, long-term play to build a sports division every bit as strong as Veja's already robust lifestyle arm.
"This is not a one-shot deal for us," Dabir assures.
Veja remains intently focused on developing footwear that reflects the brand's sustainability mission and is also technically sound. Dabir, in fact, promises perpetual improvements and new innovations aligned with performance and how runners engage with the sport.
"We want to be on par with the best shoes on the market," Dabir says. "We want people to buy our shoes because they trust us and know it's a quality product."
It's something Veja's early run specialty partners would like to see as well.
"We'd love for them to be the next On or Hoka, the next brand that moves up and becomes a household name," Palmetto's Fyfe says.
For Dabir and Veja, that's the goal, one buoyed by run specialty's swelling embrace of new brands, novel approaches to business and growing ties to outdoors and fashion.
"We know we're trying to push something different, but we really believe we'll find people in a similar state of mind," Dabir says.