Utilizing a unique high-tech treadmill along with an eco-friendly fabrication technique, Italy's Unleash Your Nature (UYN, pronounced "win"), recently unveiled UYN Running for Spring 2024 – billed as the first running shoe engineered from socks, for road, trail and cross trail. Specifically, the line includes three styles:
Synapsis for road running, (MSRP: $179.00)

Neuron for Trail Running (MSRP: $179.00)

6Sense for Cross Trail (MSRP: $199.00)
The proprietary design and technology features reflect two years of research and collaboration with Trerè Innovation's research and design facility AREAS (Academy for Research and Engineering in Apparel and Sports) and the Cerism Center of the University of Verona, examining running in outdoor environments and the study of neuro-muscular reactions.
UYN's footwear engineers are using a next-generation treadmill called the Reaxing platform treadmill pioneered by the Italian company Reaxing. Unlike traditional treadmills, the Reaxing platform inclines in all directions in a sudden motion, replicating the unpredictable transitions of outdoor running. Specifically created for neuro-reactive training, this treadmill enabled UYN to study the true conditions of the outdoors in a controlled environment. Neuro-reactive training focuses on the appropriate body positioning and posture to promote proper dynamic muscular stabilization during running.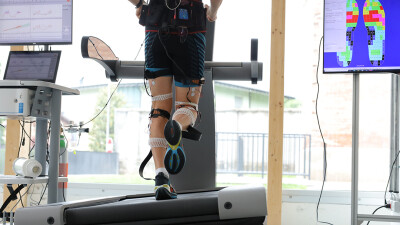 "UYN Running represents the future of running footwear clearly differentiating us from what presently exists in today's marketplace," says UYN CEO Marco Redini. "Thanks to this new study methodology, we created the first neuro-reactive running shoe using a distinct structure guaranteeing superior stability and optimal movement control, especially in unforeseeable conditions while running outdoors. The mission of UYN is to enhance the quality of the overall running experience, not just the process of accumulating miles."

UYN Running's zero-seam structure wraps around the foot and stabilizes it while respecting the natural shape. This design prevents abrasion and hot spots and provides flexibility, stability, and breathability.

Other technologies include:
Select uppers made with Flexicorn bio-fiber, a sustainable alternative to elastane, derived from corn seeds for elasticity, resilience, quick drying and UV resistance.

Merino wool for a soft feel on the skin and temperature regulation for all seasons, cooling when the foot is hot, and warming the foot when it is cold.

The Heel Active Ligament Outerframe (H.A.L.O) provides support for sudden changes in direction while stabilizing the heel and steering the foot into a neutral path from the very first roll-off movement.

Connected with the H.A.L.O. is the Power Chassis, a rigid platform built into the midsole, making the shoe more rigid and providing energy return for a smoother run.

The Freebound heel design cushions and stores the forces generated around the heel.

The lightweight UYN Propulsyon foam uses proprietary technologies giving the runner the best possible energy return, releasing impact pressure into the next stride
"UYN Running reinforces the brand's leadership in the sustainability category, providing runners with all the tools they need to excel while minimizing its environmental impact," Redini adds.
In addition to UYN Running, UYN is expanding its Urban Trail collection designed for urban adventures and trail explorations by adding the Aethon (MSRP: $199.00), Arion (MSRP: $169.00), and Artax (MSRP: $169.00). The Urban Trail Naked, for light trekking and everyday life, will have expanded colors in all white and all black.
Trerè Innovation was founded in 1950 in Asola, Italy, producing only technical stockings by Luigi Redini, father of today's CEO, Marco Redini. Today, it is respected for its next generation sustainable technologies in design and manufacturing. The company's Academy for Research and Engineering in Apparel and Sports (AREAS), its 38,000-square-foot testing facility, enables Trerè Innovation to engineer best-in-class fabrics, subjecting them to the toughest tests in a climate wind tunnel, a rain room and a cold chamber.
In 2018, Trerè Innovation introduced UYN (pronounced "win"), "Unleash Your Nature" apparel, footwear, and technical socks for running, winter sports, outdoor, and cycling. Today, national ski teams use the brand's base layers including Austria, China, Czech Republic, France, Great Britain, Italy, Slovakia, Slovenia and Spain.
In addition to UYN, Trerè Innovation manufactures private label products for global brands including Christian Dior, Harley-Davidson, Puma and Rossignol, among others, and owns TITICI, a bike brand that has carbon fiber models for road, gravel, mountain and electric biking. Today, UYN has 10 stores in Italy, one store in Germany, and has plans to open a store in Boston, MA, two stores in the U.K. as well as 20 more locations throughout Europe.