Racing is back in one form or another as the pandemic slowly and unevenly lessens its hold on America, so Running Insight went for a virtual run with Running USA's Dawna Stone, CEO, and Christine Bowen, VP-programming, operations and partnerships, for a first-hand look at the state of running races in America, how race directors have weathered the pandemic, and what it will take to keep on running.
How would you describe the state of racing in the U.S. in the Fall of 2021?
Dana Stone: Races of smaller sizes – below 10,000 runners – have been coming back throughout the spring and summer and it will be a sign of major progress if some of our largest running events in the U.S., including the New York City Marathon, Boston Marathon, Chicago Marathon, LA Marathon, Marine Corps Marathon and Twin Cities Marathon, are able to proceed with their race plans for this fall.
Are races of all sizes continuing to be impacted by the pandemic?
Stone: There have been a few smaller marathon cancellations for the next few months, but nothing on the scale of what we saw last year. A recent survey of our Running USA membership found that 95 percent of race directors had events scheduled between September and November, and 77 percent were feeling optimistic about event business performance during the second half of 2021.
Have you begun to seem some signs of a return to "normalcy" in racing?
Christine Bowen: Slowly but surely, yes.
What's it going to take to continue that slow and sure progress?
Bowen: The most important part of regaining that normalcy is for events to be able to work with their appropriate agencies in their municipalities to earn the permits and permissions that are needed to plan for races to return. With a few limited exceptions, most states have now eliminated their bans on mass participation events, which clears a path for races to plan ahead for a much more normal 2022. Races will still have to require and enforce safety precautions, but as our Running USA white paper on racing safely during COVID-19 explained, we know what those precautions are and it's now simply a matter of requiring and enforcing them during the event.
So what does that normalcy look like?
Bowen: Just like many public experiences these days, normalcy is going to vary depending on where the event is being held and what COVID prevention requirements are in place. We encourage events to look to our COVID-19 mitigation white paper as a resource for producing a safe and healthy road race.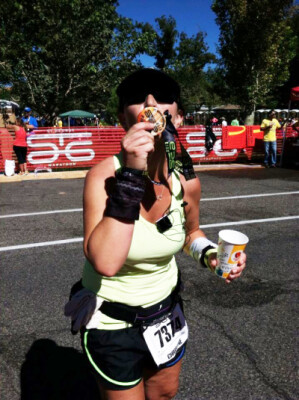 What are some of the recommendations in that white paper?
Bowen: Before 2020, races were typically very crowded spaces, not only on the starting line but in event expos, at packet pickup, pasta dinners and other spaces. It's likely that will never be the case again. There are also widespread changes in sanitation, hydration, food and beverage and other normal elements of race day that will hopefully improve the race day experience in the long run.
Have you seen any unique or particularly creative efforts to get racing back?
Stone: What we're seeing is an impressive display of dedication and determination on the part of event producers. It's important not to underestimate the efforts and planning that it takes to successfully produce a large-scale event, especially now with so many additional challenges. Our hope is that runners and the greater running industry at large will find ways to appreciate race production teams, as this industry wouldn't be able to make a comeback at all without their grit and determination.
What are race directors telling you about their efforts to run events again?
Bowen: Right now, some of the most pressing challenges are supply chain shortages and finding enough contractors and volunteers to produce successful events. Just like restaurants and other consumer-focused business, races share the challenges of procurement. And for staffing, this fall is especially difficult given that so many major events are taking place in such a short time frame.
How about participation numbers?
Bowen: When it comes to runner participation, however, we're hearing very positive things. Registrations are trending on par with past years. That aligns with the interest and demand we saw from runners in our 2020 Global Runner Study — a wide majority indicated their desire to get out and race again in-person as soon as they felt safe doing so and those opportunities are now presenting themselves.
What has RUSA done to help its members keep going during the pandemic?
Stone: We offered online sessions, content resources, networking opportunities and education opportunities for our membership base throughout 2020. We also were a founding partner of the Endurance Sports Coalition, which lobbied Congress for support for the event industry. In 2021 we have focused our efforts on successfully returning to our in-person Industry Conference in February 2022, collaborating with The Running Event on content for their 2021 conference, continuing to offer content resources like our COVID-19 mitigation white paper, and more.
And a magazine we see?
Stone: This spring, we launched Race Director Magazine, which provides the industry with invaluable perspective from fellow race directors and can be found at runningusa.org. Finally, we're currently in the planning process for several important new initiatives that will benefit the industry at large, so stay tuned for more on those.
Do you see much demand for virtual race events going forward?
Bowen: Virtual events are going to be a mainstay going forward. They're a wonderful alternative if life gets in the way of your planned participation in a live event – maybe your child is sick or you have a work conflict and can't do that race you've been training so hard for. Virtual is the solution and it's a great way to keep people engaged in the sport no matter what comes up.
But will they continue to grow?
Bowen: Most event producers aren't expecting those virtual numbers to go above 20 percent of the overall finisher total — if they do, that likely means there's something going on regionally that's preventing runners from feeling safe about being out in public.
What advice would you have for run specialty retailers as races return?
Stone: In short, look for opportunities to partner with your local road races and capitalize collaboratively on the ongoing running boom.
Can they take anything positive away from the pandemic challenges of the past 18 months?
Stone: The reality of the pandemic lasting further than any of us hoped is that running will become a dependable exercise mainstay for many more Americans. When they don't feel comfortable going to a group class or a gym, running is the ideal alternative. We know from our member events that between 10-15 percent of the runners signing up for races right now are new to the sport and trying events for the first time. That's a great expansion of running, and something retailers and races can benefit from simultaneously, especially if they work together.
At the risk of reliving the past year, what has been your personal experiences in the pandemic?
Bowen: I didn't realize how much I was going to miss traveling and seeing so many colleagues at events around the country. Those people are some of my closest friends and there was most definitely an emotional void that Zoom meetings can't fulfill.
Yes, we all miss that, but The Running Event is right around the corner! Any other takeaways?
Bowen: I also have observed how much more people are sharing openly with others that it's okay to feel uncertain and anxious during this time. We are all feeling it to some extent. While it was great to have my children home more, it was painfully obvious that they were not thriving with a virtual environment for school. It's been really great to watch the mood shifts, returning to sports and in-person learning.
So, what's next for racing in America in general and RUSA in particular as we head into the fall?
Stone: The staff and board of Running USA are confident that the more successful events held by year's end, the better off the sport will be in 2022. Our industry is working diligently to produce the safest, most successful events possible while still making them fun and enjoyable for participants. We truly believe that if this fall's races can be successful, we will gain great strides towards true normalcy next year.