Best-selling author and host of the popular podcast Revisionist History Malcolm Gladwell will host a new podcast called Legacy of Speed, which tells the story of the San Jose State track and field program of the 1960s, which improbably launched the careers of several of the fastest sprinters of the day. These runners – Tommie Smith, Lee Evans, and John Carlos – are remembered now as much for their protests at the 1968 Summer Olympics as they are for their breathtaking speed.
Gladwell, a competitive runner himself, explores the ways in which this pivotal moment in sports history has paved the way for the modern-day activism of our contemporary sports heroes.
Legacy of Speed is a journey through unlikely historical connections and revelations that Gladwell fans have come to expect from him. The podcast begins with Bud Winter, coach of the second-tier state college track and field program at San Jose State, who single-handedly built what came to be known as Speed City. Taking what he learned from working with fighter pilots in World War II, Winter taught his sprinters breathing and visualization techniques that were unheard of at the time for athletes. He also notably focused on recruiting Black athletes to a mostly white school where they were introduced to budding activist Dr. Harry Edwards, author of The Revolt of the Black Athlete, who gave them the confidence to be heard.
"I've run competitively since I was young, so a story like this really resonates with me as both an athlete and journalist," says Gladwell. "I remember seeing the photo of Tommie Smith and John Carlos standing on the Olympic platform with their fists in the air and understanding that it was an act of transgression. That moment is important. It paved the way for how we think about the relationship between sports and social protest today."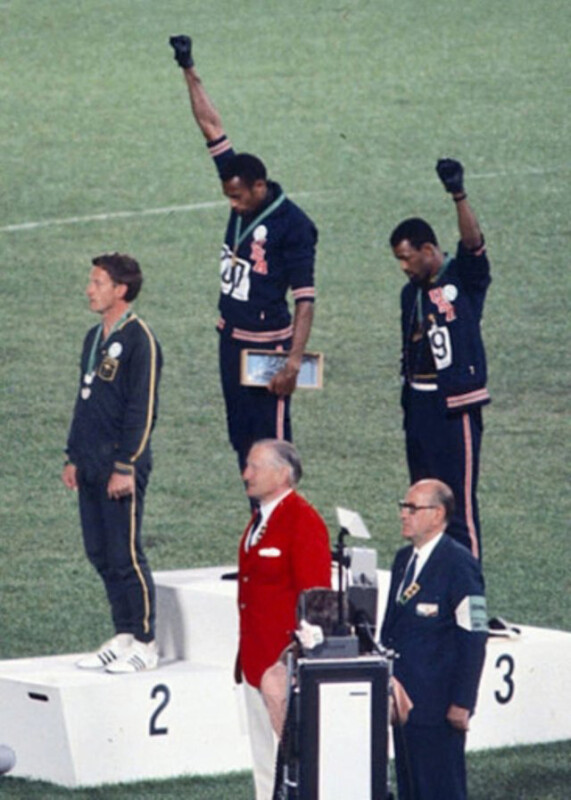 In this six-episode series from Pushkin Industries, Tracksmith, and Puma, Gladwell traces the journey of the stars of the Speed City track and field program who would later go on to ignite the movement to boycott and protest during the 1968 Summer Olympics in Mexico City. Featuring conversations with Olympic athletes, sports journalists, performance coaches and documentarians, as well as Tommie Smith and the friends and families of those involved, Gladwell resurfaces an important sports story of athletes who took a stand, and the coaches and mentors who made them fast enough – and brave enough – to pave the way for the sports activism we see today.
"The story of Speed City transcends sport," says Tracksmith founder and CEO Matt Taylor. "It's one we've long wanted to tell. A conversation with Malcolm on a run revealed we shared a passion for Speed City's history – from Mexico City in 1968 to the rise of Usain Bolt. I cannot think of a better partner to explore the powerful legacy of this iconic team. It's an honor to present this story together."
"Puma is proud to have such a strong connection to one of the most important moments in the history of the sport of running and running culture," adds Puma chief brand officer, Adam Petrick. "The coaching of Bud Winter and success of the Speed City team has had an impact on everyone in the world of track and field, up to and including the current Jamaican team. Our continued support of Jamaican athletes and coaches can be attributed, in part, to this legendary team."
Legacy of Speed will premiere on Apple Podcasts, iHeartRadio, Spotify and wherever listeners access podcasts and will feature five documentary-style episodes and one episode of a live conversation at the World Athletics Championships in Eugene, Oregon. Legacy of Speed is produced by Pushkin Industries and Tracksmith and presented by PUMA.
Episodes include:
EP1: Relax and Win: A small group of people – all connected to a second-tier state college – revolutionized coaching and athletic activism in the 1960s. Coach Bud Winter took what he learned from working with fighter pilots in World War II and created a system for training sprinters at San Jose State. His "Relax and Win" methods used breathing, visualization and other unconventional coaching techniques to create a powerhouse track and field program. Another thing that made him unique at the time was his focus on recruiting Black athletes to a mostly white school.
EP2: Building a Movement: By the early 1960s, Speed City was earning a reputation for breaking records. But Bud Winter's track program was broke. He stretched his scholarship budget so far that many athletes struggled to make ends meet. That, coupled with the racism Black athletes faced on the mostly white campus of San Jose, ignited the budding activist Dr. Harry Edwards. He wanted to take a page out of the playbook being written by civil rights leaders of the moment like Dr. King. And he realized the attention paid to Black athletes gave them the power to be heard.
EP3: Exit, Voice or Loyalty: Tommie Smith. Lee Evans. John Carlos. These three legendary sprinters spurred each other to record-breaking success – and became leaders in the movement to boycott the 1968 Olympic Games. Their mentor and professor Dr. Harry Edwards found them to be the perfect students for his "Revolt of the Black Athlete".
EP4 Three Days in Mexico City: After months of debate about whether to boycott or not, the trio of Speed City sprinters head to Mexico City. From the penultimate race that left Tommie Smith injured, to the world-record breaking 200M finals, to Smith and Carlos' protest and expulsion from the games, the young athletes are thrust onto a global stage with the weight of the world on their shoulders. Coach Bud Winter plays a quiet but important role throughout these days, where his relaxation training faces its biggest challenge yet.
EP5: The Legacy: The track in San Jose has been turned into a parking lot. But the legacy of Speed City is alive and well, on and off the track. More than half a century after Tommie Smith and John Carlos sprinted their way into the spotlight and shocked the world with a silent protest on the victory stand, the ripple effects of their actions can still be felt today. Their mentor Dr. Harry Edwards is still a central figure in the world of sports too. He works closely with activist athletes like Colin Kaepernick and consults with professional sports leagues on issues of racial equity. And the coaching methods of Bud Winter? They transformed the sport, and are deep in the DNA of the world's best sprinters, including Usain Bolt.