Track and field can be both one of the most rewarding and at the same time expensive sports for young athletes in terms of both equipment and time. To excel, many student-athletes invest in the best trainers, flats and spikes, and join summer programs promising to help their times improve before school starts.
Not only does the gear itself add up, but add in sports medicine doctors, physical therapists, tutors and nutritionists and you see fewer and fewer students able to stick with their dreams of college scholarships, going pro, becoming Olympians — or even just being a part of their school's track team.
Take 14-year-old Angie Burgess of Woodbury, NJ, for example. She wanted to join her middle school's track team, but without being able to get a sports physical, she'd have to watch from the bleachers — half of the season went by before she was able to afford the cost of a physical. But during her first track meet of her first week on the team, she'd place first in all of her events.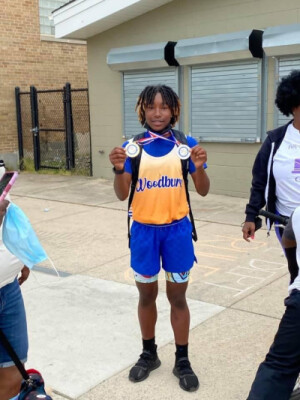 According to her mother, Ebony, when she finally had the funds for the physical, the school arranged for Angie to get it that same day. "Angie won all of her races and when she got back to school, over the intercom they announced that she broke the school record for long jump," Ebony reports.
Upon seeing Angie's passion and success, her teachers began to rally around her, ready to offer any support necessary for her to continue to excel. That includes one teacher, Ms. Pringle, who made Ebony a keepsake box to celebrate and encourage her.
While the support of the staff at Woodbury Middle School propelled Angie forward, other students aren't always as fortunate. Many encounter hurdles that impact their success.
A half hour north of Woodbury is Willingboro, NJ, where Kate Baker has coached the boys' track team for years. She tells Running Insight: "While I was coaching, I definitely often thought there was a need for retailers and small businesses to step up. My students would train in shoes from past seasons and they'd be worn out." She speculates that, as a consequence of wearing old shoes, many of her athletes would end up injured every season.
She's certain the lack of adequate equipment and shoes was the culprit, considering that students on other teams fared better.
"Having also coached cross-country in a more affluent setting, I could see that injuries were more prominent where students struggled financially and I believe not having proper footwear was a big cause of that," Baker says. With that experience fresh in her mind, she calls on run retailers to foster the talents of young runners — not only to get new customers, but because it is the right thing to do.
Her suggestion: "Students could benefit from stores collecting high-quality, gently used or new sneakers through donations."
While it's common for running stores to offer discounts, they aren't always enough. A discount bringing shoes to $100 is still cost-prohibitive, especially as many students in her district would come to practice hungry.
"Most of my students have a hard time finding food outside of the free breakfast/lunch offered by the school," she says. "It would be awesome if healthy food companies would offer more in the way of donations to student-athletes."
She believes that even a small running retailer could use its connections to facilitate donations from sports nutrition companies.
While coaching, Baker and her fellow coaches often pitched in to feed the students, but buying McDonald's every day isn't feasible for them. She laments, "Too many times students entered competitions hungry or went home hungry."
Struggling for Necessities
Louis Tillery understands this burden as well, as a former runner and current summer track program coach. He sees how even his middle class students struggle to afford the necessities.
"There are so many barriers. You may have to pay to register with your club team and then pay for entry fees per meet," he explains, pointing out that many middle and elementary schools lack track programs so kids have to go with local club teams.
In addition, for a lot of parents all day track meets aren't feasible either.
"You may have to arrive at 7 a.m. and stay until 6 p.m. or later depending on when your events are. This past season many of our meets were more than an hour-and-a-half away. Imagine having to wake up at five, get your children ready and drive to a track meet that early. Your child may compete in three events throughout the day at various times."
Having a parent whose schedule can accommodate those extended track meets is tough.
The Retailer Connection
Thankfully, some run retailers are creating equity for students who love to run. Take Fleet Feet Rochester, which takes many approaches to helping underprivileged youth. Among them – the Monroe Milers in Rochester, NY.
According to VP and CFO Ellen Brenner, the Monroe Milers is a youth group for underprivileged children to get started in running. Fleet Feet has sponsored them through discounted footwear and team tees and race entries for many years.
In the past, the Monroe Milers have also gotten support from Wegmans, which has helped with providing healthy snacks. Like the case with Baker's team and young Angie, the community steps in right with Fleet Feet to make the program a success.
But with the program temporarily shut down because of COVID-19, as well as students still stuck in virtual classrooms through the end of last school year, Brenner can only imagine how vulnerable local students were impacted.
"This coming season we will likely start with offering team spike days where athletes can come in together, but also provide flexibility to come in at their leisure," she says. Fleet Feet also sponsors a youth cross-country camp through scholarships for underprivileged athletes to attend.
Marc Pelerin, who coaches adults as well as at Cinnaminson (NJ) Middle School, explains that retailers that only offer discounts still have their hearts in the right place. His closest retailer, The RunningCo. of Haddonfield, often helps to fund local races, on top of offering discounts and prizes. The RunningCo. also has seasonal sidewalk sales offering steep discounts and the August sale sees quite a few local cross-country runners getting ready for school.
Realizing that offering financial assistance could place a burden on many small businesses, Pelerin believes it would be more beneficial if a running store was the liaison between school teams, clubs and sponsors. For example, if Hoka, Brooks or Nike could flex some of their marketing budget into helping grassroots programs, a smaller independent running store could help out without hurting its bottom line.
He also suggests that larger retailers offer some sort of scholarship program for low income areas.
Finding the Resources
For the good of the run business, retailers and vendors should consider how many more students like Angie there may be out there. While having the resources to pay for her physical held her back, other student-athletes struggle with getting their gear and even to have food outside of school. Coaches are looking to retailers to help these students reach their potential.
Just imagine if Angie Burgess could have started sooner.
Her mother, Ebony, explains it best: "I'm sure there are a lot of other kids who won't ever be able to reach their goals. But I do see a bright future for my daughter with running track. It's going to take her somewhere."