The goal of sustainability has become a standard practice for manufacturing running products in the 21st century. Influenced by consumers, regulators and social conscience, manufacturers walk a fine line of responsible compliance — from materials to methods of production. Here, as part of this special Focus on Sustainability, three of running specialty's leading running shoe brands share with Running Insight their priorities, practices and policies regarding sustainability.
What efforts are you making to ensure sustainability in your supply chain, product development/manufacturing and distribution?
Anne Cavassa, President, Saucony: Our desire is to build the best performance running shoes while also treading lightly on this earth. After all, it's the playground that we runners love and must protect for future generations of runners.
Advancing our commitment to advocate for and protect our planet, we actively seek out responsibly sourced materials and environmentally sustainable business practices in an effort to reduce waste and minimize our impact. We also require manufacturing processes to minimize the adverse effects on the community, environment, and natural resources.
Because we believe that what we do is more important than what we say, we are developing our first biodegradable shoe, reinforcing our commitment to sustainability. The process of making this shoe will be considerably different from other modern footwear manufacturing. The production line will have fewer steps and use less electricity. In a way, we are turning the clock back on industry norms. Without the use of petroleum-based glues and threads, this shoe will be built by the same stitching processes used when we began making shoes in the late 1800s.
The Saucony biodegradable shoe in development builds on commitments to sustainability and doing good already established by the brand. These include the Jazz Original vegan shoe collection and the brand's apparel line, which beginning Spring 2020, nearly 100 percent of the garments will include sustainable materials.
Dan Sheridan, Senior VP, Brooks Running: Our Corporate Responsibility program is focused on reducing our environmental and social impact across our own business, product and supply chain. Key highlights of these pillars include:
Supply Chain: Responsible sourcing is a priority. We have responsible sourcing standards and require all suppliers to adhere to our code of conduct, as well as municipal law and international labor standards. We have a Supplier Code of Conduct that sets our standards for environmental and key human rights issues like health and safety, working hours, gender equality, and freedom of association. We've also adopted the Higg Facilities Environmental Module (Higg FEM) to evaluate and improve environmental performance at all final assembly factories and strategic material supplier factories.
Product: Our Product Sustainability program is focused on reducing the environmental impact of our products through a focus on materials, waste and chemicals. We have a goal to work with 100 percent recycled polyester by 2023. In the meantime, we can also significantly reduce material waste through the decisions we make during product design. The shape of the different parts of our shoe uppers is a key driver in the amount of waste created during manufacturing. We track the pattern efficiency for each part of our core footwear styles' uppers and feed this back to our design team throughout the development process, so they can make adjustments before we mass produce a shoe. Our goal is to empower designers to make smarter decisions that will reduce our products' footprint.
Climate Change: Brooks is constantly prioritizing ocean shipment over air shipments. We recognize climate change is real and acknowledge our role as both a contributor and a part of the solution. Our focus in the last two years has been understanding the total picture of our carbon footprint and we are now in the process of setting our reduction targets and developing a roadmap to achieve them.
Todd Dalhausser, President, Altra: VF (Altra's parent company) recently announced a list of bold science-based sustainability targets for 2030. Altra will collaborate with the broader VF supply chain to reduce our collective CO2 emissions by 30 percent by 2030. Additionally, our target of incorporating sustainability into our highest volume material purchases is transforming the way we think about the materials we use in our products.
At the brand level, we have already started implementing innovative changes to our process and in our material selections to reduce our impact on the environment and start to make measurable progress towards these bold goals. In the coming seasons you will notice that our products will contain more organic natural, renewable and recycled materials. We also have plans to announce an Altra-specific bold goal to hold ourselves accountable to our customers in promoting sustainability and to start to move the needle in helping to reduce our impact on the planet.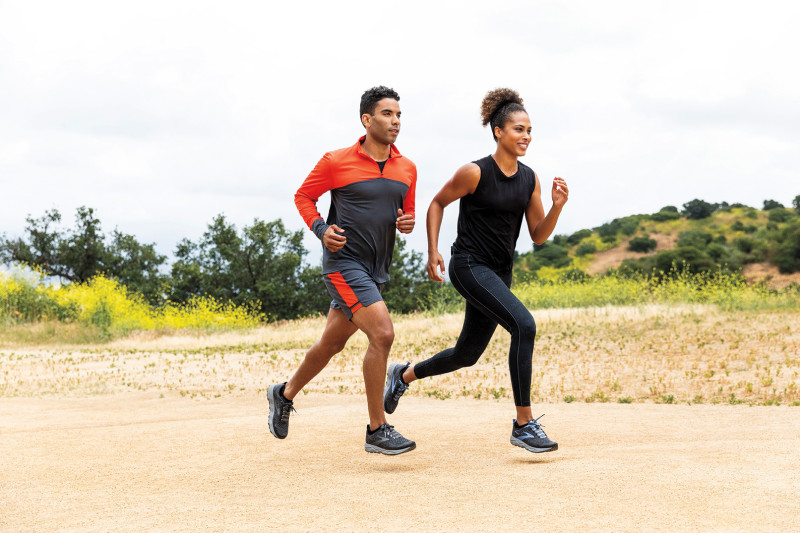 How do your midsole foams stack up from an environmental standpoint?
Cavassa: Our current EVA-based midsoles, such as PWRRUN, are all manufactured using methods to reduce waste and resource usage (water/energy/human). Any and all rejected parts are sourced for post-industrial recycling. Our TPU-based midsole, PWRRUN+, is fully recyclable and closed loop, resulting in the reduction of virgin materials needed to produce. We continue to push all recycled content levels upward.
Our focus moving forward is incorporating increased bio-content into all midsole compounds while ensuring that their performance is uncompromised. Biodegradability in footwear materials continues to be a topic we are expanding upon.
Sheridan: Our EVA midsoles include a natural additive that accelerates biodegradation 50 percent faster than traditional EVA.
Dalhausser: In years past, using more sustainable materials would come at a cost of performance and reduced durability. However, with more material suppliers investing in sustainable solutions, we are now starting to see the performance side of these sustainable foams catch up, and sometimes even surpass the traditional foams. We think this part of the foam development is really exciting and we can't wait to start implementing these into our lineup.
What goes into the conversation for materials in your apparel and footwear lines?
Dalhausser: Altra is first and foremost a performance running brand. We pride ourselves on providing a more natural solution for running and we are constantly looking for new ways to incorporate more responsible, natural materials into our product lines to complement that performance. Some of the materials we're looking into have a great dual benefit in that they are sustainable, but also complement the shoes in other ways, such as adding softer hand feel and more breathability. From a design and engineering perspective, when we can find materials that have multiple benefits like this, we view it as a win/win opportunity to provide value to our customers.
Sheridan: As a brand, we're focused on reducing the impact of raw materials, with our current focus on increasing the recycled content in our textiles. We demand that all of our materials comply with our Restricted Substances List that includes a minimum, all chemicals that are regulated by the most stringent global legal regulations.
In addition, we've aligned with the Bluesign standard and have a goal to source 100 percent of our nominated apparel fabrics through these guidelines. Lastly, another key area that we're focusing in on is ensuring we reduce the impact of waste created in our manufacturing process.
Cavassa: Social responsibility and sustainability concerns have become a major platform for innovation and fueling change in the industry. With that said, we made the decision in our Spring 2020 apparel line that it was to be a completely sustainable line. We always begin with the runner and the material properties needed to support the runner. We look for high-performing materials with characteristics that might include wicking, drying, insulated value and breathability. We then work with our mills to develop the fabric with recycled and/or organic content all without compromising performance and comfort.