The last two months brought a flurry of activity around run speciality shops.
We saw running stores across the U.S. organize Run for Eliza events in early September, kind-hearted gatherings to honor the memory of Memphis runner Eliza Fletcher. We saw run shops host Halloween-themed fun runs and celebrate the success of local athletes, from high school harriers to those competing in marquee fall marathons like Chicago and New York City. We saw pub runs and demo runs spotlighting new products, youth races and couch-to-5K graduations.
In short, run shops continued doing what they do best: thriving as the pillars of run culture in their communities.
Charm City Run celebrates its top 100 customers
For nearly a decade, Baltimore-based Charm City Run has been celebrating the top 100 customers in its multi-store universe with an intimate event featuring a light dinner, refreshments and swag from ASICS.
"The night is special and a small way for us to express our immense gratitude," Charm City Run president Tom Mansfield says.
While the event honors the top 100 spenders in terms of dollars from the previous calendar year across all of Charm City Run's stores, Mansfield calls these customers the company's top ambassadors and advocates as well.
"We are humbled and honored to get to do what we love each day and these people have so much to do with that," he says.
City Park Runners recovers quickly – with some humor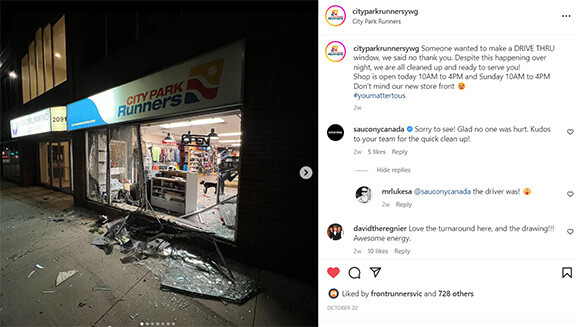 North of the border in Winnipeg, City Park Runners gave new meaning to the phrase "up and running."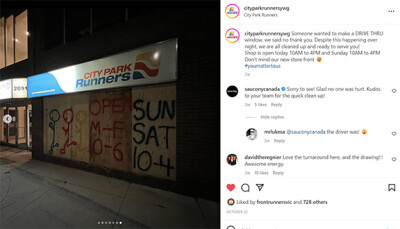 Before sunrise on Oct. 22, a car hurtled through the window of the running store causing significant damage. Within hours, the City Park crew had cleaned up the mess, boarded up the shop with some custom-made artwork and readied to serve customers. Amid a challenging situation, the store responded with resilience and humor.
"Don't mind our new storefront," the store quipped on social media while sharing before-and-after photos of the shop's front windows.
Running Niche and Saucony unveil development opportunity for St. Louis area post-collegiate runners
Running Niche and Saucony partnered up earlier this year to offer post-collegiates in the St. Louis area a lively opportunity to chase new PRs and test themselves at new race distances. The inaugural Running Niche trio includes: Adam Walker a 2022 graduate of St. Louis University; 2018 University of Missouri alum Drew White; and Sarah White, a 2021 graduate of Benedictine College in Kansas.
Running Niche co-owner Bob Dyer, a Lydiard Method and RRCA certified coach, provides coaching services alongside his wife, Jennifer Henderson, while the store covers training and racing apparel, travel expenses and local race entries. Saucony, meanwhile, shares footwear for racing and training. In return, the athletes compete in local races sporting the Team Running Niche racing kit and Saucony footwear. The athletes also participate in the store's group social runs and expertise clinics.
"Post-college runners have very little opportunity to continue developing once they start their full-time work life" says Dyer, a former 2:21 marathoner who once trained with the support of a shoe company. "We feel it's important to provide some of the support structure needed via coaching, equipment and travel expenses."
Terra Running Company rewards teachers
In conjunction with this fall's Cleveland Half Marathon and 5K in its hometown of Cleveland, TN, Terra Running Company launched its Battle of the Schools contest to increase participation at the races among staff and faculty at local schools. Staff from more than 10 local schools hit the starting line on October 1.
Following the race, Terra Running Company owner Brittany Katz and manager of community engagement Tiffany Skinner visited the winning school, Blythe-Bower Elementary, where the duo handed a $500 check to principal Joel Barnes and served the hardworking staff coffee from Cleveland Coffee Market.
St. Pete Running Company collects for hurricane victims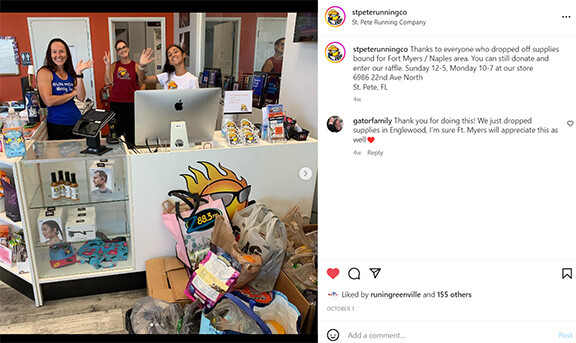 Following Hurricane Ian's devastation of Fort Myers, FL, and neighboring communities in late September, the St. Pete Running Company rallied support to help its fellow Floridians. The running shop became a donation site for needed items ranging from cleaning supplies and toilet paper to non-perishable food and manual can openers.
"We just wanted to help as many people as quickly as we could," St. Pete Running Company co-owner Cody Angell says, adding that the nimbleness of being a small business enabled his shop to quickly activate plans and execute.
Within a week of the hurricane's landfall, St. Pete Running Company sent nearly three full truckloads of supplies south to areas ravaged by the most significant hurricane to hit Florida in nearly 90 years.
This isn't the first time the St. Pete Running Company emerged a post-hurricane hero. After Hurricane Irma hit the Gulf Coast in 2017, Angell and crew invited those without electricity to visit the shop to hang out, charge their phones and otherwise make themselves comfortable. Almost intuitively, Angell recalls, community members visited the store dropping off cooked meals and supplies for those in need.
Fleet Feet Athens paints itself pink
To recognize Breast Cancer Awareness Month in October, Fleet Feet Athens in Georgia teamed with the local CertaPro Painters franchise and painted the front of its Lumpkin Street storefront pink.
"It drew a lot of attention and was a definite conversation starter," Fleet Feet Athens owner Dustin Shinholser says of the store's bright-pink façade.
In addition, both CertaPro and Fleet Feet Athens pledged donations to the Breast Cancer Research Foundation.
"My grandmother is a breast cancer survivor, so this was meaningful to do on a personal level, while also a fun way to bring attention to our store and an important cause," Shinholser says, adding that the storefront's vibrant – and temporary – pink hue never bothered him. "Ironically, I'm colorblind."
Have a compelling event, project or initiative worthy of consideration for a future Running Spirit column? Contact Running Insight senior writer Daniel P. Smith at [email protected] with details. Follow him on Instagram @runspecialtyinsider.