Despite the typical chaos of the holiday season and the close of the calendar year, run specialty shops charged ahead. Hosting holiday-themed runs, creating goodwill with charitable events and championing movement and community, running stores embraced their characteristic high energy and unapologetic optimism as 2022 closed and 2023 opened.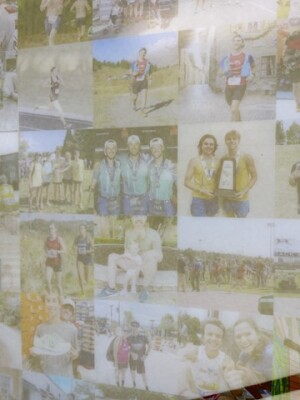 Run In Greenville illuminates its showroom
What's a store to do with a giant void on its showroom wall? Well, Greenville, SC-based Run In worked with Smash Ink Custom Printing to create an oversized light box capable of hosting interchangeable graphics. First up: a postcard-inspired mosaic composed of more than 900 photos submitted by Run In customers.
"I wanted a centerpiece that screamed, 'We are local!' and what better way to do that than with images of our customers?" says Run In owner Dane Simmons of the graphic installed just after the New Year. "Run In is our customers' store and they need to be celebrated."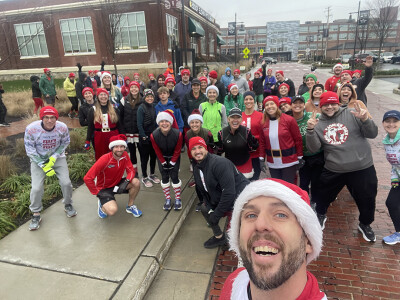 Fleet Feet West Reading sends people (scavenger) hunting
Pennsylvania-based Fleet Feet West Reading turned on the Christmas spirit in December with its inaugural Run Santa Run Scavenger Hunt.
Over a one-hour period, teams of runners unpacked clues, defined their own routes and collected raffle tickets at up to six local destinations where they often had to perform an action, such as caroling a Christmas tune or downing a cookie, to earn their ticket. Participants then returned to the Sly Fox Taphouse for an end-of-event celebration, where they could place their raffle tickets in any of the 25 prize baskets featuring items from Fleet Feet vendors as well as local businesses.
"Our area is saturated with 5Ks and 'fun runs' and we wanted a new event that was more social and interactive, especially over the holidays," Fleet Feet West Reading general manager Jason Corby says. "Some runners who came alone or with only a friend or two found other groups to run with because it wasn't a race but more of a social run."
The first-time event also included a visit from Santa for the kids, prizes for the best Santa Claus and Mrs. Claus costumes, a custom Run Santa Run winter hat for participants and a hefty donation to the food pantry at Bethany Lutheran Church.
Connecticut sister stores rebrand Black Friday as Forward Together Friday
Rather than promote discounts on Black Friday, Ridgefield Running Company – the 2022 Best Running Store in America honoree – and its sister store in Connecticut, Darien Running Company, never opened their doors on the heralded shopping holiday. Instead, the two stores championed Forward Together Friday, urging customers and employees to "spend time outside with family and friends running, walking or hiking."
After Forward Together Friday, the Megan Searfoss-owned stores returned to their regularly scheduled efforts on Small Business Saturday and promoted shopping local during the holiday season, including a post-Thanksgiving weekend packed with early-bird shopping offers and special deals.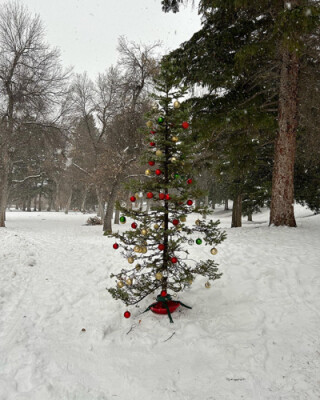 Bozeman Running Company puts a tree in the forest
On this past Small Business Saturday, November 26, Bozeman Running Company in Montana hosted its annual Run to the Tree. At 9:00 a.m., the store posted a local three-mile running route on its social media channels. Customers were then challenged to run that route and find the decorated tree that Bozeman Running Company owner Casey Jermyn stashed along the path. When customers found the tree, they could then take an ornament and return to Bozeman Running Company to claim a prize connected to the ornament they grabbed.
"We love hosting this annual fun event as it encourages our customers to get outside and be active around the holiday season," Jermyn says. "It's also a fun, creative way for the store to market Small Business Saturday and bring our local community together."
According to Jermyn, upwards of 85 people typically participate in the Run to the Tree event each November.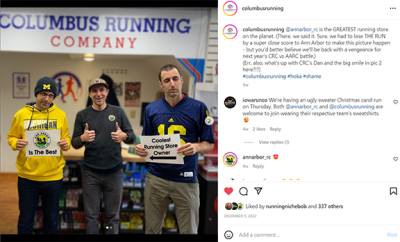 Prepping for THE GAME with THE RUN
As the annual Michigan-Ohio State football game approached on November 26, the Ann Arbor Running Company (AARC) and the Columbus Running Company (CRC) engaged in their own yearly tradition – THE RUN. The two companies competed to see whose customers could log more miles and raise more money for the Rock CF Foundation in the week leading up to THE GAME. While each of the running stores awarded individual prizes to participants, staff from the losing store had to sport the colors of its much-detested rival and document their humiliation on social media.
And it was a double win for the maize-and-blue in 2022, as Michigan pounded the Buckeyes on the gridiron and AARC claimed victory over CRC. Together, though, nearly 600 participants logged 9874 miles during the week and raised $5318 for cystic fibrosis charities.
"The Michigan-Ohio State football rivalry is a pretty big deal in both towns and we figured it was a good way to get both running communities involved in something for a good cause," AARC owner Nick Stanko says.
Strides Running promotes streaking
Twelve years ago, Strides Running, a three-store chain in Calgary, launched its Strides Run Streak to encourage runners to stay active over the holiday season. No, not that streaking! Now one of Strides' most anticipated annual events, the Run Streak tasks participants to simply run at least one mile per day throughout December.
Last month, Strides supported participants with various events, including a Run Streak kickoff on December 3 featuring a fun run, product giveaways, cookie decorating and a collection for the Calgary Food Bank and Calgary Immigrant Women's Association. From trail runs and scavenger hunts to an ugly sweater run and Final Mile event on New Year's Eve, eight additional Strides-organized events kept streaking runners motivated and engaged.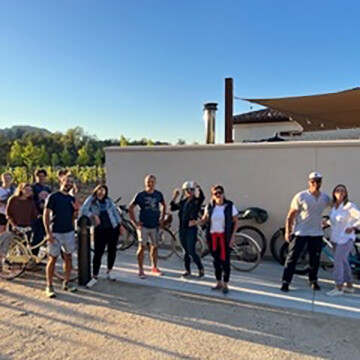 Healdsburg Running Company gets on wheels
In California wine country, Healdsburg Running Company is always up to something. On the second Friday of the month, it's a Critical Mass Bike Party in which participants – singles, families and dogs alike – cycle together to local establishments for food, drinks and live music.
HRC owner Skip Brand launched the bike parties in January 2021 to highlight local venues as well as the "bikability" of Healdsburg, an 11,000-resident town located about 70 miles north of downtown San Francisco.
"It's been very well received and we get a good family atmosphere where half of the riders are runners and the other half are just good locals who have a beach cruiser, townie bike or single speed," says Brand, who has successfully fashioned HRC as a "third space others want to hang out at."
Have a compelling event, project or initiative to propose for a future Running Spirit column? Contact Running Insight senior writer Danny Smith at [email protected] with details. You can also follow him on Instagram @runspecialtyinsider.