Shoes with curvy carbon-fiber plates embedded into the soft, resilient foam midsoles of road running shoes have revolutionized long-distance road running in recent years.
Nike was the first to unveil carbon-fiber-enhanced shoes in 2017, followed by Hoka in 2018 and eventually Saucony, Brooks, New Balance, Skechers and Adidas in 2020. The end result has been major marathon victories, new world records and considerably faster times across the board, from top-tier pros to sub-elite runners to hard-working age-groupers.
Can a similar shoe design paradigm impact trail running? The North Face is making it possible.
After two years of development, The North Face (TNF) launched the Flight VECTIV on Jan. 26, the marquee model of a new line of super-charged trail running and hiking shoes built on a platform that promotes forward propulsion. The Flight VECTIV (MSRP: $199) features a dual-density foam midsole, full-length carbon-fiber plate and a rocker geometry and that work in concert to allow a runner's foot to roll through the gait cycle with considerable energy return.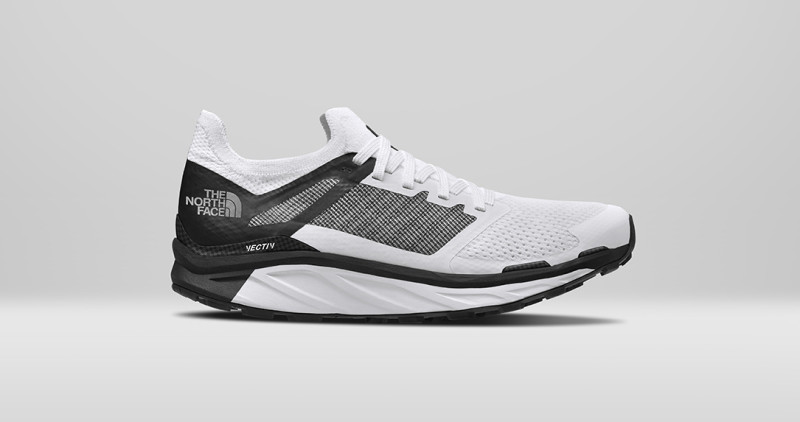 The Flight VECTIV is a moderately light and agile model built for fast trail running — training, ultra-distance racing and runners tackling Fastest Known Times (FKTs). Wear-testers have given it rave reviews so far and TNF athletes Dylan Bowman and Kaytlyn Gerbin set new FKTs on the Wonderland Trail around Mt. Rainer last summer.
It's not built for rugged routes, but instead it excels on hard-packed dirt trails and mildly technical terrain typical to many ultramarathons around the world. The North Face says, via a third-party study, that VECTIV technology can reduce descending impact forces by 10 percent and convert it into forward momentum, thus reducing leg muscle fatigue during ultra-distance running events.
"VECTIV is a system, it's not just a plate," Michael Thompson, the brand's senior global product director of footwear, tells Running Insight. "It has to do with the new foam and also the midsole geometry, too.
"That's the secret sauce," he adds. "But it is specifically built and tuned for trail conditions. It isn't a road shoe configuration that we put some outsole rubber on."
In addition to the Flight, there are two other VECTIV running models that are rolling out this winter — the more protective Infinite VECTIV ($169), the max-cushioned Enduris VECTIV ($139) — that utilize PEBAX or TPU plates. There will also be a women's-only version: the Hypnum VECTIV ($139).
A unique, multi-material one-piece upper blends an abrasion-resistant Matryx panel (integrated with Kevlar and high-tensity Polyamid), a 3D-molded heel counter with the carbon plate actually extending around the lower heel as a stabilizing cup and a stretchy, breathable knit material that encompasses the vamp, toe box, tongue and heel collar. It's not quite a bootie construction, but it engages a runner's foot with snug, secure sock-like sensation.
Will shoes with carbon-fiber plates take off in trail running and ultrarunning? Perhaps not to the same scale as they have for marathoners and half marathoners, but it certainly seems to be the next big thing on the trails and so far The North Face is leading the pack.