Fleet Feet Louisville
Louisville, KY
www.fleetfeetlouisville.com
Key Personnel: Erin Getz, Operating Partner; Patrick Hammond, Retail Experience Manager; Donnie Fry, Assistant Retail Experience Manager; Myrdin Thompson, Training Program Director; Suzanne Melloy, Full Time Outfitter & Team Lead
History: Located in Louisville, Kentucky, the store opened its doors in 1999. Erin Getz has been the Operating Partner since 2017.
In Their Words: "Our entire team and our grassroots involvement in our community make the store unique. We incorporate our core values into everything we do, both inside the store and out in our community. We believe that it is a privilege to serve, whether that is listening to our customers' needs, supporting our training program participants, cheering on our Racing Team members or sponsoring and participating in local races and events."
Their Local Running Community: One of the most unique aspects of the Louisville running community is the overlap and support the groups have for each other. It's really special. You'll see people running with one group then heading to another later in the day or week and groups sharing events, runs, races for each other.
What the Award Means to Them: We are so honored and humbled to have been nominated for this award. This is what keeps us going each and every day. It shows us that everything that we do for our customers and our community is being recognized and is making a difference.
Advice to Retailers: Follow these core values:
• Do the Right Thing
• Put People First
• It is a Privilege to Serve
• Create Value with Every Action
• Lead and Influence in All We Do
• Engage and Empower Our Community
• Be Present in Every Moment
• Work, Sweat, Live Passionately
• Run Together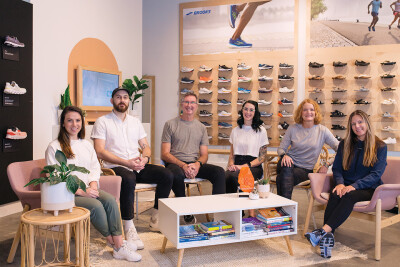 Palmetto Running Company
Hilton Head Island, SC; Bluffton, SC
www.palmettorunningcompany.com
Key Personnel: Christian Fyfe, Robert Fyfe and Keri Straughn, Co-owners; Tammy Zito, General Manager
History: It all started with a club. When Rob Fyfe moved from New York to Bluffton, SC, in 2010 he noticed something was missing — a running community. So he began connecting area runners and walkers and started the PRC Run Club. After realizing the demand for a specialty running store in the Lowcountry area, Rob decided to take the next step and open up Palmetto Running Company in Bluffton in 2011. A year later, Christian Fyfe (Rob's son) joined him in ownership of the business and helped grow the company and brand to where it is today, including opening a second store location on Hilton Head Island in 2014. Keri (Rob's daughter) joined the team in 2018 with a focus on marketing and visual merchandising and helped to create a cohesive brand story for the company.
In Their Words: "Here at PRC we are doing our best to 'Protect the Ground You Run On.' In late 2019, we launched The PRC Eco-Initiative with the collective goal to purchase and sell more environmentally responsible products as well as find new ways to improve the sustainability of our planet and more directly, our local environment. With the support we received both in our local community and the overall running industry, as well as being recognized at last year's The Running Event with the Impact Award presented by On Running, co-owners Christian and Keri felt it was the right time to take our mission to the industry level. In December 2021 we launched the @lowimpactalliance, an industry-wide alliance of brands, retailers and events to promote transparency and environmental responsibility within the running industry by educating, advocating, and inspiring action for impactful change."
What the Award Means to Them:"Everything. We exist for our community and we exist because of our community. We are so honored to have been a part of the best running stores for the last four years. To be nominated by our own customers means everything to us."
Advice to Retailers: "As business owners, we believe that owning a store is about so much more than the day to day. It's about what you choose to do with the platform you've been given. I think our ability to share our passion, our efforts to make a difference in the community and continuing the conversation with the products we sell in store is what has created such a bond with our customers and our community."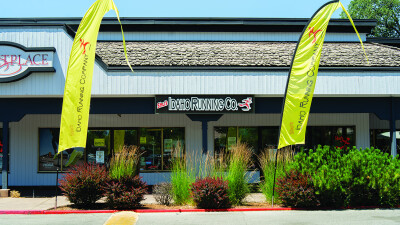 Shu's Idaho Running Company
Boise, ID
www.idahorunningcompany.com
Key Personnel: Everyone is an essential part of the business and the success of it.
History: The store was started by Mike Shuman and his wife, Kathyrn (Kit), in 1997 under a different business name. In 2008, the name was changed to Shu's Idaho Running Company and has operated under that name in the same location since then. In 2020, Mike's health became more of a priority and Leone Rusher stepped into the role of running the store. Rusher played a huge part in the business starting in the early 2000s and it has progressed into more and more responsibility. In 2022, not knowing what Mike's health journey was going to entail, Rusher purchased the store from him, wanting to carry on what Mike had started — making people aware of the benefits of running not only physically, but mentally as well.
In Their Words: "Our customer service is top notch. We strive to make the customers feel very welcome when they walk through the doors. We also believe our genuine interest in the customer is very important, helps them to feel more comfortable coming in. Plus, we love what we do and it shows through to the customer and/or community. We also help with a lot of events through providing prizes, equipment and/or consulting and spreading the word about what's happening within our community."
Their Local Running Community: "Our community is a very active one. There are miles of trails within walking distance of the store and we have the greenbelt that runs along the river from one end of town through to the joining town. There are several events on the weekends, sometimes just in one day there can be a few different races. The running community is very supportive of each other and the events around town."
What the Award Means to Them: "Winning the award means an incredible amount. We've overcome a lot of obstacles over the last few years and we pushed forward to where we are today. As for the staff, they are very excited and proud to be a part of something so great and the impact they are making on the community and individuals."
Advice to Retailers: "If you love what you do, it's never work and the enjoyment shows on our faces every day. The customers will see that joy and love the atmosphere of the environment."