Amid a global pandemic, economic fallout and societal upheaval, the running world has managed to generate some compelling movement and even opportunity.
That was the consensus espoused by Brooks CEO Jim Weber and a trio of panelists – Boston-based clinical sports psychologist Dr. Sharon Chirban, Black Girls Run CEO Jay Ell Alexander and Carson Caprara, senior director of footwear and Runsights Lab at Brooks – during the first "Future of Running" virtual panel series presented by Brooks. Titled "What 2020 Means to the Runner," the 37-minute event on July 16 explored the impact of 2020 on individual lives as well as the sport.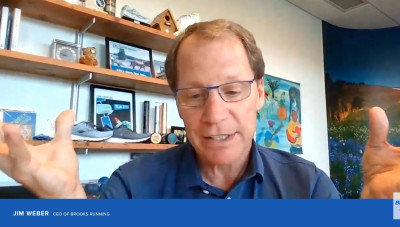 Caprara, whose team gathers insights from thousands of runners each year, noted a dramatic shift in why people are running. Before COVID-19's arrival, Caprara cited a 50/50 split between goal runners – those chasing a performance aspiration – and so-called "soul runners" who embrace the sport as a respite from life's stress. In the COVID world, however, Caprara says those with soul runner traits now represent nearly two-thirds of the sport's participants.
"That's great for the sport because those who love running are less volatile in the sport, more consistent … and tend to engage more," Caprara said.
With many goals wiped away with race cancellations, Chirban said many have turned to viewing running through the lens of its physical and mental benefits, which can include lower rates of anxiety and depression, increased energy and improved sleep. Coupled with "a greater level of acceptance that we're in this suspended reality" for some time, Chirban predicts "several surges of a new runner population."
At Black Girls Run, an 11-year-old organization that provides encouragement and healthy living resources, Alexander reports a 30 percent rise in group participation. She attributes much of that growth to the involvement of "lurkers" — individuals interested in embracing the sport, yet hesitant to join a formal movement.
"People are wanting to hit the pavement right now and turn off the noise," Alexander said. "We may not see so many goal seekers … but accountability and people still wanting to be connected is absolutely relevant."
To keep this influx of new runners engaged, the panelists championed creativity and inclusivity. Alongside partner REI, Black Girls Run challenged its members to run the tiniest mile, which included some participants circling their mailbox or dining room table. Caprara, meanwhile, noted how the surging number of new runners has sparked a more diverse running populace. "People are going to find they belong in this sport and that it's not exclsive, but very inclusive," Caprara said.
That is certainly the hope Weber and many others clutch as they look ahead, optimistic that running helps us all endure the morass of 2020.
"The run is positive in our lives today and that's a wonderful thing to have and to hold onto … and almost a tool we can use to bring focus," Weber said.
In mid-August, Brooks will host the second installment of its "Future of Running" virtual panel series in which industry insiders will discuss running's increasing ties to the virtual world and retail adaptation to these changes.