In September 2017, my husband Chris Schiel, an avid runner, came home motivated and inspired after being a pacer at a Boston Qualifying event. He walked into the house decisively and stated, "I want to quit my job and open up a running shoe store."
Shocked – but accustomed to his ambitions – I nodded and said, "Okay."
Eager to get started, Chris went to The Running Event for the first time two months later with only a name for the store (Xtra Mile Running) and an address for our eventual store location (which would change). He came home with a suitcase overflowing with free stuff, a wallet brimming with business cards and socks — oh, so many socks. In the blink of an eye, we were small business owners.
Being in business together hadn't been part of our wedding vows, but if I had to guess, it was probably included in the "for better or for worse" part. Marriage is challenging enough without throwing a business into it. So how do couples do it?
For insight we reached out to four experts on the subject – women who own their running stores with their husbands: Debbie Perry, Salt Lake Running, UT; Meg Brooker, The Runner's Edge, MT; Pamela Howe, Howe2Run, GA; and Heather Dawes, Slim Pickins Outfitters, TX. Here are their stories.
So who first had the idea to open a running store and how did the other one handle it?
Debbie Perry: My husband, Guy, had the idea as he knew the original store owner of Sporting Soles (now Salt Lake Running Co.) was moving and liquidating. I was teaching school and coaching at the time and was supportive. The first year we had a partner, Kurt Black, and the three of us worked together to write a business plan, get an SBA loan and get it started. It was an all-around team effort.
Meg Brooker: My husband, Anders, opened Runner's Edge in 2001. I moved to Missoula in 2006 and started working at the shop in 2007. We started dating in 2010 and got married in 2012.
Pam Howe: My husband, Phillip, first had the idea and I jumped in wholeheartedly. I have been the avid runner in the family for many years and he was a manager-turned-partner in a similar store. We both love being part of the run community, yet in different aspects. We wanted to grow the community with our own store, a place to be called "home" to many. We became great business partners, since he knows the running industry and I have a business background after having been an accountant for over 30 years.
Heather Dawes: Opening the shop was definitely Jahmicah's idea. I was not especially surprised due to the fact that he has always had an entrepreneurial spirit, but it was a little overwhelming for me. We were hoping to start a family soon and being dependent on our business financially was a little stressful for me.
Which tasks are you responsible for in the store?
Perry: I function as the chief financial officer, buying department head, apparel buyer and marketing manager.
Brooker: I'm the footwear buyer and the operations manager. Outside of managing footwear, I also work the sales floor, help manage in-store events and keep the staff happy with coffee and pastries.
Howe: I handle all of the store's administrative tasks. I am the face within the community, leading several run groups each week, coaching and facilitating various community activities. I am a certified run coach and athlete brand ambassador for products we sell at the store. I also help coordinate pacers for several local races as part of our community involvement. Phillip handles the day-to-day activities and sales functions. We lovingly say "Phillip runs the store and I run the streets."
Dawes: I do all of our marketing and social media. I also handle the financial side of things, manage interns/staff as well as run the shop and merchandise when needed.
Do you have any rules about "business talk" outside of work hours to ensure your work life doesn't trump your marriage?
Perry: We are definitely guilty of talking about business too often at home. It's tough when I work from a home office almost exclusively and he does a couple of days a week, too. Also, all five kids are now out of the house, so that's not part of our daily routines and head space. It's hard to set time boundaries. But we have had success with preserving most weekends, most especially Sundays, as time off.
Brooker: There are no rules, but we typically don't talk shop when we get home. It's nice to separate our work lives from our personal lives. We are trying to be better about setting up a time during the day to talk about the business.
Howe: We have no set rules about business talk. We love our store. We love our customers. We love our community. We share daily, often several times daily, the happenings at the store. We plan together and enjoy sharing our accomplishments and struggles.
Dawes: We are definitely a work in progress as far as business talk during family hours. We do have two little boys, so they keep us busy and don't allow for much business talk when they are around. However, we can fall into the trap of talking business when they go to bed or when we get free time for a date night. When one of us starts drifting into business territory during family or marriage time, one of us says, "Well, it's a good thing we're married and not business partners. That would be boring!" Then we laugh and change the subject. We are business partners, but we're husband and wife first.
What would you say is the biggest benefit to running a business with your spouse?
Perry: I completely trust Guy. We work well as a team doing our specific jobs, so I don't have to think about whatever he is responsible for and he doesn't micromanage or worry about what I do either.
Brooker: Anders does such a great job at seeing the big picture and I love digging into the details. This is something that helps us when it comes to completing projects together.
Howe: The sense of accomplishment that we share. We have had separate careers for so long, it is nice to be able to partner in this journey. We look forward to many years of growth and happiness.
Dawes: It's 100 percent that you always have your best friend and biggest supporter in your corner. Any time I make a big mistake or I need time off for a mental health day, it is a luxury to be able to talk to my husband about it as opposed to a boss.
What would you say is the biggest challenge to running a business with your spouse?
Perry: The separation of work and home. We have gone through plenty of good periods where this is separated well, but this last year was so "business busy" that it became hard for me. There were days I missed having enough relationship time with my husband, because so much interaction was as business partners.
Brooker: Being married. As fun as it is to see each other during the day, it also leads to its own challenges.
Howe: The biggest challenge would be the decreased amount of time that we get to spend away from the store. We are very busy seven days a week, so we need to make sure we set aside time for "us."
Dawes: When we disagree about something shop related, it is difficult to table it and carry on about life as usual. We are both passionate about the shop and about making the best decisions. Not to mention, we are fully dependent financially on its success, as both of us are full-time employees of the shop as of this year.
What advice would you give to a couple considering opening their own running store?
Perry: Clearly defined roles with total trust. If there is not a way to feel like a healthy team environment is happening, then it might not be a good fit. Having a couple and life identity outside of the business would be another requirement as well.
Brooker: Be deliberate about setting work boundaries on and off the sales floor. It's taken us a while, but setting aside time during the week to talk about business issues has been helpful. Also, support your partner. You may not always agree with their choices, but make sure the decision being made is in the best interest of the store.
Howe: I would suggest the couple have enough confidence in their relationship to know that they can endure the ups and downs, achievements and challenges. They need to have trust in each other and be able to communicate about everything.
Dawes: Always cheer for each other. Always wear each other's jersey — metaphorically speaking. You will face challenges. You will not avoid them. So you have to support each other and let the challenges make you stronger instead of force a wedge between you.
Who's the boss?
Perry: We each are the boss of the departments we are responsible for and don't try to boss the other in their own territory. I would like to think that the staff sees it that way, too. At this point, it's not Guy's or Debbie's business, it's both of ours and honestly it's a team effort through our management team as well. We each play ownership roles in each of our areas. The synergy of that is very rewarding.
Brooker: Me, of course! Anders, ultimately, has the final say, but I believe we make most decisions together.
Howe: I would say Phillip is the boss. I would not make any decisions without consulting him. He knows the brands, the details of the products and what sells and what doesn't. I push the paper, but he pushes the buttons.
Dawes: Our shop mascot and general manager — our basset hound, Bill Murray.
Do you bring any unique perspective to the partnership because you are a woman?
Perry: If there is something different, I would lean more towards the charity, compassion and desire to serve others that many women intuitively carry. The more humanity-driven qualities can have a positive effect on the work culture, the mission of our business and how we connect with others.
Brooker:: Of course. It's nice to walk into a store where there is a woman behind the counter. Body issues, sports bra fittings, nutrition, etc., is more comfortable when the person I'm talking to is a woman. We host a Ladies Night and Bra Fitting with women in our shop who are in charge of these events. Women understand women and it's nice to have a conversation with someone who gets you.
Howe: I do think a woman's perspective is important. My husband knows products, but I know women. A large percentage of the run community is women, so it is important to know what we want.
Dawes: The perspective I bring as a woman is identifying with and recognizing the needs of our staff. We have a unique situation in that we are a woman-run shop; Jahmicah is the only male. I feel I am better able to recognize when an employee needs to take the day off because she's been up with a sick baby all night, or when someone needs coffee and a snack because it's been a tough day. It's not much, but I do think I bring a little bit of a comforting aspect to our leadership as a couple.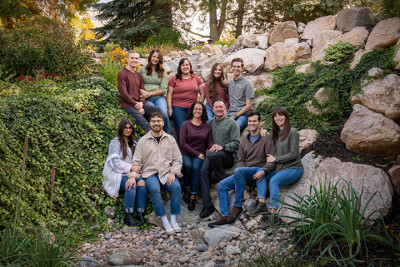 Debbie Perry, Salt Lake Running
Debbie Perry (with her husband, Guy, surrounded by their five children and four sons- and daughters-in-law); Salt Lake Running Co.; Salt Lake City, Sandy, Centerville, UT
SLRC, originally called Sporting Soles, has been open since 1995 and has four locations. Debbie and Guy were only 24-years old when they first took over the store from its original owner. The Perry's sons, Cade and Denver, also work for SLRC as the footwear buyer and events manager/race director, respectively. The store loves to connect with the community through free seminars and events to educate and inspire people to stay active.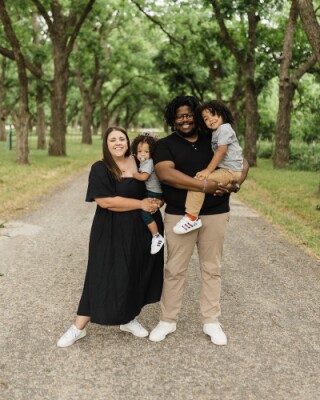 Heather Dawes, Slim Pickins Outfitters
Heather Dawes (with her husband, Jahmicah, and their boys, Silas and Finis. Photo: Leah Jeffers); Slim Pickins Outfitters; Stephenville, TX
Slim Pickins Outfitters (SPO) is the first Black-owned U.S. outdoor gear shop in the nation. SPO opened its doors in 2017 and is located in a former pharmacy, which Heather and Jahmicah converted. The store also partners with Black Outside, Inc., a local non-profit that connects Black youth to the outdoors. The overarching goal of SPO is to diversify the outdoors by way of the outdoor industry.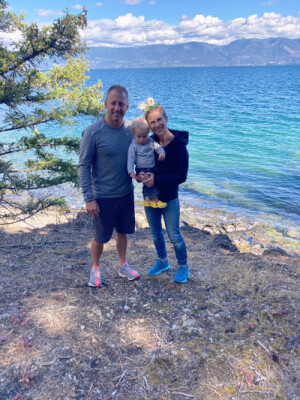 Meg Brooker, The Runner's Edge
Meg Brooker (with her husband, Anders, and son Will); The Runner's Edge; Missoula, MT
Meg's now-husband Anders opened The Runner's Edge in 2001 and Meg joined the team in 2007. The store believes strongly in giving back to the community and sponsors dozens of events, fundraisers and organizations every year. They also hold annual fundraisers to support local non-profit organizations such as Youth Homes and Climate Smart Missoula.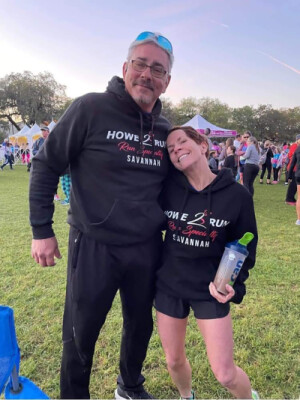 Pamela Howe, Howe2Run
Pam Howe (with her husband, Phillip); Howe2Run; Savanna, GA
Howe2Run just celebrated its third anniversary, being named a Best Running Store for the last two years. The store is on its second location, because they lost their first store to a fire just six days after their ribbon cutting in 2019. While covered by insurance, they lost everything and had to rebuild at a new location. One good thing that came of the tragedy was that Howe2Run was able to donate over $40,000 in usable yet unsaleable products to a local charity.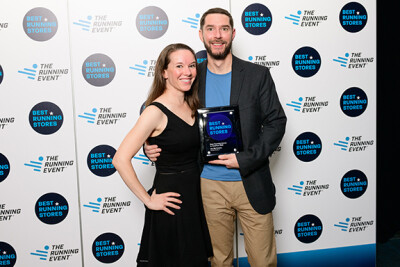 A Husband's Perspective
Running Insight asked Christopher Schiel, co-owner of Xtra Mile Running and husband of the writer of this article, for his own perspective on the subject of running a store with your spouse.
When I got the idea to open a running shoe store back in 2017, I knew I would need buy-in from my wife, Christina, about this big life-changing decision. We had a four month-old-son who was already proving to be highly energetic and we were intending on growing our family in the future.
I had just completed my MBA, so I was armed with knowledge that would help me from the business side of things, as well as six years of management experience. But I would need a "yes" from Christina before I could ditch the suit and tie, say goodbye to a steady paycheck and open a small business. Fortunately for me, she said yes.
Four years into owning Xtra Mile Running, we have learned that this is not for the faint of heart. Owning a business with your partner blurs the boundaries between home life and work life. There are times when Christina will tell me to take off my "manager hat," when I've hit my work talk limit for the day. Additionally, throwing children into the equation makes it all the more complex. In the time it's taken me to write this far, I have already had to ask the children to be quiet and physically remove Michael the Interrupter from the room.
In addition to the regular chaos children bring, the biggest challenges are scheduling around the children's lives. In our case, Christina has a full-time work-from-home job, in addition to the marketing and communications roles she fills for the store. This causes the household workload to be unbalanced when my time and presence is needed at the store. Without her ability to gracefully balance those things, the store would not be even close to where it is today.
That said, the most rewarding moments are when we can come together as a family at Xtra Mile Running. Christina snaps photos or videos for social media. Our now five-year-old son Mikey zooms around on the rolling stool and three-year-old Sophie sits quietly at a children's table taking imaginary phone calls. Our customers know our family and that's a great blessing.
It's definitely been a rollercoaster ride, but it's been worth it. For couples considering opening a business together, I'd say this: No matter how challenging you think it'll be, multiply that by 10. No matter how rewarding you think it'll be, multiply that also by 10.