While the back-to-school season typically means sweet music for running retailers, this fall carries an uneven tune.
As the continued reach of the novel coronavirus impacts school calendars and fall cross-country seasons, not to mention fall marathons, running retailers are confronting a peculiar, question-packed back-to-school season that continues to complicate planning.
"August is our Christmas season, but it's hard to establish a blueprint for this one and stick to it," Columbus Running Company (CRC) co-owner Eric Fruth says.
While the National Retail Federation/Prosper Insight & Analytics report released on July 15 pegged overall K-12 sales to jump 13 percent this year over 2019, much of that record tally was attributed to technology purchases for remote learning. In contrast, a recent Deloitte survey projected back-to-school spending on clothing and accessories to drop 10 percent this year.
As state leaders, local officials and school districts across the U.S. contemplate back-to-school and return-to-sports plans, running retailers continue to feel the crush of uncertainty.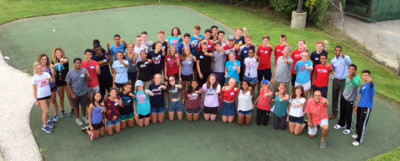 In Massachusetts, Whirlaway Sports owner Dave Kazanjian stocks running footwear and casual shoes starting at size one. In past years, Whirlaway's back-to-school season has been a profitable one buoyed by traditional back-to-school purchases as well as athletes flooding his store for cross-country, football, soccer and volleyball gear. Kazanjian calls the 2020 back-to-school season "a crapshoot."
"We just don't know and that's something I've been saying for the last four months," Kazanjian says.
At Aardvark Sports Shop in Bethlehem, PA, owner Bruce Haines says the normal back-to-school campaign produces a 20-25 percent bump in sales. Though Pennsylvania officials continue insisting that schools will open this fall and sports will proceed as planned, Haines is not expecting to see the typical amount of eager shoppers entering in his doors this August.
"I'd be surprised if we see the urgency we're accustomed to seeing during the back-to-school season," he says.
Heading into Alabama's 15th annual sales tax holiday July 17-19, Fleet Feet Huntsville owners Suzanne and Dink Taylor did not know what to expect amid rising COVID-19 cases in Alabama and mounting concern that traditional schooling might not begin in August. "The sales tax holiday is on the calendar, but how will people participate?" Suzanne Taylor wondered as the mid-July weekend approached.
The Numbers Story
In the end, Fleet Feet Huntsville's 2020 sales tax holiday results fell about eight percent below last year's mark, a rather remarkable turn considering the shop operated at 40 percent capacity.
"I would say, in general, it was successful," Suzanne Taylor says, though she found many shoppers "didn't even know it was tax-free weekend" due to reduced advertising and promotion of the annual holiday.
With uncertainty hovering over much of the country, most run shops are monitoring the marketplace and pivoting their plans while continuing to offer COVID-era solutions such as curbside pickup, home deliveries and virtual fittings.
CRC, which has five stores across central Ohio, is accustomed to hosting various large-scale events throughout August to drive traffic into the store, including cross-country team nights. With limits on in-store capacity and lingering COVID-19 fears, however, Fruth and his partners have shifted from team nights to team days and even team weekends to offer a broader window for athletes to visit the stores. Though some squads have taken CRC up on the offer, it is far from the usual number, Fruth says.
"It hasn't been a perfect transition," acknowledges Fruth, calling it a constant grind to manage the back-to-school season amid other pressing concerns, such as safety protocols and staff scheduling.
Similarly, Haines has been left to figure out how to drive the traditional back-to-school traffic into Aardvark amid in-store capacity limits.
"How do you create attractive promotions designed to bring people in if you are limited to 15 people on the sales floor at a time?" he asks. "I haven't had any real revelations about how to get the back-to-school kid in here."
During Alabama's recent tax-free weekend, the Taylors adapted by setting up fit stations outside of their store to service customers.
"What can you do but be flexible?" says Dink Taylor, predicting that his store's back-to-school numbers will ultimately end up flat. "This is just the fight we're in right now."
Retailers left in limbo on cross-country season
Though many state officials and prep sports federations across the U.S. have unveiled return-to-sports plans, running retailers remain anxious that the 2020 cross-country campaign and its nearly 500,000 high school participants in the U.S. might evaporate.
"Everyone's on edge if there will even be a cross-country season," says Columbus Running Company (CRC) co-owner Eric Fruth.
Across the country, the fall harrier season hangs in limbo.
In Ohio, where cross-country has been labeled a "contact sport," teams can host practices, but not inter-team competitions, per current guidelines from the Ohio High School Athletic Association. The Massachusetts Interscholastic Athletic Association (MIAA) recently delayed the start of fall sports to Sept. 14, while the Pennsylvania Interscholastic Athletic Association has thus far committed to cross-country beginning on Aug. 17 as originally scheduled. In all cases, however, the state athletic associations acknowledge that public health officials or state leaders hold the final word.
Such announcements have provided some clarity, but not certainty, which leaves running retailers anxious about investing in cross country-related inventory, especially competition spikes.
At Massachusetts-based Whirlaway Sports, owner Dave Kazanjian put his spike deliveries on hold with three different manufacturers this summer as he awaited information from the MIAA. A day before the MIAA announced the delay to fall sports on July 21, however, Kazanjian green-lit about half of his scheduled orders to accommodate customer demand, even though his gut tells him there will not be a cross-country season this fall.
"Kids running cross-country are in the mindset that there's going to be a season. Being the store we are and the reputation we have, we got to have spikes on hand," Kazanjian says. "Still, how do we justify bringing in our full orders without absolute certainty there's going to be a season?" When CRC received a call from one manufacturer that spikes would not arrive until September, the store cancelled that order.
"We had to go lighter on spikes because of the risk. We could sell zero," says Fruth, though he adds that CRC still loaded up on the lightweight trainers that young cross-country runners tend to favor. "People are still on their feet and running, so shoes will be needed, but I'm pessimistic when it comes to spikes."
The uncertainty of a cross-country season coupled with Ohio's limits on mass gatherings has also hampered CRC's ability to bring its mobile store directly to teams. Yet more, CRC claims a healthy race timing business and is at risk of losing numerous cross-country events should the season get significantly condensed or cancelled.
"These are all giant wrinkles to our plans," Fruth says.