When John O'Neill, a self-described "old-school runner," first entered the run specialty marketplace in the 1980s he struggled to understand those who outfitted themselves with sunglasses, a Walkman (remember those?), a bulky hydration belt and other seemingly frivolous gear for their routine jaunt around the neighborhood.
"I just didn't get it," O'Neill confesses.
These days, though, O'Neill acknowledges he was the outlier, as runners—a bit then and certainly more now—seek products that make their fitness endeavors more comfortable, enjoyable and even tolerable. And for run shops, including O'Neill's 21-year-old Colorado Running Company store in Colorado Springs, CO, that's a positive.
"These are our customers now and they want these extra things because they enhance their runs," O'Neill says.
Indeed, runners today are carrying phones and donning reflective vests, carting energy gels or water along on runs, investing in fitness-oriented headphones, using percussive massage devices and glaring at data from GPS watches. The plethora of available accessories has allowed run shops to provide customers with the tools they need as well as those they might not yet know they need.
"The main goal is to help customers feel more comfortable and attain their goals," says Karen Roberts, owner of Get Fit in Amarillo, TX.
And though accessories help run shops fulfill that mission while also offering a tidy boost to revenue and profitability, it is easy to overlook opportunities to better spotlight accessories and drive sales. Here are nine fairly obvious, but often misunderstood, mistakes run specialty retailers make when it comes to the accessories category—and how to fix them
1. The Mistake: Relegating accessories to the sidelines
Run shops exist on the broad shoulders of footwear and the sit-and-fit experience. As such, footwear can easily dominate the conversation while accessories, though visible on the showroom floor, become background noise.
The Fix: Savvy run shop associates view the sit-and-fit experience as an opportunity to discuss the full spectrum of running solutions with a captive audience. They look around the corner for what else the store has that can assist a customer. They offer running tips and education because it is that more comprehensive approach that separates specialty run from the big boxes and e-commerce players.
"On the fitting stool, we need to carefully think about what we can do for our customers beyond the footwear in front of us," O'Neill says.
2. The Mistake: Failing to ask questions
It seems so obvious and elementary, but asking questions of customers—Where do you run? How do you track your mileage? What aches and pains do you deal with most often? How do you handle hydration as the heat climbs?—is too often forgotten or neglected.
The Fix: Inquiry is necessary to understanding customers and offering up relevant solutions. Ask questions—lots of questions—and take a genuine interest in customers, their routines and their goals.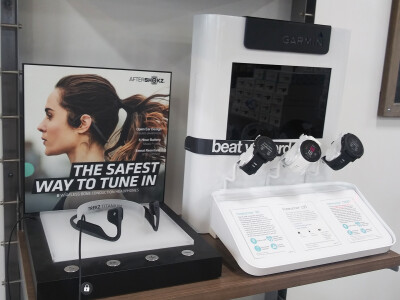 "So many are afraid to ask questions because they don't want to feel they are prying or being intrusive, but that's how we can begin to help our customers' adventures be more comfortable and enjoyable," reminds Leone Rusher, manager of Shu's Idaho Running Company in Boise.
3. The Mistake: Letting customer cues fly by
Often a customer will signal exactly what he or she needs, directly detailing a need or answering a question. Other times, though, they might only be dropping little clues or tucking a detail into conversation.
The Fix: Listen closely to hints about where and when customers run as well as how they engage with the sport. Did they mention running with music? Are they inquiring about local trails? Are they reluctant to go to a massage as COVID-19 persists? Those are all opportunities to present different accessories as something that can aid their experience.
"We all need to be in tune with our customers and pick up on what they're saying," Roberts says. "That way, we can offer up a solution and explain why and how it can help them."
4. The Mistake: Making accessories the same one-person buying show
Accessories buying can sometimes become more routine than thoughtful analysis and a process singularly led by one accessories-buying monarch.
The Fix: At RUNdetroit, owner Justin Craig encourages staff to alert him of interesting products they encounter. He also allows staff a voice in curating the store's product assortment. This active involvement helps RUNdetroit team members get behind products on the sales floor.
"We want staff enthusiastic about the product and comfortable suggesting it because they themselves believe in it," Craig says.
5. The Mistake: Neglecting to testify
In hustling from one customer to the next or simply not wanting to feel overly promotional, staff might withhold sharing their personal experience with a product or resist offering candid commentary. A testimonial, however, remains a powerful tool.
The Fix: When staff can share their experience with a product, how it improved or benefited them in real, tangible ways, it comes across as genuine and helpful, not salesy.
"By being well versed in product knowledge and use, it makes conversations with customers about what we have to offer that much easier," Rusher says.
6. The Mistake: Forgetting the passive sell
Sometimes no words are necessary. When a store creates visuals of different accessories in use, it plants the seed that these items have use and value in one's fitness routine.
The Fix: When associates use a massage gun in eyesight of others, wear compression sleeves on the sales floor or don a headlamp during a fun run, it serves to create interest and, quite often, spark conversation. Silent selling can also take place in windows and with mannequins as well as on social media.
7. The Mistake: Not identifying situations where accessories make sense
A customer calls the store to ask about the availability of Velcro shoes because he has trouble lacing footwear. The sales associate simply responds: "Sorry, but we don't carry any Velcro shoes."
The Fix: Rather than saying, "Sorry, we don't carry Velcro shoes," an associate can suggest elastic laces on a traditional running shoe. This would eliminate any worry over tying shoes while also providing the customer substantially more footwear choices for fit and comfort.
At their most fundamental level, accessories are solutions to problems, whether that's staying hydrated, safety concerns or injuries. When run shops are attuned to opportunities where accessories make sense, they can create unexpected sales that go straight to the bottom line.
8. The Mistake: Ignoring opportunities to promote accessories
Amid the shoe demo fun runs, latest footwear drops and fancy new apparel, accessories can get lost in the marketing mix. When a store is mindful of its customers' routines and needs, however, opportunities naturally arise to promote accessories.
The Fix: At the Colorado Running Company, O'Neill has hosted educational programming on hydration, trail running safety and recovery. Such opportunities allow the store to highlight a relevant issue, provide practical advice and passively promote a product. It's education above all else with the accessory—a hydration belt or foam roller, for instance—merely a part how runners can stay safe on the trail or prevent injury.
9. The Mistake: Spending other people's money
When Craig decided to bring a percussive device from Therabody into RUNdetroit, he rejected the $599 Theragun PRO and $399 Theragun Elite as too costly. Truth be told, he underestimated what his customers were willing to spend. For every four Theragun Primes priced at $299 that go out the door, RUNdetroit sells one Theragun mini at $199. The store has also ordered numerous PRO and Elite devices for customers as well.
The Fix: "I've had to learn to be a little less price sensitive myself and see folks don't mind spending more," Craig says.