Sustainability is more than a buzzword in the manufacturing of consumer goods in 2021 Ñ it is an expectation. We hear the message of conservation and responsibility repeatedly in the media stream that informs us on a daily basis.
The pandemic has spurred the need for activity, for mental and physical health and for a focus on a return to normalcy. Finding a balance between sustainability and performance in our running footwear, apparel and equipment is best when the two align, a goal which is becoming more possible to achieve.
To put the industry-wide eco-effort in context, Running Insight spoke with a number of leading brands about their efforts to produce the running products needed by experienced runners as well as those pandemic-motivated newcomers. The commitment to sustainability of these four brands Ð Hoka One One, Puma, Reebok and Topo Ð is helping to set the pace for the overall business to run into a renewable future.
THE PROCESS
How do you approach adherence to sustainability from product design to delivery and beyond?
Colin Ingram, Director of Product, Hoka One One … "There are innumerable ways a brand can address sustainability, from packaging and waste to manufacturing and materials, just to name a few high-level areas. This can seem daunting, but it provides a brand lots of opportunities to choose how they will create a more thoughtful approach to production. At Hoka, we are taking steps to improve how responsibly we manufacture our footwear and apparel, but we also recognize that sustainability efforts must, themselves, be sustainable Ñ we take small steps we can manage in the short-term, then build on them season-over-season for long-term improvement."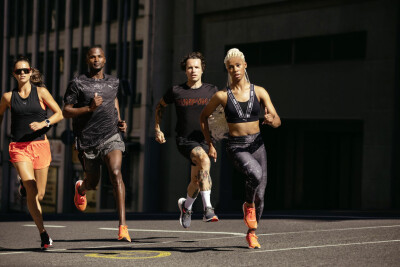 Hanna McGoldrick, Manager, Running Communications, Puma … "Sustainability is a key value for Puma, deeply integrated in our business operations. It guides our company to work faster toward a more just and sustainable future. For example, by 2030 we'll reduce our carbon footprint by 35 percent as compared by 2017 levels, including all of our direct and indirect emissions. As most of Puma's carbon emissions stem from our supply chain, we aim to focus on reducing these emissions by 60 percent."
Corinna Kelly, Reebok … "Creating sustainable products is truly a collaborative effort Ñ not only from designers, developers and marketers within Reebok, but also with our partners in our supply chain developing new materials. From the beginning of our ReeGrow program we were clear that our number one priority was to use as much plant-based ingredients as possible while maintaining product performance.
"For every ReeGrow product we challenge ourselves to make every major component with plant-based ingredients and to meet third party testing standards of at least 50 percent bio-based by weight. Having clear objectives gave every person working on the project a framework for decisions from material selection to design details."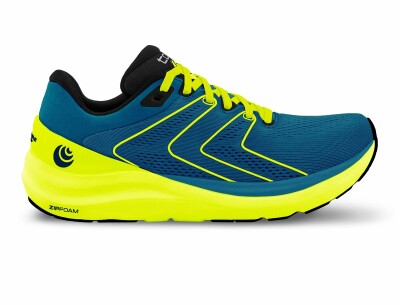 Tony Post, President, Topo Athletic … "Beyond using almost exclusively water-based cements and no leather, which often uses harmful tanning agents and dyes, we have always embraced the philosophy of reduce, reuse, recycle. For Topo, it starts by making products that can last longer and that don't break down as easily so we can all reduce our consumption.
"Quality materials, smart designs and constructions can also help. We also believe in reusing product when possible; for example, we have a lot of wear test shoes and some lightly used production returns that we donate to groups like Back on My Feet and Soles4Souls or other organizations where lightly used product can be put to use.
"Recycling is harder, but we are testing a variety of projects where we use recycled scrap content in some of our componentry Ñ meshes, footbed foams and some outsoles. There is certainly a lot more we need to do, but the product still needs to meet our quality and performance standards, which again helps us get to that first point of reduce."
THE RETAIL ADVANTAGE
Do your sustainability efforts benefit your retail partners? How can they take advantage of your work in this area?
Hanna McGoldrick, Puma … "We have 10 sustainability targets we want to reach by 2025, our 10FOR25. These targets include commitments towards climate, water and air, chemicals, biodiversity and plastics, but also health and safety and fair income. These target areas feed into all initiatives, collaborations and efforts we're taking to make things better for the environment and communities.
"To inform our consumers about these initiatives, Puma has set up a dedicated website, puma.com/foreverbetter.
Corinna Kelly, Reebok … "We know sustainability is a core component of what consumers care about. Not just our consumer, but all consumers are moving in that direction. We have some retailers that have said they will only support brands that are sustainable by 2025. In essence, we're trying to do the right thing for the planet and in so doing, we are making it easier for our retailers.
"If we build our product in a way that is consumer-first, our retailers will Ð and should Ð have an easier job selling it. The story around how and why the product is made is easier to tell because it's driven by consumer priorities. We also aim to deliver content to all of our partners to help story-tell.
"The retail environment and specifically the specialty running stores in the U.S. are a crowded space. We know retail owners have limited shelf space and need each product on the wall to have a purpose. Floatride Energy Grow, and specifically the plant-based performance foam it is built on, delivers a unique selling point that retailers and runners are excited about.
"To make it easier to talk about the features and benefits of the product, hear the example on https://www.reebok.com/us/forever-floatride-grow-shoes/FX9307.html"
Tony Post, Topo Athletic É "For sure we can do more to educate retailers and consumers about steps Topo is taking to improve our sustainability efforts. We clinic stores and we identify some efforts in the catalog and on our website, but we're also very sensitive about 'green-washing.' So many companies these days talk about sustainability or eco-friendly benefits, at Topo we try to make it just another part of our standard procedure Ñ seeking eco-friendly materials and processes whenever we can.
"One advantage of being a smaller, privately held company is we don't have to answer as much to shareholders or a stock price and can just try to do the right thing for our customers without doing too much harm to the planet. We haven't made marketing sustainability a company initiative, but we have always sought more eco-friendly materials and processes as part of our standard operating procedure.
"All that said, we still make shoes in Asia then ship them to the U.S. and we then ship them from our warehouse to consumers and stores, sometimes one or two pair at a time. We travel around the country or world to meet with customers and others associated with helping building the brand, although one bright spot of the pandemic is how it has cut down on our travel and increased video calls.
"We all operate in an industry where those practices that so many of us do without thinking in fact cause harm to the planet. While I can't really change that right now, I try to be sensitive to it and make good choices that allow us to get better while doing as little harm as possible.
"Just saying it's hard to find the right balance between making and delivering a great product that helps people get/stay healthy and making it in a way that you can be proud of the ingredients and process to get it into their hands. Which brings me back to my first point, why just making stuff that lasts longer has been a priority for us at Topo. Buy less and use it more."
Colin Ingram, Hoka One One … "It is becoming increasingly important to retailers that they select partner brands that are making efforts to improve the sustainability of their practices; their consumers are demanding it and, more and more, the retailers expect it themselves. Hoka seeks to be transparent about our efforts in sustainability Ñ that we are making progress and taking steps to be better, but that we have a lot of work to do. That is something to which we think retailers, and their consumers, can relate. We are taking realistic and manageable steps to improve and those changes are positive and worth celebrating.
"More importantly, while we strive to make thoughtful production decisions through material and process selections in the short term, we are committed to improving our practices in the long term. The last thing we want to do is unveil an overly-ambitious program Ð something into which a retailer might buy Ð only to need to change course later. We think our open, thoughtful, long-term approach benefits all of our partners, and bodes well for minimizing our environmental impact down the road."
EDUCATING CONSUMERS
How do you educate your end users to sustainability?
Russ Stevens, Associate Product Manager, Topo Athletic … "We start our material selection process by considering the quality and durability of the material. We feel that durability is important in creating truly sustainable product. When someone purchases a high-quality product, they will be able to use it for longer and need to replace it less often, which leads to less consumption.
"We do have a couple of eco-friendly materials we're excited to be introducing into the line starting in F21. The first is an engineered mesh that uses 30 percent recycled material, which roughly equates to the recycled plastic from three 550ml water bottles per pair of shoes. We will first be introducing this material in our Phantom 2 and Fli-Lyte 4 models with plans to bring the mesh into additional models next season.
"We will also begin using an eco-friendlier insole in select models. The insole uses Ortholite's Hybrid X25 compound, which uses five percent recycled rubber and 15 percent post-industrial scrap to total 20 percent recycled materials per insole. We will first be introducing this insole in our MTN Racer 2 and ST-4 launching in F21 with plans to introduce the footbed into more models in the future.
"We know that we have a long way to go in selecting more eco-friendly materials and that the two materials we're adding in F21 are just a small first step. As we continue to source eco-friendly materials that meet our expectations for performance and durability you can expect to see more and more sustainable materials in the Topo line."
Hanna McGoldrick, Puma … "To inform our consumers about these initiatives, we have set up a dedicated website, puma.com/foreverbetter."
Corinna Kelly, Reebok … "The most important thing we've tried to do is keep it simple. By no means have we solved it, but we do believe that simplicity and a unique perspective helps us cut through the clutter and land our message.
"We know that it can be hard to know what purchase decisions are most sustainable. We try our best to avoid general terms and simply and specifically show the plant-based ingredients that our products are made of because, ultimately, we believe that what you're made of matters and making footwear with things that grow is a more responsible approach.
"Focusing on ReeGrow is clearly our USP. We have to stay focused and consistent Ñ our team leans heavily into the idea that we need to get bored of our own messaging and designs in order for it to land with the consumer because the topic is so tricky. Many consumers believe 'sustainability' means so many things Ñ we can't switch marketing and content too frequently because it just is too complex. Therefore we keep it simple."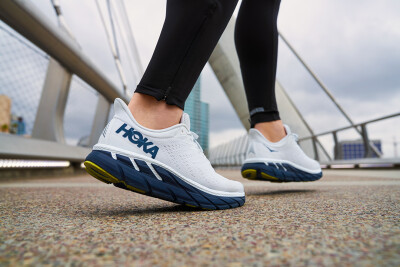 Colin Ingram, Hoka One One … "Hoka and our larger organization at Deckers are committed to full transparency about our efforts to move toward more responsible manufacturing practices. On our website you can read our most current Corporate Responsibility Report, which details how we joined the United Nations Global Compact in 2016 and how we have set additional goals for ourselves to reduce water usage and waste; source third-party certified sustainable alternatives for our materials where possible; reduce energy consumption and seek renewable alternatives; and achieve environmentally-sound management of chemicals.
It also details our efforts to embed human rights across our production chain and seek equity, inclusivity and diversity in our workforce, industry and sport."