Scheduled for August 14-16 in Chicago, IL, Take the Lead (TTL) provides women and femme of color who work in the running industry with career development programming, community building and mentorship opportunities that center their experience and identity. The inaugural TTL in 2022 in Seattle, WA, which drew 65 attendees, was led by Alison Mariella Désir and Martha Garcia along with a planning committee made up of leaders within the running industry. This year planning is being co-led by Désir, Jessica Murphy and Kaitlin Rodriguez and 90 participants are expected to participate.
The retreat's mission is to create a brave space that centers the experience of women and femme of color to come together to feel supported, validated and empowered to take action in leading the change they want to see in the running industry. It also provides this space where women leave feeling empowered to take action through career development, community-building programming and mentorship and sponsorship opportunities.
TTL participants work at brands, running retailers, small businesses timing companies and more.
And, according to TTL's organizers, Empowerment is a key facet of the event: "We hold the tension of honest conversations as a way for us to create a future where we can lead individually and collectively. We believe in bringing her up as you climb."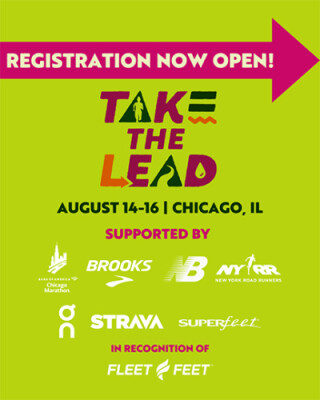 Also:
• ACHIEVEMENT: Leadership is personal, not positional, and TTL wants to nurture leadership skills.
• INCLUSIVITY: TTL centers the experience of anyone who identifies as a woman and acknowledges that we are all intersectional beings and celebrate our similarities and differences.
• JOY: TTL believes that joy is a radical act.
Registration for the Take the Lead Retreat is now open and the top level 2023 agenda info is available at https://www.woctakethelead.com/registration