As the coronavirus pandemic drags on, companies of all types and sizes have had to make adjustments in order to survive. For makers of running socks, meeting these new challenges is not only helping their businesses weather the storm, but in many cases is setting them up for future success once the health crisis passes. For example, to help keep employees busy on the manufacturing floor, a number of brands have shifted some of their efforts to the production of high-demand items such as face masks. Upgrading machinery and facilities, advancing new technologies and lending support to local communities also figure into the equation.
Of course, everybody knows of the hard hits that retailers – particularly the brick-and-mortar stores – are taking in this often desperate and pressure-packed situation. On a positive note, sports such as running are faring pretty well as consumers clamor to get outdoors and remain active and fit. Here is a look at the ways in which sock companies are adjusting their businesses to thrive in the current and post-pandemic environment — and how they're stepping up to help their retail partners by providing a variety of special programs as well as some sage advice.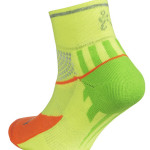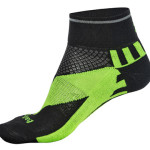 BALEGA
Balega's new Reflective Enduro Sock boosts visibility in low-light conditions by utilizing ultra bright refractive glass beads at the top of the sock. Other benefits include enhanced compression bands at the top of the sock for structure and support, proprietary Drynamix wicking fibers and ventilation panels and a reinforced, extra-deep heel pocket (SRP $16).
Advice for Retailers: "Stay focused on your accessories category," says Tanya Pictor, VP of Balega and FuelBelt Marketing at Implus. "Socks are small-ticket items that deliver big performance, good value and can create amazing color statements in-store." Because socks often are the highest margin generators, they deserve focus in the sales process.
Special Initiatives: Balega rallied to secure donations for the Solidarity Response Fund for WHO by teaming with its manufacturing partners, sales team and retail partners, and also supported frontline workers. The brand's South African manufacturing partner quickly pivoted and produced face masks. Balega also offered product programs to retail partners, thus allowing the stores to extend margins to increase their bottom lines during an extremely challenging time.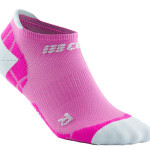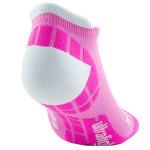 CEP
CEP's Ultralight No Show socks offer metatarsal compression over the instep for support, ultralight design and hydrophobic materials for breathability, 25 percent less volume than standard CEP 3.0 No Show Socks, a seamless toe closure, and padded zones for anti-blister and anti-hotspot (SRP $18.50).
Advice for Retailers: For running stores, selling more than running shoes has always been the "secret" pathway to improving financial metrics. Now, with an increased focus on cleanliness and sanitary environments there's an opportunity to suggest/require that customers wear a new or certified clean sock while trying on shoes, suggests SVP Luke Rowe. "This gives the customer a chance to feel the quality and comfort of the sock as well as the shoe. After fitting with a new sock, you can offer that sock at a special value or provide it to the customer as a gift with purchase. If the purchase offer isn't accepted, segregate the sock for cleaning," he says. "This is also an opportunity to offer an accelerated purchase option such as a Buy 3, Get 1 Free promotion."
Special Initiatives: CEP's parent company's manufacturing facility continued to produce medical compression products for seriously ill patients and also began production of face masks on contract and now for use by the medi sales team.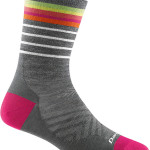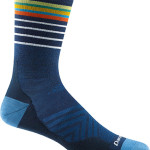 DARN TOUGH VERMONT
The Darn Tough Stride Ultra-Lightweight Micro Crew, part of the new SS21 run line, has a multi-zoned mesh upper for ventilation and comfort, a reinforced heel and Achilles for durability, a re-engineered flex window for targeted fit and flexibility, a True Seamless Toe to minimize blisters and a supportive arch to reduce fatigue (SRP $19).
Advice for Retailers: Consumer spending may be challenged, but running has clearly gained traction, boosting the importance of education in selecting the right socks. Darn Tough socks are made of Merino wool, a naturally antimicrobial fiber that repels bacteria and odor while providing fast wicking. "Focus on quality and purchase a product that will last [the customer] more than one season," advises U.S. sales manager Tressa Kreis. "Focus on core, but know that consumers will want something new and exciting now that they can shop again."
Special Initiatives: Darn Tough donated 10,000 pairs of socks to hospitals and healthcare professionals across the state of Vermont. The company also created a unique style, the Farmers Market Foodbank sock, to support those impacted by hunger in Vermont — every dollar raised goes directly to the Vermont Foodbank and to date, 264,528 meals have been provided. Additionally, a group of Darn Tough employees volunteered to make thousands of face masks for the Vermont community.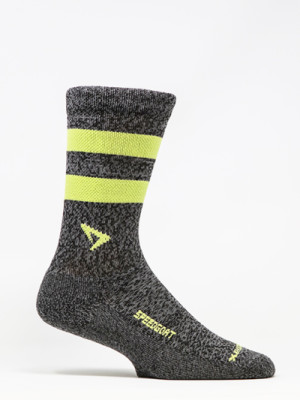 DRYMAX
Designed in collaboration with champion 100-miler Karl "Speedgoat" Meltzer, the Drymax Lite Trail Running Speedgoat Crew sock is Made In The USA. It features a proprietary two-layer moisture transfer system utilizing hydrophobic (water-hating) yarns against the foot to lift moisture from the skin to the outer hydrophilic (water loving) wicking layer away from the foot (SRP $15).
Advice for Retailers: "Break the mold, don't be a follower, sell something different that isn't discounted online," says EVP Bob MacGillivray. "Give USA-made products a chance, they are more cost-competitive than you think, are easy to replenish and offer a good American Made story of quality. Your customers will thank you for offering a broad, well-curated technical line-up of quality products. Your open mind and research will be rewarded with loyal returning customers."
Special Initiatives: The company's focus is to continue to move forward, push the technical envelope, take the time to advance new technology, and keep the USA factory, warehouse and offices viable. "Drymax is emerging as a smarter and stronger company with all of our employees still on the payroll," notes MacGillivray.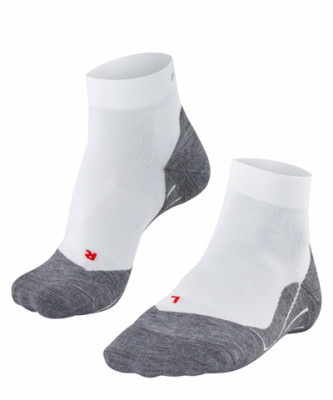 FALKE
Falke's RU3 men's sock delivers targeted light cushioning and the patented right/left toe box provides optimal fit. The three-layered design of functional and natural fibers protects against blisters by transporting moisture (SRP $21.95).
Advice for Retailers: "Our suggestion to retailers is to sell quality products that they can understand, get behind and trust," says VP Desiree Larson. She adds that Falke has been knitting socks in Germany for 125 years and was the first manufacturer to patent right and left socks. "This creates a better fitting sock and a better performing sock — quality your customers will come back for again and again for another 125 years."
Special Initiatives: Larson reports that Falke made a lot of changes during the coronavirus pandemic. "This is a crisis that no one has ever experienced before, in both our personal and professional lives. We set up rules to protect our employees and those we interact with. In addition, we introduced Falke face masks knitted on our hosiery machines," she says. In the USA, the brand is offering the masks to all of its employees as well as to its clientele.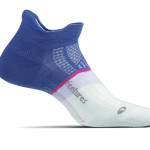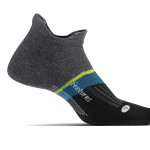 FEETURES
New for Fall 2020 is the Feetures Elite Max Cushion No Show Tab made with Repreve. Part of the Active Performance line, these updated eco-friendlier socks wick moisture and include anatomically designed left/right targeted compression for a custom fit, and a seamless toe to prevent blisters (SRP $15.99).
Advice for Retailers: Despite all of the challenges with in-store fitting, it's important not to lose focus of selling accessories like socks. "There are so many new customers getting into running, you can't miss the opportunity to give these new runners the full experience your store has to offer. Performance socks are so important for beginner runners because they help solve blister issues that can spoil the investment in a new pair of running shoes," explains Joe Gaither, VP–marketing. "Encourage your staff to do anything they can to get a pair of try-on socks on someone's feet during fitting and educate them about the benefits."
Special Initiatives: The brand ran a special promotion in partnership with Fleet Feet called "Buy 1 Gift 1" for health care employees. For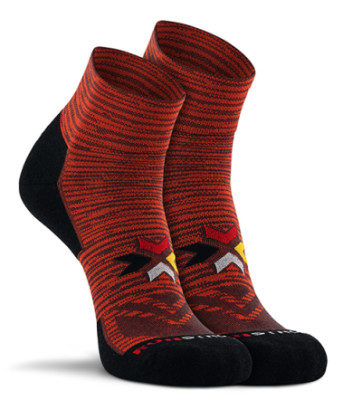 FOX RIVER
Fox River's Mesa Lightweight Quarter Crew is made from all-natural alpaca. The URfit System provides long-lasting support, 37.5 Technology helps regulate foot temperature, and strategic micro-cushioning adds comfort. Wick Dry technology keeps feet dry and helps avoid moisture build-up (SRP $18).
Advice for Retailers: "COVID-19 has set retail spiraling into uncharted waters," says e-commerce director Shaun Erlebach. Coming into the fall season, we feel the key to success will be the ability to remain agile to customers' needs and to take every step possible to ensure key product information is available at their fingertips through digital means."
Special Initiatives: Fox River introduced the C156 FlexFit Mask, a reusable, washable, seamless 3D form-fitting protective PPE face mask designed and knit in Osage, IA. It's the first fully seamless mask ever to be created on a traditional sock knitting machine and each mask exits the knitting machine completely finished without any additional cutting or sewing required. "The ingenuity behind our new FlexFit Mask shows you just how resilient and clever the hardworking, highly intelligent folks at Fox River Mills really are," says Carter Jones, senior merchandising manager. Fox River has provided all employees with two FlexFit face masks and is working with local manufacturers by providing discounted masks to ensure they are able to provide reusable masks to their employees. The company is also working directly with the local school and multiple local retailers to provide the masks, and has donated more than 400 masks to the local Department of Public Health.
every sock purchased at Fleet Feet and Fleetfeet.com, Feetures donated a pair to a hospital worker. "With Fleet Feet's national reach, they were a natural partner," says Gaither. "We were both looking for a way to give back to healthcare workers because of their sacrifices during these times. They helped us connect with more than 10 hospitals around the country and together we gave away more than 20,000 pairs."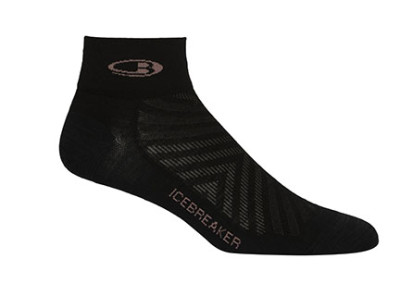 ICEBREAKER
The Women's Run + Ultralight Mini sock from Icebreaker is made with a technical Merino wool blend. It delivers an anatomical toe box for left and right fit, sculptured cushioning for comfort, Achilles and instep support, a reinforced heel and toe, a seamless toe closure and a Breathe zone for ventilation (SRP $18).
Advice for Retailers: Because people want to get outside and maintain fitness goals, keeping fixtures stocked, sized and easy to shop will help drive sock sales, says Katie Branaum, key account manager. "Retailers should also look at ways to bundle and promote multi-packs because people are looking to buy essentials in bulk where possible and a multi-pack could be an easy way to increase basket size and drive volume." She adds that asking vendors for close-outs can be a great way to stock up on discontinued colors and gain extra margin.
Special Initiatives: "We have made some cuts in production and have made carryover product more of an emphasis for FW20 and S21," says Branaum. "We don't feel as though FW20 is a season for launching a bunch of new technologies or categories. We know that our retail partners have residual S20 product on the floor, and we have tried to make that product as relevant as possible, with full margin for future seasons." That said, she points to neck gaiters as a trend that will remain popular for the foreseeable future, and urges retailers to stock up. Meanwhile, Icebreaker's "Plastic Free by 2023" pledge is well underway, and some product segmentations are occurring naturally with that. "Our line has always been founded on basics with a 'less is more' aesthetic and we see basics (hoodies, joggers, tees), and essentials (underwear, baselayer, socks) driving the majority of our current business," Branaum reports.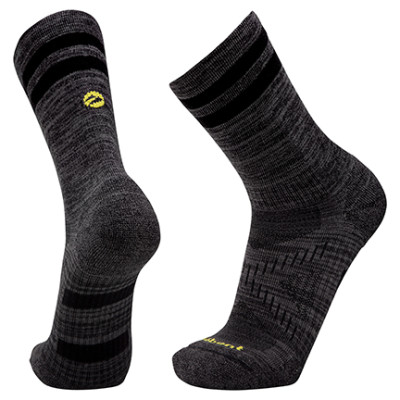 LE BENT
The Le Bent Trail Light 3/4 Crew is made of Signature Blend fabric that utilizes Merino wool and rayon from bamboo to regulate temperature and keep feet dry and odor free. Other benefits include Definitive Fit System, Achilles and ankle band support and impact cushion zone (SRP $22).
Advice for Retailers: When things get difficult, concentrate on the fundamentals, instructs Steve Walsh, Le Bent's U.S. sales manager. During a health pandemic, consumers want to make the most of their time and this means making sure they have the right gear. "As financial restraints take hold, consumers will increasingly be seeking value for money and genuine high-quality products will be heavily researched and will subsequently win at the point of purchase. Quality is also the major sales driver of repeat purchase and customer retention," says Walsh. "Evaluate the range of products in your store and assess which consumer needs they actually meet."
Special Initiatives: Le Bent has been testing a number of products that meet some of the health specifications recommended by the CDC, notes Walsh, and they will be available this fall for ordering. "The best way we can contribute is by driving value into the categories we play in," he says. "This is how even during COVID we have been able to grow our pro teams globally; our focus has been to continue to have the best athletes in the world to test, fall in love with, then recommend our products."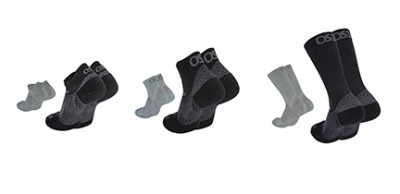 OS1ST
The FS4 Merino Wool Plantar Fasciitis Sock incorporates patented bracing technology that uses compression zones around the plantar fascia that strengthen the muscle and provide additional cushioning to the heel (SRP $24.95 No Show, Quarter Crew; $29.95 Crew).
Advice for Retailers: "We think consumers will continue their inclination toward outdoor activity where they can escape the restrictions of pandemic living and that is something retailers will continue to be there to support. So, we don't think the demand will go away," predicts president Josh Higgins. "However, as we all realized in the first few weeks of the pandemic, retailers and the brands that support them have to stay agile in order to adapt to the moment."
Special Initiatives: In the first few months of the pandemic OS1st worked with retailers that were pivoting to some sort of digital presence, whether it was a full-fledged e-commerce website or online ordering. "In that time, we quickly debuted our drop-ship program where stores could use their websites or, if they were in the process of building a site, they could sell off of our website with unique coupon codes until their operation was settled into an e-commerce function," explains Higgins. "We've continued to support independent retailers by reviewing our partner programs to increase margins, extending payment terms, as well as adding more third-party platform integrations to our tool bag like working with services like Fitted for online selling and Upper Quadrant for retail-focused marketing support." OS1st also used its Strava club for virtual races, with all the prizes being gift cards to independent running stores (and some OS1st product too). "Our focus during this time has been 100 percent geared towards supporting our independent retail relationships," says Higgins.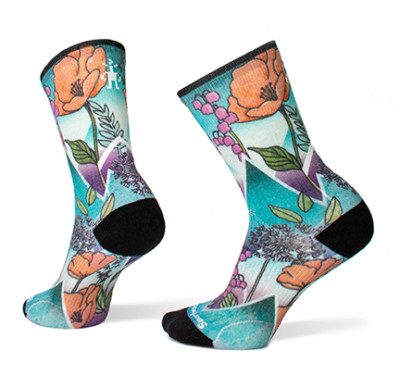 SMARTWOOL
SmartWool's Women's PhD Pro Endurance Print Crew Socks are Made in USA and offer a women's-specific fit, Shred Shield technology to reduce wear from toes, and Indestructawool construction for durability. Other benefits include mesh venting, 4 Degree Elite Fit System and minimal and targeted cushioning (SRP $25.95).
Advice for Retailers: The company has seen an uptick in run since the start of COVID. "People are looking for new ways to stay active and get outside, and running is one of those hobbies," observes Maggie Meisinger, SmartWool's strategic communications manager. To help support this trend, the company is working with specialty retail partners on activations that encourage consumers to continue supporting their local stores.
Special Initiatives: "We held a community SmartWool Ultra Run Strava Challenge for the second year in row and more than 100,000 people joined in to run 100 miles throughout the month of April," says Meisinger. The brand also launched two giveback campaigns in the spring to benefit healthcare workers. First, the company donated 5000 pairs of compression socks to healthcare workers across 55 hospitals and 22 states (SmartWool employees helped identify recipients in their local communities). Now, SmartWool has taken its product donations a step further with Caring in Pairs, in which the brand will donate a pair of lifestyle socks for every pair sold on SmartWool.com, up to 10,000 pairs. SmartWool has partnered with Good360 to get the donated socks directly to healthcare workers on the front lines of the COVID-19 pandemic in New York, New Orleans, Seattle and Los Angeles.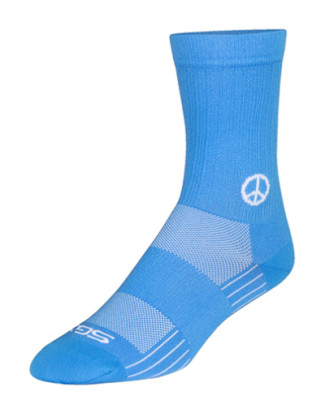 SOCKGUY
SockGuy's SGX 6-inch Peace Now model provides a compression ribbing cuff that helps prevent fatigue by increasing airflow. It also has a mesh upper, snug arch support, a streamlined sole and seamless toe (SRP $14.95).
Advice for Retailers: SockGuy president Michael Foley advises having socks easily accessible near the checkout area (the brand offers countertop displays at no cost with minimum purchase), as well as close to the footwear display. "Have a good stock of different designs, several cuff heights, and materials – wool, acrylic, compression-fit, padded, non-padded – for your customers to choose from. Having your store's website dialed-in to the latest sock designs, with easy checkout, always helps," he says.
Special Initiatives: "We have very good dealer incentives to encourage orders this summer — the lowest barrier for SockGuy wholesale orders for retailers, ever," says Foley. "We also designed three new Healthcare Heroes socks in April for the frontline workers to enjoy. For every purchase of these designs, we donate a pair to hospitals, nurses and staff around the country."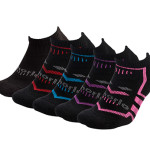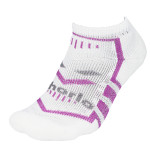 THORLO
Thorlo's VRMU Edge Running moderate cushion low cut sock features the brand's signature cushioning that utilizes NanoGLIDE fiber technology to prevent friction and blisters (SRP $14.99).).
Advice for Retailers: Thorlo has found that for most consumers, socks are an afterthought. But if merchandised properly, socks are perhaps the easiest way to increase per-visit profitability. "Socks are an impulse item, much like candy bars at a grocery store checkout," says Jeff Lawson, marketing director. "The best way to do this is to spiff your sales staff 25 to 50 cents for every pair sold over a prior period level." He also points out that up-selling socks can happen on its own if retailers make socks hard for customers to avoid, much as grocers do by placing candy near the register. "Display socks in the primary traffic aisles and certainly merchandise the staple colors near/on the cash wrap."
Special Initiatives: In April, when demand for PPE such as face masks skyrocketed, Thorlo's engineers were able to pivot the sock knitting machines to knitting face masks, which the company branded Face Tek. "In a few short weeks, knitting machines were converted, the mask was designed, a website was developed and Thorlo employees were back to work providing PPE for the community and beyond," says Tracy Harris, marketing product manager. Along with this, the brand launched the Donate4Me initiative: Any time a purchase was made on Thorlo's website and the Donate4Me code was entered, a pair of Thorlo 12-Hour Shift socks were donated to a health care worker. To date, more than 1000 pairs have been donated to frontline workers.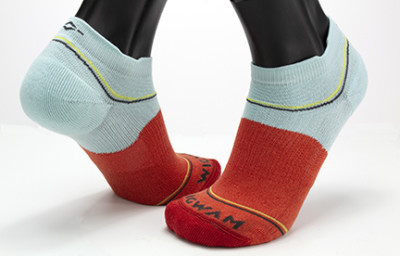 WIGWAM
The Wigwam SynchroKnit Surpass Lightweight Low features SynchroKnit, a patented contour knit that removes unneeded fabric for a precise fit. The sock also offers a Double "Y" heel gore for enhanced fit, a "Y" gore toe box that allows room for expansion and lightweight zone cushion in heel and toe (SRP $17).
Advice for Retailers: Wigwam attests to seeing an increased consumer interest in the sport, but also notes that consumer behavior is focused on pre-determined "essentials," which often excludes accessories. "A bad sock fit or poor performance can easily ruin the experience. Don't let the COVID-19 mindset of purchasing only the essentials limit the customer's investment in their running program," says Brad Bates, VP–sales. "We should always make sure to remind/market in advance that socks are the essential gear needed to make sure [consumers] have a positive running experience with their carefully chosen shoe. Creating visual images and pairing sock purchases (or online suggestive selling) with shoes is a must."
Special Initiatives: When COVID-19 hit, the company was in the early phases of introducing its SynchroKnit technology in running socks and it became a challenge to get the word out. "We very quickly went to work with race directors to shift our financial support from the originally scheduled outdoor race schedules to virtual events," says Bates. "We have had a lot of fun supporting organizers and their events, such as Sarah Ratzlaff with the Zooma Women's Race Series who created a virtual Run Club for women, and Mitt Stewart, organizer of the Wasatch Trail Run Series."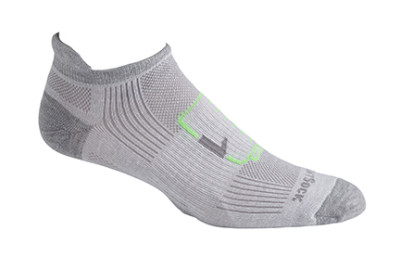 WRIGHTSOCK
Part of Wrightsock's ECO Collection, the Run Tab sock uses 1.9 plastic bottles in the knitting of each pair. The sock is also certified sustainable, utilizes Repreve recycled polyester in the inner and outer layer and comes with a No Blister Guarantee (SRP $16).
Advice for Retailers: When time is at a premium with the consumer at the try-on bench, use of Wrightsock's unique "Off the Wall Try-On Program" is a safe and efficient way to introduce the brand to new consumers and those suffering from hot spots and blisters, notes Tom Weber, director of sales and marketing.
Special Initiatives: "Once the shutdown began, Wrightsock doubled down and turned internally to expand our efforts to become more sustainable by replacing many of the manufacturing processes to lessen our carbon footprint," explains Weber. Toward this end, the company invested in replacing old boilers, boarding machines and inefficient finishing assets. Additionally, Wrightsock replaced all the lighting in the entire manufacturing facility and office complex, along with cost-saving, energy-efficient knitting machines, and realigned the workflow processes. "All this investment mirrors with the launch of our new ECO Collection of Run, Explore, Lt Hike and Hike product that contains Repreve, the world's leading recycled, sustainable and certified polyester yarn," says Weber.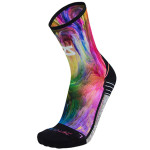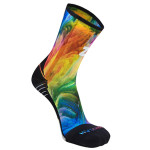 ZENSAH
The Zensah Color Explosion Mini-Crew socks boast an anti-blister seamless toe, graduated compression to reduce fatigue and speed recovery and moisture wicking and anti-odor proprietary fabric with silver ions. Anatomical left/right foot design, a light cushioned sole and target arch support round out the package (SRP $20).
Advice for Retailers: When it comes to the sock category, it's all about fun, because consumers are looking for ways to express themselves during these challenging times, according to Ze'ev Feig, founder and CEO of Zensah. Marketing manager Diaya Tulshi elaborates, "My advice to run specialty retailers is to remember that we are living in a history-making time period. This is an impactful time where products can be used as a fun way for motivation or memorabilia to remember a certain accomplishment." Zensah's Color Explosion socks certainly fit the bill.
Special Initiatives: The company has transformed drastically during the coronavirus crisis. "We launched three types of face masks, the Performance, Copper, and Ear Loop face masks, using Zensah's technology that can help stem the spread of COVID-19," says Tulshi. "Zensah's fabric does not develop an odor, retain moisture or allow the growth of dangerous bacteria during continuous use, which was perfect to create a quality face mask." The brand also created a Buy One, Give One campaign in which one pair of premium compression socks was donated to healthcare workers in hospitals across the country for each pair purchased.