After a decorated running career at DeSales University in Pennsylvania that included 10 Division III All-American honors and a national title in the 1500-meter run, Gina Lucrezi asked herself a simple, yet ultimately daunting question upon graduation in 2005: What's next?
Interestingly, the Pennsylvania native found her next running adventure not on the track or the road, the two most frequent destinations of post-collegiate running stars, but in the solitude of the trails.
And today, Lucrezi is among the foremost champions of women's trail running as the founder of Trail Sisters, an upstart, grassroots organization devoted to growing "women's participation and opportunities in trail running through inspiration, education and empowerment." Over the last four years, Trail Sisters has evolved from an online journal into a robust community that boasts approximately 100 local running groups, hosts runner retreats and issues grants enabling women to pursue ambitious trail adventures.
Creating the Community
A cross-country and track purist, Lucrezi never much considered trail running – that is until she met American Trail Running Association (ATRA) founder Nancy Hobbs while interning with the United States Olympic Committee in Colorado Springs, CO, in 2008.
"Nancy took me under her wing and I got hooked," Lucrezi says. "I loved the independent feeling of trail running and the freedom it brought."
As Lucrezi pursued her newfound love for the trails during her personal time, she found complementary professional pursuits. She landed a marketing gig with inov-8, the U.K.-based footwear and apparel brand with a hefty presence in trail running, and crafted branding plans, organized media and managed the athlete team among other duties. She followed that up with additional posts offering unique glimpses into the trail running world – in advertising sales with Trail Runner magazine, in business development with iRunFar.com and with athlete and event management for Julbo Eyewear and Ultimate Direction.
But as Lucrezi became more deeply involved in the trail running world, both personally and professionally, she identified a troubling reality: a perplexing lack of content, encouragement and representation of women in the sport.
"It was men on the covers of race posters and on the marketing ads," she says. "I felt as if women were on the outside looking in and there was neither emphasis nor encouragement for women to hit the trails."
Lucrezi launched Trail Sisters in 2016 to fill that void.
"There was no other place fostering something like this for women, even though there should have been," she says.
A space singularly devoted to the female perspective and voice in trail running, the digital platform started simply: an online journal for women, by women, to share perspective, advice and stories related to trail running.
In an April 11, 2016, welcome letter on the site, Lucrezi introduced Trail Sisters as "a podium for female expression … that generates a healthy well-being and helps you to excel with your outdoor passions and goals." Its earliest posts covered a smorgasbord of topics — thoughts on the appeal of trail running, handling fear, trail conservation and adventure essentials.
"It was an opportunity for women to share their experiences on the trails with others," Lucrezi says.
Over the past four years, Trail Sisters' crowdsourced journal has grown from Lucrezi and a handful of her closest trail-running allies into an international community boasting some 400 contributors and nearly 600 posts.
As the online journal gained steam, Lucrezi began exploring alternative ways to expand the Trail Sisters community to further inspire and empower women in the sport. That led Lucrezi to host discussions and presentations at run specialty and outdoors shops, to sanction Trail Sisters running groups in communities across the U.S. and to unveil women's-only trail running retreats. Sponsored by the likes of Merrell, Smartwool and Skratch Labs, the bi-annual Run With Her retreats consistently sell out.
With the support of Under Armour, Ultimate Direction, Tailwind Nutrition and others, Lucrezi launched Team Trail Sisters in 2018, an inclusive group for women who are active in their local communities, participate in race events and stand eager to beat the Trail Sisters' drum.
And alongside Merrell, Trail Sisters established the Trail Run Adventure Grant. From some 250 applicants each year, Trail Sisters awards six $500 grants to women who want to chase their dream trail run adventure. Recent grant winners have used the funds to traverse the Three Sisters Loop through the Cascade Mountains, to trek the 273-mile Lebanon Mountain Trail and to tackle the high-rising West Maroon Pass from Crested Butte to Aspen.
"Historically, women are trying to play catch up, but I truly feel our programming and offerings are having an impact and push for the inclusion, recognition and support Trail Sisters is all about," Lucrezi says.
Lucrezi attributes the growth of Trail Sisters to a swelling number of women interested in trail running, a trend documented by the likes of ATRA and the International Association of Ultrarunners. For some, Lucrezi notes, the appeal of trail running begins with curiosity or a desire to seek challenges beyond the road. Others, meanwhile, are eager to embrace a more independent side or to escape eyeballs – and judgement – by running in an out-of-the-way environment.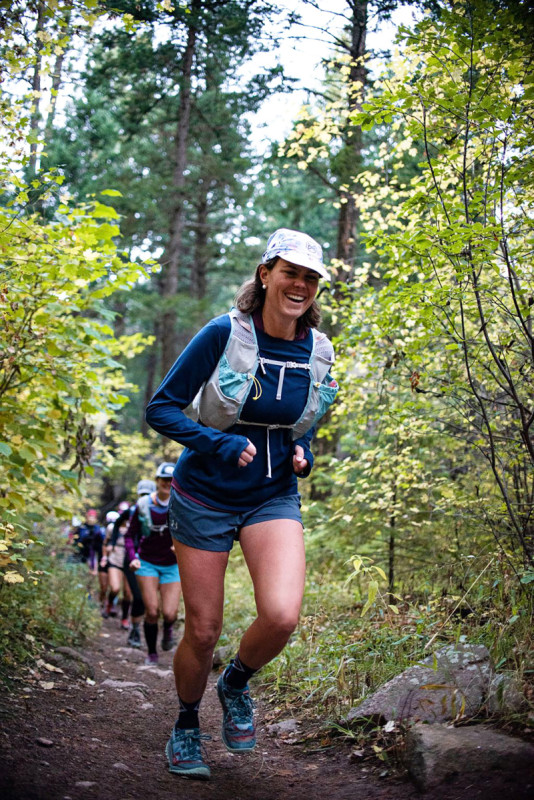 The Retail Opportunity
Whatever the individual's reason, Lucrezi considers women's swelling enthusiasm for trail running a positive for running retailers given that women tend to spend more than men in running footwear and apparel while trail runners as a whole typically invest heavily in the sport. She suggests workshops on topics such as trail awareness and "no-drop runs" in which the entire group regularly reconvenes on the trail throughout a run as avenues run shops might explore to minimize the intimidation factor of trail running and promote it in their communities.
"There's a lot of money to be made if run specialty stores are smart," Lucrezi says.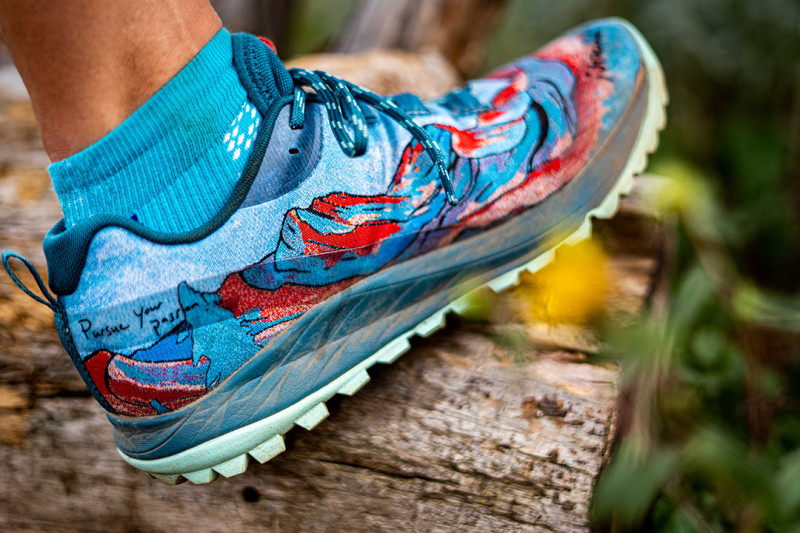 Merrell and Trail Sisters Team Up
Earlier this year, Merrell and Trail Sisters
partnered to deliver special edition designs of the Antora and Banshee, two of Merrell's most popular trail running models.
Trail Sisters founder Gina Lucrezi handpicked artist Sarah Uhl to design the print of the women's-specific footwear, specifically asking Uhl to make the shoes as loud and proud as possible. The footwear accomplishes that with its bold blue color and red mountain vistas while some of Lucrezi's favorite mantras – "Take a bet on yourself." and "Success is achieved by those willing to try." – line the shoe's upper.
"Sarah was the hands to my brain," Lucrezi says of the vibrant Uhl-designed footwear, which earmarked proceeds for Trail Sisters' grants and outreach programs.
Merrell marketing manager Erika Derylo called the collaboration an attempt "to increase visibility and participation of females in the trail running community."
"These shoes are a celebration and catalyst of females coming together to be unstoppable, both on the trail and within their daily lives," Derylo says.