Bottom-to-top updates "deliver more speed and infinitely more fun for both dirt aficionados and trail neophytes" in Saucony's recently introduced Peregrine 12, the latest version of the brand's award-winning trail franchise.
The Peregrine 12 ST is described as a "mud-shedding, muck-loving model of the Peregrine line." Taking the responsive feel of the Peregrine 12, the ST (soft terrain) version is modified to excel in sloppy, muddy conditions. The toothy multi-directional lugs are 1.5mm longer, with more spacing between each to shed mud quickly, and the debris-resistant upper is reinforced with 3D-printed overlays and a mesh shield over the tongue for ample protection.
"Named for the fastest bird on earth, the Peregrine 12 more than lives up to its name," explains Katie Pyle, product line manager for Saucony Trail. "The latest generation of this renowned trailblazer extends the limits of performance innovation on many levels, conveying the feeling of being light and agile yet further maximizing traction and protection.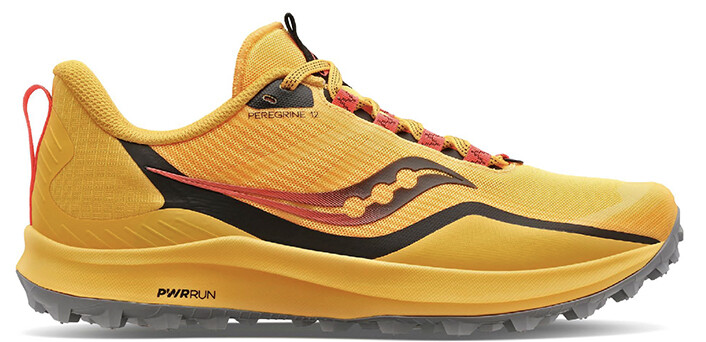 "Springy, faster and more comfortable than ever, the Peregrine 12 will elevate everyone's off-road game," Pyle adds. "And for those who like their trail experience extra sloppy, the Peregrine 12 ST, with its 6.5 mm lugs, stands worthy to always get the job done."
Among the new shoe's features:
Over an ounce lighter, the Peregrine 12 takes flight with redesigned 5mm lug pattern, while PWRTRAC rubber ensures maximum traction and grip.
An improved rock plate sheds moisture and provides more flexibility with each step, while a sleek and more breathable upper with pliable overlays protects against trail elements.
Responsive PWRRUN cushioning combines with PWRRUN+ in the sock liner for free flying across the trails.
Suggested retail price of the Peregrine 12 is $130; MSRP of the Peregrine 12 ST is $140.