Run specialty retailers looking for an even more special event to link into as their stores reopen can mark June 3 on their calendars, as stores and brands make a special effort to celebrate the annual Global Running Day in a new virtual environment. That can-do spirit exhibited by the industry during the COVID-19 pandemic the past three months will be on full display as everyone gets creative to celebrate the importance of running.
Here are a host of examples special events being planned for June 3 and beyond.
Under Armour 'Through his Together'
Under Armour is sponsoring what it calls the "Through This Together" Challenge, a 30-day MapMyRun challenge in celebration of Global Running Day. Runners can join the challenge from May 4 to June 3 to work towards a personal goal of 30 miles in 30 days — an accomplishment worthy of celebration on Global Running Day. UA expects its global community of runners on MapMyRun to be running for a collective goal of three million miles.
Runners who reach their personal goal of running 30 miles in 30 days will be entered in a random drawing, where 100 winners will receive two pairs of UA HOVR Machina shoes: one for themselves and one for someone who inspires them during this time.
MapMyRun is also offering a "Through This Together" 5K training plan free for all users, to guide those new to running and help them reach their goals.
Additionally, UA is offering a full day of live streaming content on @uarunning and will be showcasing its pro athletes, run crew leaders, coaches and members of the running community. From 9 a.m. to 5 p.m., they'll be discussing topics such as training, recovery and community.
Road Runner Partners With Stride
Road Runner Sports is partnering with Stride, the boutique fitness franchise that offers treadmill-based cardio and strength workouts, to host their own national virtual race on Global Running Day.
For their $35 entry fee, with a portion of the proceeds being donated to Feeding America, participants will receive a downloadable bib number, branded T-shirt, finish line photo and participation medal along with a training plan from Stride and access to the brand's "Go the Distance While You Keep Your Distance" Facebook Page, which offers daily running, strength training, and recovery workouts.
"I've been in the running business a long time and I've seen the industry change dramatically with the times," says Mike Gotfredson, CEO and founder of Road Runner Sports. "That's why I believe virtual races like the one we're creating with Stride are a big part of the future of running. It's a fun, safe way for runners and walkers all over America and the world to connect."
Dick Pond: A Run, A Pint, A BBQ
Dick Pond Park Ridge is inviting local runners to participate in its virtual Global Running Day to benefit Mercy Home for Boys & Girls. Participants can purchase a commemorative pint glass for $10 ($13 if they want it shipped) to keep and 100 percent of the proceeds from the glass will be donated.
Then on June 3 they can participate in the retailer's virtual Global Running Day by printing off their bib and going for a run. At 6 p.m. that evening they can then swing by Dick Pond Park Ridge to pick up a "to-go" hot dog or hamburger to enjoy later (with social distancing guidelines in mind when attending, of course).
Participants are also urged to take pictures of their run and post them to social media using #globalrunningday and #dpparkridge.
JackRabbit's Global Mile
Writing on its Instagram page, JackRabbit is inviting the entire global running community to virtually come together on Global Running Day. The retailer is asking runners to run/walk/hike/skip one mile on GRD.
The Global Mile will act as a symbol to all participants that "although we can't race together right now, we are still always running together. We are always there to support each other."
As a lead up to the June 3 event JackRabbit is offering weekly mini-challenges to help its community train for the big day.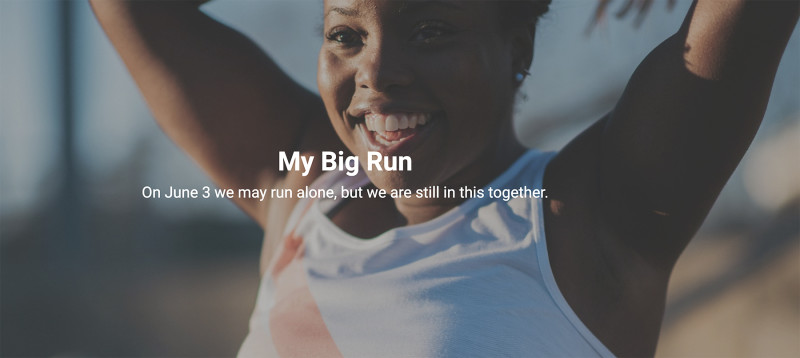 Fleet Feet Virtual Running Event
Fleet Feet's fourth annual Global Running Day event, The Big Run, is going virtual and has been renamed My Big Run. The June 3 Global Running Day initiative will take place in partnership with Brooks and provide runners with a dedicated virtual community event that celebrates running with fun download-and-print race kits, awards prizes in inventive categories, and helps raise money for Girls on the Run.
For $10, participants choose one of five race distances – one mile, 5K, 10K, half marathon or full marathon – to complete. Participants will receive a virtual race kit that includes a digital medal, print-your-own bib and other photo props, a $15 voucher to use at their local Fleet Feet store and access to curated Fleet Feet content and tips. Runners can upload results on June 3 by 11:59 p.m. PST via text message, email or the RunSignUp race registration platform.
"We know a lot of new runners have taken to the sidewalks and greenways in an effort to stay healthy during the past two months, and it's been a huge bright spot for us to see this energy and excitement within our communities," says Joey Pointer, CEO and president of Fleet Feet. "Whether you've previously run 50 marathons or are aiming to run your first mile, Fleet Feet's My Big Run gives everyone the chance to cross their own personal finish line."
In addition to submitting their race results, Fleet Feet encourages runners to share images from their run on Instagram for the chance to win a variety of prizes from running brands such as Brooks, Addaday, Amphipod, Balega, Feetures, Garmin, Gu Energy, Nathan, Nuun, Ooofos and Superfeet.
NYRR Uniting People Digitally
New York Road Runners (NYRR) virtual and digital experiences for Global Running Day will digitally unite people around the world to encourage physical wellness, strengthen community and offer support. Thousands of runners will participate in a one-mile virtual race, the NYRR Virtual Global Running Day 1M. Additionally, NYRR will host several interactive opportunities, including a social media challenge, online community programming, and interactive digital and social experiences to engage the running community.
"Global Running Day connects people from all over the world around the positive impact running can have on our lives," says Michael Capiraso, NYRR president and CEO. "During these times, it's more important than ever that we appreciate how running safely can help strengthen us both physically and mentally."
Aftershokz Youth Grants
AfterShokz, the manufacturer of bone conduction headphones, recently launched its Making Stridez Grant for high school and Amateur Athletic Union (AAU) track and field and cross-country teams. The initiative will help financially support deserving team programs in celebration of Global Running Day.
From May 1 through June 15, AfterShokz is accepting grant nominations for coaches and programs that have positively impacted the youth running communities they serve. Nominations are open to the general public. Each nominated coach and program will be eligible for a chance to receive a $3000 grant from AfterShokz, Goodr Sunglasses for their entire team and a Team Prize Pack that includes AfterShokz headphones and $250 shared gift cards from Science In Sport, Nathan Sports, Nuun, Orange Mud and Zealios.
Once nominations close on June 15, semi-finalists will be notified and will be required to submit a short video explaining their need and how the grant would assist with furthering the betterment of their program. The grant-winning program and two finalists will be announced on August 13, 2020.
"When it comes to choosing company initiatives, authenticity is most important to us and this grant is a testament to that focus," says Kim Fassetta, CMO at AfterShokz. "Since our start, we've cultivated a company culture built on the pillars of dedication and community service."