In 1967 women took a major stride in the world of running when Kathrine Switzer became the first female to officially enter and run the Boston Marathon. The iconic photos of race director Jock Semple trying to remove her Bib #261 made her an instant celebrity and cast her in the role of sports and social advocate. Without knowing it when she crossed the finish line in that 1967 race, she forever changed the face of running for women. Switzer is an Emmy award-winning television commentator and has been honored widely for her achievements, including being inducted into the USA National Women's Hall of Fame for creating positive social change.
Switzer stopped running and traveling long enough this month to speak with Running Insight for our special Women Who Run This Business Issue about that momentous day, her role in the growth of women in running and where she sees the business of running today.
Let's get right to the point: How do you view the progress women have made in the business of running headed into 2022?
Pretty good, not super great, but it is progressing.
How so?
I'm glad to see women race directors, heads of Comms at races and others taking more roles in running admin. They are also getting stronger in the big brands of shoes and apparel, but not as many as should be are in the C-suite.
How about advances of women in running itself?
It is woefully lacking. Critical to the success of women athletes is the lack of women coaches. Many problems that have occurred in women's sports – sexual harassment, bullying, etc. – are because we don't have enough women coaches to fill those important positions.
What is holding them back?
It is hard being a woman coach because a woman's domestic situation is more complicated. Male coaches traditionally can be at night games and travel with a team all weekend, but women coaches don't have the domestic support to allow that. We've got to figure that out. It's not that they wouldn't be good coaches or don't want to be, it's because they don't have the domestic support.
Do you think your story has played any role in progress women have made?
Sure it did. It showed then and now how ingrained belief in a 'woman's appropriate place' was 50 years ago. I didn't get push back just from Jock Semple [the race director who tried to remove her bib at that Boston Marathon]. My worst detractors were other women. My greatest defenders were the very few other women who ran and, hugely, the great bulk of male runners, whom I called the original New Age Guys.
When did you sense all of that changing?
It wasn't until we created women's-only running events – such as the Avon International Running Circuit – from that negative moment to get women out running did the transformation of women themselves happen. Through running, these women became empowered and got better jobs, finished that education, were tough enough to leave bad relationships.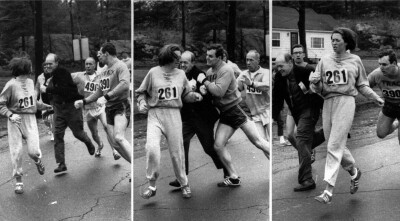 The iconic photo of Kathrine Switzer being attacked by Boston Marathon race director Jock Semple (in dark clothes) for running in what he considered a men's-only race in 1967. That's Switzer's boyfriend Tom Miller (#390) pushing Semple to the side as Switzer went on to complete the landmark race. Photo: Boston Herald.
And that iconic photo …
The photo became a clarion call to women everywhere. Then when we got the women's marathon into the Olympic Games 1984 we realized this was one of the biggest social revolutions of the century. That incident was a big spark in starting that revolution.
What lessons would you like young women take from the experiences you have had in the world of running?

That the worst things in your life can become the best things. Who would have imagined that getting attacked in the Boston Marathon because I was a female would result in such a positive outcome?
That was quite an unforeseen result for sure.
The other thing I learned from this and running itself was that consistency and persistence count more than talent and that sometimes when people don't believe in you, running gives you the lift to believe in yourself, to forge on and create positive outcomes. I am not particularly talented, but I do know how to work hard. That combination usually gives great results.
Switching gears a bit, what are you focused on these days? What's a typical day like?
My focus right now is to get my non-profit, 261 Fearless – named after my old bib number from 1967, the one the official tried to rip off my body – on solid ground to be secure for decades to come. We are already global on five continents and 12 countries after only six years and we have empowered hundreds of women around the world and are now pushing strongly ahead with an educational component so women can train other women. So a typical day is 50 percent percent 261 Fearless work, 25 percent percent speeches and 25 percent interviews. And an hour run.
How has the pandemic impacted what you do professionally and personally?
It has been pretty good for me. My husband and I were lucky enough to get locked down in New Zealand, the safest and sanest country in the world. The pandemic has allowed me to get more rest. I was spending 60 percent of my time in airports, on flights and in hotels. I can do so much virtually now. Nothing beats giving or hearing a speech in person, but I love doing Zoom as I can also reach out to people quite personally. Plus, I can see my 261 women all over the world rather than just one country at a time.
Are you running much in races or casually these days?
Yes, I still take running very seriously and have the Tokyo Marathon 2023 in my sights. Running Boston in 2017 was the happiest day of my life — being the first woman who ran a marathon 50 years after she ran her first one. After that I ran NYC and in 2018 ran London. In 2019 I did a ton of Rock 'n' Roll stuff, but 2021 was a tough year as I was in an accident in January, recovered by September and then was knocked back by shingles. I am only coming out of that now, so I have a lot of recovery yet to go.
What's planned for 2022?
This year for the Boston Marathon we are celebrating the 50th anniversary of women being official in the marathon — Boston was the first to do that, in 1972. Eight women ran that day and all eight of us finished.
How will you be celebrating that special date?
Five of us will be in Boston in 2022 and the official Boston Marathon gear is dedicated to this anniversary. And if you can imagine, my autograph is on the label of these clothes along with my quote: "Be Fearless! Break Barriers!"
Our readers would be interested in what brands you run in?
I'm an Adidas ambassador and only wear the best!
What do you think of the shoes and apparel being made for female runners? (As opposed to the gray sweat pants and shirt you ran in at Boston!)
It's beautiful and efficient. The shoes are the most changed. Marathon running in the past always meant blisters at best and often bloody feet. I was bleeding out of my shoes in 1967. Now, 50 years later in a nearly new pair of Adidas Boosts I didn't even have a chafe or hot spot after running for 4:48 in 2017 on a warm day in Boston.
How does today's apparel stack up against what you ran in originally?
It is aerodynamic, wicking and dries fast. I especially love the pieces that are colorful. I'm still a sucker for the designs of the wild '80s, but at age 75 I'm not sure I can quite carry that off as well now as I did then.
Changing it up again, how can running play a role in women's lives in this unique culture?
Similar to the goals of 261 Fearless, running will empower us and give us faith, belief and persistence to adjust, pivot and create in the New World of 2022. This will be a transformational year — everything in all of our lives will never be the same after this pandemic. But running will give us the ability to create and transform, too. Running makes us bold and we will need to be bold in 2022.
And what message would you give to women looking for inspiration in business — and in life?
To stay as healthy and fit as possible, to help face this health crisis and to feel empowered and strong, because running does make you Fearless in the face of adversity. The transformation in running gives you mental clarity, to see a new path, a new opportunity, a new business even. And it not only forestalls the aging process, but gives you the guts to age without fear. I'm 75 now — OMG!
Finally, what's next for Kathrine Switzer and how are you going to accomplish that?
I'm working on it right now — to regain the health and fitness I lost in 2021, to work on a new look for the future depending on what happens in 2022, to keep inspiring women and men to do the same, and to enjoy the company of my husband more every day. Maybe – no promises here – write another book.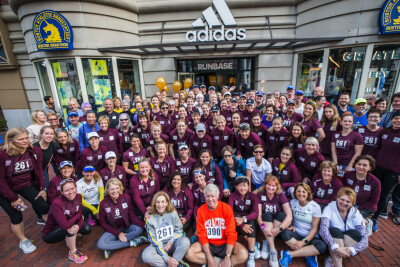 261 Fearless Looks to Empower Women Through Running
Established in 2015, 261 Fearless Inc. is a global non-profit organization founded by Kathrine Switzer that uses running as a vehicle to empower and unite women through the creation of local non-competitive running clubs, education programs, communication platforms and social running events. It aims to break down the barriers of geography and create a global community for women runners of all abilities to support, encourage and inspire each other towards a positive sense of self and fearlessness.
"It means that the ability to become empowered and fearless lies in all of us, that even the simple act of putting one foot in front of the other can give us the strength to believe in ourselves and to overcome incredible adversity," says Switzer. "But you have to have the opportunity to try. And that is what 261 Fearless gives."