The Sayville Running Company had options – and it wasn't afraid to use them.
When the landlord at their existing Main Street space presented terms last summer for a new 10-year lease, a deal that included a significant rent hike, Sayville Running Company co-owner Brendan Barrett and store leadership quickly explored alternatives. Finding compelling deals, including two suitable spaces in downtown Sayville, they decided to relocate their 15-year-old business into a new 2700-square foot storefront six doors east.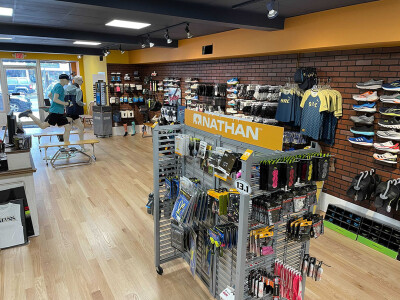 "We felt like we had some negotiating power," Barrett says, noting that the total rent overhead at Sayville Running Company's new home is less than what the store was paying at its similarly sized previous spot. "In the end, we found something that was a small compromise and even better in some other ways. Moving's never fun, but I'm happy we did it."
Sayville Running Company's move speaks to a notable industry theme that emerged in 2021: spurred by favorable commercial real estate market conditions as well as strong store performance figures, numerous running retailers have changed addresses, expanded or added an additional unit over recent months. As a result, various run shops across the U.S. now inhabit bigger storefronts, more prominent locations or are capturing bottom line-driving benefits that have them well positioned for the future.
Seizing opportunity
After 10 years at 328 Main Street in downtown Brighton, MI, the Running Lab moved into a new 4400-square-foot space across Main Street last spring. Running Lab owner Ken Larscheid had been contemplating a move for more than two years, eager to escape his cramped 1000-square foot space in a long and narrow downtown building. Taking advantage of favorable interest rates, he purchased the building at 409 Main in Brighton, simultaneously giving Running Lab a new home and diversifying his holdings.
"Regardless of where run specialty is in 20 years, the building will still have use for something," Larscheid says.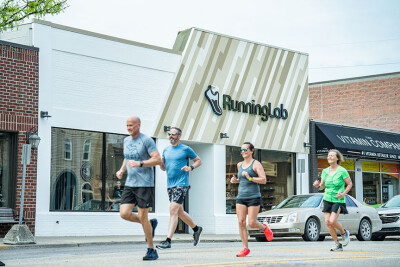 Discarded by his previous landlord who had a new tenant lined up, Richard Dafoe moved See Dick Run into the redeveloping downtown of Grand Forks, ND, earlier this year.
"I'm paying $150 more a month for a space that's nearly double the size of my old location and downtown," Dafoe beams.
In April, Xtra Mile Running owner Chris Schiel ditched his former 1100-square-foot storefront in Schaumburg, IL, for a more spacious and visible 2300-square-foot space in the Schaumburg Town Square development that hosts concerts, a weekly farmer's market and the village's popular library.
"There's a lot more visibility in this location," Schiel says of Schaumburg Town Square, where he found leasing rates 30 percent lower than 2018. His new landlord also assisted with rent abatement and store buildout.
And the list goes on and on.
Movers, shakers and optimism
Complete Runner owner Brad Brown purchased a commercial building in Grand Blanc, MI, and opened a second store in February to complement the company's flagship location in nearby Flint.
Runner's Edge, a staple of Long Island, NY, for decades, similarly doubled its store count with the opening of a second storefront in Huntington to accompany its Farmingdale shop.
The Dallas Running Company, the Tri-State Running Company in metro Cincinnati and Michigan's Ann Arbor Running Company all grew from two to three units in 2021. Meanwhile, Peak Running, which has three locations in suburban Chicago, crossed state lines – actually many state lines – with the opening of its fourth unit in Breckenridge, CO.
In March, Wagner's RunWalk jumped to downtown Tuscaloosa, AL, landing better parking for shoppers, safer routes for group runs and better access to University of Alabama students and staff.
In May, Palmetto Running Company gobbled up two vacant spaces adjacent to its Hilton Head, SC, store. As a result, Palmetto nearly tripled its footprint from 1050-square feet to 2800-square feet.
The Aid Station departed its original home in Auburn, CA, for a bigger, more prominent location down the street; the Ann Arbor Running Company crew relocated its downtown location into a sterling new space on South Ashley Street; and Running Wild recently began welcoming customers into its new location in Fairhope, AL.
With run shops leveraging market conditions to grab more prominent locations, add new units or capture cost savings, the Sayville Running Company's Barrett is among the many industry insiders optimistic that run specialty retail sits – quite literally in many cases – in a promising long-term position.
"So many of us are in a better spot today and that sets us up for good things in the future," Barrett says.