It's that time of year again for the run specialty business to gather for the Running Industry Association's (RIA) annual member summit, a not-to-be-missed spring event. This year there are 180 retailers representing 80 stores, 20 top footwear, apparel and accessory brands, 14 emerging brands and six business partners that are part of this two-and-a-half-day event — May 8-11, in Chicago, IL.
"We are excited to host the third annual Runchella event later this month in Chicago," Terry Shallow, RIA executive director, tells Running Insight. "This year's attendees have been provided with multiple options for connecting with our brand and associate partners, making it a true 'Your show. Your way.' experience.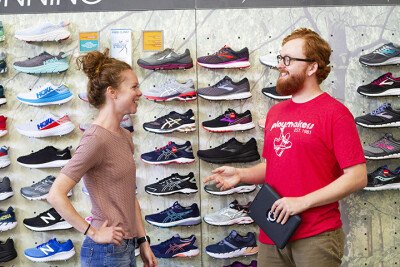 Runchella 2023 Happenings
Connection has always been the keystone of the event where running, chatting, working, eating and drinking with industry colleagues rules the day. Here are some of the flagship Runchella experiences.
Brand + Retailer Meetings: This year retailers get to choose what brands they want to see during the two days of sessions that include brand overviews, business planning sessions with sales managers, one-on-ones with executives, product demos and technical discussions.

Business Partner Sessions: Attendees can also dive into training for digital business tools (marketing, POS, e-commerce), market data presentations, merchandise advice and more.

Daily Group Runs: Each day a sponsor (ASICS, Saucony and emerging brand crew) will lead a run through the streets of Chicago, plus offer a product experience and swag for those willing to get out of bed early.


Specialty Run + DEI: There will be an informative panel discussion, in collaboration with the Running Industry Diversity Coalition, focused on what stores and brands to are doing to drive the channel forward and make progress on DEI initiatives.

The Runchella Skyline Party, Sponsored by Brooks: This pinnacle evening event allows attendees to connect casually in a social, lively environment overlooking the Chicago skyline.

"In addition, we are thrilled to announce some major new membership benefits, including the 'accessible-to-all' RIA Product Data Collaborative," he adds. "Our goal is to continually add value for our members each year, with this year being a big one."

RIA's Product Data Collaborative (PDC), launching this Summer, is described as a "democratized, universal database that removes the burden of gathering, formatting and managing brand product data by providing a repository that centralizes and standardizes the information." The ultimate goal is to save time and money for retailers, brands, and associate members by sharing and managing product data. For retailers, this means dramatically reducing the resources currently required to collect and manually format data from brands. For brands, it increases data quality and efficiency and minimizes data inquiries from retailers.
As a neutral entity within the run specialty channel, the RIA is uniquely suited to provide a centralized repository for brand product data, creating easy access for all existing platforms or tools that require product data and avoiding potential productization of data.
For more information: www.runningindustry.org