A new running shoe brand called Ratio from industry veteran Stuart Jenkins is pushing the envelope on sustainability, circularity of recycling waste materials, and performance—and just might cause other shoe brands to take a closer look at their own environmental impact. Jenkins, who is also the developer of the new Blumaka insole, has been around running for a lifetime, with Olympic Trials qualifying times in the marathon and stints in the running industry as a supplier, problem solver and activist.
His latest efforts, for the past several years, have been in the arena of circularity of recycling waste materials from footwear into new materials/uses to reduce the environmental impact. The Blumaka insole was the result of a phase one of products to improve the comfort of running and walking shoes. Phase two? How about a shoe? Better yet, Jenkins envisions a really long distance-capable shoe. It's not science fiction, and early retailers are buying in, so Running Insight writer Cregg Weinmann caught up with Jenkins for some additional insight into how the shoe was developed and its impact on the future of running shoes.
Running Insight+: How long was this idea for a shoe brewing?
Stuart Jenkins: Let's say 30 years and three years. The concept sort of unfolded in two stages.
Stage 1: I have been thinking about using hemispheres as a footwear cushioning technology since 1991. While president of SKYDEX I learned how powerful and efficient the hemispherical shape could be for cushions. I also learned how expensive and technically challenging it was to rely only on a mechanical structure for cushioning could be. We licensed Skydex to Nike, which they called TunedAir and they used it as a stability device. Pearl Izumi used it as a cushioning technology. Since the cost of a mechanical system alone was cost-prohibitive and it is difficult to engineer a structural system with perimeter stability and soundness, it seemed logical to back the hemispheres with foam.

The second stage is while I shared this idea with a number of brands, designers and footwear people, no one seem receptive. Then about three years ago the Ratio team asked me to envision a unique and efficient way to utilize the Blumaka recycled foam technology and this seemed like an ideal marriage. I got some great advice from Rob Strasser in 1985 when I was trying to sell him Energaire (later licensed as Reebok DMX). He said about shoe technology: "If you can see it, feel it and touch it….. you can sell it." The Ratio bottom unit has a story to tell about using a series of hemispheric springs in different sizes and locations to provide cushioning and stability where needed using only geometry. This is chapter one in that "book," but there is more to be done and new chapters to improve both the story and function
The individual that made this vision come to life was Kyle Pulli. His ability to take my crude idea for using hemispheres and refining into what I think is a breathtaking design is nothing short of miraculous
Was the Ratio a natural extension of your work on the Blumaka Insoles?
It is a natural extension of the insoles; however, a midsole is not just an over grown insole. In short the midsole was a lot more demanding as a manufacturing challenge than an insole. Blumaka is proud to have created insoles that are worn by players on every MLB team. We love having some of the top golfers in the world wear our product. For a start-up brand to be able to build insoles form recycled material that have found a market with pro athletes is incredible. Think of the very idea of recycled foam outperforming virgin foam? That's darn cool and every time I see an order come in from a pro athlete it validates that Blumaka recycled foam is a performance material.
Are retailers beginning to show an interest in the shoe?
Ratio has not been formally launched. However, personally, I have shown the shoe to three retailers and all have bought the shoes and reordered the shoes. So while a small sample size, I think this shows that the market is receptive to this product and brand.
How many doors are you entertaining, and is it a slow rollout?
I would think the initial shoes will be placed in 50 to 75 doors and grow from there.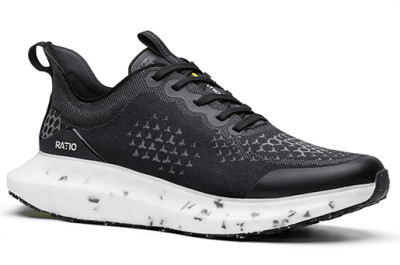 Is this likely to be the kind of product that will start a trend, like the Hoka shoes did a decade ago?
I think a lot of people have lost a lot of money betting they will start a trend like Hoka. In fact, the folks that started Hoka never dreamed they would start a trend like Hoka. But every great new brand has to come from a place and has to have a reason to be a brand. It has to have a reason for being on the shelf in a store and earning the right to be on your feet. Hoka earned that right by being the best-cushioned and lightest shoe in the market.
So where does that put the Ratio shoe?
The pressure this shoe will put on the market or the competitive pressure this shoe will generate is this — proof that performance athletic shoes can be made vastly more environmentally responsible. The trend that Ratio will likely lead is the recognition that Blumaka recycled foams can outperform virgin foam in some very critical performance metrics. Athletic performance footwear can be made with high recycled content throughout and perform. In short, recycled equals performance.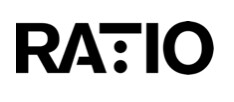 Is there another message the shoe is sending?
Yes, that the esthetic and style of recycled can be refined and elevated. Recycled products do not have to look like shoes designed while high on LSD for a hippie feast at Burning Man. The Ratio shoe stands on its head the notion that shoes made from recycled content are trash — and in fact proves the trashy shoes are the billions of pairs needlessly made from virgin plastics and foam. This shoe proves that making insoles for performance athletic shoes made from virgin foam, which compress and fails in 50 or 100 miles, is irresponsible. So if it sets a trend let's hope it sets the trend that forces all athletic brands to fuse sustainability and performance in a meaningful way.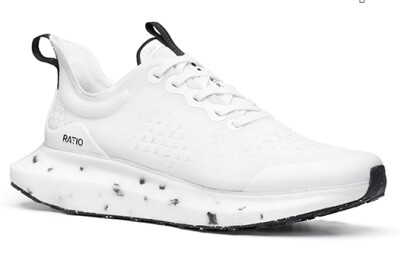 Describe the Ratio shoe in a little more detail.
Ratio, with an MSRP of $195, is high-mileage daily running shoe where Performance meets Sustainability. Performance means much longer-lasting cushioning. The Ratio shoe comes equipped with a midsole that will protect your body five-or-six times longer than running shoes made from EVA and supercritical foam. Performance means that if you like the step-in comfort of this shoe then you will like the feel of this shoe for 750 to 1000 miles. And that is for both the insole and the midsole of this shoe. The challenge, of course, is that if the cushioning lasts 750 miles plus the rest the shoe has to be robust enough to endure. So this shoe is built to wear.
Is there enough recyclable material to sustain the Ratio in the near term? How long might that last?
Sadly there are millions of tons of foam and with our ability to use post-consumer foam it seems highly unlikely we will run out of foam anytime soon.
Do you think we will see more shoes like this, given our current Climate?
Well, I hope so. Ratio is living proof that you can make a very nice running shoe without committing environmental malpractice. If a new start-up brand without an R&D department and a fleet of material engineers can produce a shoe from 66 percent recycled materials and comes equipped with a midsole and insole that provide cushioning for 750 miles, one wonders what on earth the big guys are doing. It costs more to make a shoe that will protect your body and the planet. Drop the sustainable materials? Forego 750 miles of cushioning? This shoe could be sold for $50 less. But the price to the body and planet isn't worth the price.
Any last thoughts for our readers?
Please note I did not say a perfect shoe. Just better. It still uses plastic. Hell, I get criticized every day on LinkedIn for "recycling plastic" because it will prolong the problem. So it is "better, not perfect."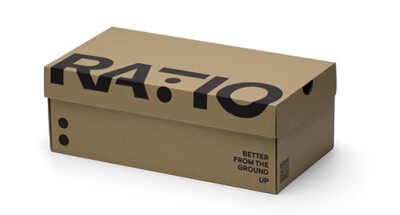 RETAILERS COMMENT ON THE RATIO SHOE
As Stuart Jenkins mentions in his interview above, a very select group of three run specialty retailers has been introduced to the Ratio shoe. Running Insight+ asked them for their thoughts on the shoe and how it is selling.
How unique is the Ratio on your shoe wall?
"The Ratio attracts a lot of attention because of the look, it stands out on the shoe wall with its clean, sharp-looking design." — Joe DeVreese, Santa Barbara Running Company
"There is nothing like it in our stores from a design and sustainability point of view. When we select our collections each season, we look for aesthetically unique shoes that also have a strong story behind why they fit, feel and look the way they do, so Ratio is a perfect fit in this regard. We love the eye-catching midsole heel flare design on the Ratio shoes that tends to make our customers stop in their tracks and want to find out more." — Daniel Hanig, Hanig Shoes, Chicago, IL
"Ratio's focus from day one on sustainability, both environmental and performance, is unparalleled amongst the other brands we offer. At this point there isn't another shoe brand on our wall that has been able to create a product made out of recycled material that can outperform traditionally manufactured product." — Tyler Harrison, Dallas Running Company/ Fort Worth Running Company
Has the shoe been selling well?
"The shoes are selling already! Our salespeople like to simply get the shoes on customers' feet and as soon as they feel the incredible support that is built into each pair it's almost always a done deal." — Daniel Hanig
"We have sold it rather well, especially to men. It has a great story and it also feels great, so for a brand that nobody has heard about we have done rather well selling it." — Joe DeVreese
"The Ratio brand has been our highest turning brand since we received the product in store. Albeit a small sample size, I do believe they have real staying power." — Tyler Harrison
What are the responses customers have given when they consider the shoe (or just spot it on the shoe wall)?
"Initially customers have gravitated to the shoe because of its great aesthetic. Many customers can't believe a running shoe could look so good! Once they have tried on the shoe, we have had many customers remark how good the initial step in feel is and how comfortable the overall fit is." — Tyler Harrison
"Usually they first ask about the heel flare detail when they spot the shoes. Once we speak to them not only about that design feature, but also all of the other interesting parts of the Ratio story like the lower carbon footprint, recycled materials and increased miles of protection, it's hard not to find the shoes extremely compelling." — Daniel Hanig
"The performance is all in the midsole, the shoe will last for a lot of miles, more than any other running brand. Downside is that it is heavier than most shoes I carry." — Joe DeVreese
Is this the kind of product that will start a trend, like the Hoka shoes did a decade ago?
"We hope so. It would be incredible if more companies invested even further, like Ratio, in the sustainability aspect of their business. From a lifestyle standpoint, we know that more people are spending time walking and running and need shoes that can offer them support they need over longer periods of time. This is crucial for the consumer, and Ratio is setting the pace in this arena with their testing that shows more miles of total protection." — Daniel Hanig
"The industry disruptors the past 10 years have shown us that in order to break through, new brands/products need to be unique and distinguishable. In many cases this uniqueness is viewed as unappealing at first, but then becomes their superpower (Hoka, On). Ratio's superpower is their ability to be the first true sustainable performance footwear brand. Creating products made out of recycled materials that also have been proven to surpass the durability and performance of industry leading products, is the definition of unique." — Tyler Harrison
Is the performance equivalent to other shoes you carry?
"I don't think we have anything quite like it. Ratio sets itself apart with their laser-focused commitment to more miles of total protection for the consumer, which means overall longer lasting cushioning, durability and comfort." — Daniel Hanig
"The shoe has been tested to last 4.5 times longer than current shoes on the market. We haven't had the product long enough to fully comment, but to this point customers have been very pleased with how the product has performed. The feel underfoot has been very well received, with customers remarking that the midsole is a great balance of firmness for protection and softness for energy return." — Tyler Harrison
"I feel like it will need to be lighter to compete with the Hoka brand but as far as feel it's there."— Joe DeVreese
Do you think we will see more shoes like this, given our current Climate?
"Many brands are rolling out their versions of sustainable footwear, with positive results to this point. Ratio is unique because the brand's DNA is rooted from the start in sustainability. We have not seen a sustainable focused product provide the same performance qualities as traditionally manufactured products. Customers appreciate brands that are conscious, but they also want their footwear to perform. It will be interesting to see if Ratio's technology and approach can inspire brands to further invest in sustainable practices." — Tyler Harrison
"Yes I do. How can we not, considering how front and center the reality of climate change is? I think footwear brands are realizing this is the future and that sustainability is what the consumer not only wants, but expects too, looking ahead."— Daniel Hanig