For decades, the running specialty channel has earned a reputation for being laser-focused on runners and their needs to the exclusion of nearly everything else — until recently. That's when the uniquely named sport of pickleball entered the industry's sights and the allure of the country's fastest-growing sport caught the eye of a number of forward-thinking run retailers and a scattering of vendors looking to expand their customer bases.
As the pickleball market continues to soar, running specialty's early adopters are recognizing the category's huge growth potential. It's a dilly of an idea, underscored by the fact that a post-2022 Running Event poll revealed that 54 percent of running specialty retailers either carry or were considering carrying pickleball products.
"Pickleball is America's fastest-growing sport, so you might want to be a part of it," exclaims Dan Santorum, president & CEO of the Professional Pickleball Registry. "Pickleball is exploding and it's played in a lot of public facilities that don't have shops. Take advantage of the popularity of the sport — it's another amenity that your store can offer. There's an opportunity because sometimes people go into a store looking for one thing and end up getting other items, too."
Santorum, who earlier in his career was involved with a running store that also sold tennis equipment and apparel, knows of whence he speaks, pointing out that pickleball offers running shops more of a chance to upsell and cross-sell, making it easier to attract new customers.
"It can go the other way, too: if people come in looking for pickleball you can also sell them running products. You want people to have eyes on your merchandise. It's a win-win and can help build your business," he says.
Just as importantly, "Runners come from all backgrounds — they're very diverse, just like in pickleball. The average person runs and the average person plays pickleball, so why not serve both," suggests Santorum. "Running shops are experts in footwear and they know the importance of selecting the proper shoes for a particular activity. This carries over into court shoes. You can't play pickleball in running shoes, so there's an opportunity to also carry court shoes. Take advantage of the pickleball phenomenon — everyone's talking about it."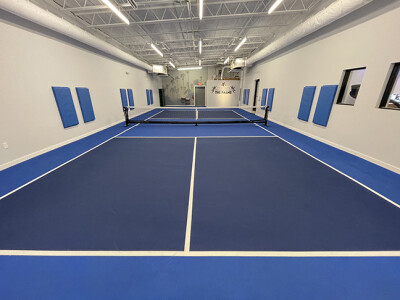 All In On PIckle
Talk about running with an idea. For a few running stores, pickleball has become a natural, and now integral, part of the business.
At Whirlaway Sports Center in Methuen, MA, owner Dave Kazanjian is reaping big dividends from his early investment in pickleball. The store, which celebrates its 40th anniversary in June, added the category almost two years ago and now has more than 400 paddles in stock representing five brands, as well as 700-plus court shoes. Kids' paddles are also part of the mix.
"We're fortunate to have the wall space," he says. "We have a pickleball wall with 60 models of pickleball/court shoes – 30 each for men and women – and we carry some clothing and accessories such as grips, hats, bags and visors."
Kazanjian notes that the store has 80 demo paddles in stock and will soon have a lined pickleball court in the parking lot to test the goods. On the grassroots scene, the shop has sponsored a few pickleball tournaments and is getting involved in an upcoming Special Olympics event.
"I started playing pickleball during the pandemic and it's an addictive sport! I play it, I love it and I wanted to get involved in it," says Kazanjian. "It's exciting to have a new category. Teaching and educating our customers is the basis of our business."
Kazanjian observes that there's a lot of cross-over among his current customers. "We're a run specialty store, but we carry over 1000 styles of footwear, including for baseball and football. We're more unique than a typical running store. Pickleball definitely brings in some new people and we already have a broad customer base due to our large range of footwear."
However, Kazanjian cautions that not all running specialty stores may be up to the task of adding pickleball. "It depends on space and open-to-buy. It's hard to dabble," he says. "It's a big commitment, but we're doing well so far. You need to have technical expertise, knowledge and service and that carries over into pickleball.
"It's a slippery slope, so make sure you have a plan," he continues. "There's lots of inventory and technology involved in carrying product — for example, there are more than 100 companies making paddles and we're not going to carry them all. The category is moving fast and it's hard to keep up, especially with paddle technology. It's like running shoes — you have to be careful and manage the business."
Fort Walton Beach, FL-based Run With It is also gung-ho for pickleball. "We started carrying pickleball in November 2020," says Jeff Harris, who owns the business with his wife, Dana Harris. "During COVID, people played pickleball a lot. I had a tennis background and started playing and then realized how popular the sport is. I also found that there was no place [in my area] that carried pickleball gear."
Harris brought in three paddle brands as well as accessories, including balls, grips and weighted tape. Soon thereafter the store added court shoes, which also appealed to tennis players because they could get the footwear without having to order it online. Kids' paddles (lighter and cheaper than adult paddles) came next and so far, they're selling well. "Adding pickleball was the best thing we ever did because it brought in a whole new clientele," he remarks.
Harris continued to expand the store's pickleball offerings and in February 2023 he took a major step forward by purchasing a building with room for a pickleball court. "It's a single indoor pickleball court and the only one in the area. We're now getting ready to build a covered outdoor court that will probably be ready this summer," he says. "It put us on a path that we never really saw ourselves going on."
At present, Run With It covers 6500-square feet, with about 2700-square feet devoted to pickleball and a full pro shop; the remainder is focused on running.
"We have a group run every Tuesday and some runners ditch the run to play pickleball," Harris reports. "Pickleball has also attracted the little tennis ladies. We have a huge snowbird population that loves to play. They come in for pickleball products and then they buy sandals and running shoes for comfort and casual wear, as well as post-pickleball recovery shoes."
Harris sees some crossover between runners and picklers, but the two groups are still fairly separate. However, pickleball is clearly bringing in a new clientele.
"We already had product that they needed — we just didn't know we had it. The growth helped us move to a new location and business has since exploded," he says. "We're getting lots of calls and we've affiliated ourselves with a local teaching pro who gives lessons on our court. We had no interest in giving lessons and he didn't want to be involved with retail, so it's a perfect fit."
The store also helps support pickleball events in the community by providing tournament sponsorships, erecting hospitality tents and setting up booths with product. His advice to other running specialty retailers: "If you've got the room and the interest, it's great. It's the best thing we've ever done."
Playmakers in Okemos, MI, is also no stranger to racquet sports. "We started as a team sports store and carried tennis and volleyball all along and we kept tennis," explains Jake Crowe, co-owner and lead buyer. "We started to sell $80 to $100 tennis shoes for pickleball in 2021. Lots of snowbirds brought pickleball back from Arizona and Florida, younger generations like to play with their parents and the sport has really blown up."
In addition to shoes, Playmakers carries pickleball socks, hats, paddles and balls. "We now have a 4X6-foot section near the running footwear wall. We've put cross-training and court shoes together on the men's side and have called out pickleball shoes," says Crowe. "We plan to keep our assortment focused — it won't grow in size, but it will grow in business. We'll sell more of what we currently have and we'll grow organically. We already had tennis shoes, so this wasn't a big leap for us."
Crowe believes that pickleball allows the store to expand beyond the run/walk customer. "The cool part is that there's another sport out there that's fun and active. We have a broad, loyal customer base that might be surprised once they see what's here. Word of mouth helps." In fact, the store recently did a social media call-out and Crowe says it helped spread the message.
Learning To Serve
For some running specialty shops, pickleball is still a novelty, so it's all about learning the game. For example, Jeff Anderson, owner of Kelley's Pace in Mystic, CT, began exploring the pickleball category this past February.
"We used to carry tennis shoes, but they were hard to get during COVID. But there was a lot of demand from customers," he says. The store now carries pickleball shoes now as well as apparel, insoles and accessories suitable for picklers, but no paddles or balls. The shoes are displayed on a special shelf near the running shoe wall. "We're promoting pickleball shoes and they're selling through, so we'll keep the assortment tight for now."
Anderson estimates that about 60 percent of his pickleball business is crossover from the running side and 40 percent is new customers. "Pickleball isn't a big part of our business, but it's something we wanted to have," he says. "It allows current customers more product choices and an opportunity to try something new. It also introduces customers to our store. It's an easy fit to bring a small assortment to the store and grow from there." He adds, "It's always nice to see a new category and to grow with it."
Chattanooga, TN-based Front Runner Athletics started carrying pickleball in March of this year and is sticking primarily with footwear, the store's area of expertise.
"We're centrally located around courts and athletic clubs with pickleball courts and we've carried court shoes in the past," says owner Chad Varga. "We re-entered the market with pickleball. There's lots of demand. Our main issue is to find the sweet spot regarding price point. There's also some customer confusion about court shoes, specifically tennis versus pickleball."
Varga isn't yet sure how many new customers are coming in to buy pickleball products, but the store does have good penetration in the area. He has also noticed that the same customers are running and playing pickleball.
"[Pickleball] has definitely increased our revenue and it's a side benefit of re-establishing ourselves in tennis," he says. "The challenges for us are to get the word out, understand who we're marketing to and determine the price points of the products that players want. It's very early in the game for us and we're just figuring it out."
Vendors Get in the Kitchen
For sporting goods manufacturers in the specialty running and racquet sports markets – and beyond – the siren song of pickleball is irresistible. Producers of performance footwear, hardgoods, socks and recovery products are all making inroads in the run specialty channel and the list of brands looking to get in on the action is increasing at near warp speed.
For example, this past March marked the debut of DINK, a new pickleball sports drink that will be available at pickleball courts across the country, as it recently launched a three-year partnership with USA Pickleball. In addition to its recovery beverage, DINK is also supplying pickleball lifestyle apparel and gear featuring the Volley Llama, the brand's wooly, paddle-wielding mascot. As part of the sponsorship, DINK will be featured at all national and regional pro and amateur tournaments as well as in marketing promotions. Can the running specialty market, which is always keen on fueling and recovery, be far behind?
For established court-specific brands such as K-Swiss, expansion into run specialty makes perfect sense.
"Pickleball is the fastest-growing sport in America and many of these new players are not coming from a tennis background," explains David Malinowski, director of court performance at K-Swiss. "For this reason, you see many different people wearing running shoes on the pickleball court, which is dangerous. Clearly, these consumers are used to wearing a running shoe, so we need to educate them about the benefits of a pickleball court shoe. If they are currently buying running shoes, we need to make sure we expand distribution to pickleball products at those same locations."
Malinowski says that every week the company is hearing from running retailers that want to carry the K-Swiss pickleball line. "We know pickleball players are coming into these stores looking for a court product and this isn't something that those shops typically carry."
He adds, "Pickleball consumers are now coming from all age groups and each is looking for something a little bit different. The younger group is looking for a shoe that they can wear to train in and play pickleball, which is why they are currently wearing a running shoe. We want to keep people active and injury-free, so it's important to educate the consumer to wear a court shoe that provides adequate lateral support and traction on and off the court. The beauty of court sports is that the players will wear out shoes much like serious runners, leading to repeat business."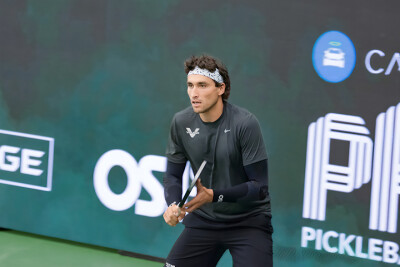 On the accessory side, OS1st, known for its socks and bracing products, entered the pickleball market a couple of years ago via a partnership with orthotics and footwear maker Foot Solutions. Since then, the company has become the Official Sock of the PPA Tour and Major League Pickleball.
The brand is also the title sponsor of the OS1st North Carolina Open tournament and they are sponsors of pickleball pros Jay Devilliers, Jessie Irvine, James Ignatowich, Brooke Buckner and Sarah Ansboury. OS1st is also the official sock and bracing brand of Life Time, which currently operates 170 clubs in the U.S., and boasts 420 pickleball courts spread over 120 clubs. The partnership will include branding as well as interior commercials in facilities.
"We launched our pickleball sock a year-and-a-half ago," says Josh Higgins, president of ING Source, OS1st's parent company. "Pickleball customers need court shoes, socks and bracing and there are no pickleball specialty stores in which to buy those products. Tennis specialty is way down and there are more run specialty stores to work with. The pickleball conversation is a constant for us."
He adds, "We want to be involved in the beginning, so five years from now we'll have brand equity in the pickleball market. We want to find categories that will help build the brand. Our goal is to grow as fast in pickleball as we're growing at run specialty."
Higgins notes that OS1st is the fastest-growing sock brand in run specialty, making it easier to convince those retailers to get into the pickleball category. "More people are seeing this as low-hanging fruit, especially if the local community has pickleball courts," he says. "It's an easy opportunity with very little investment that gets people through the door."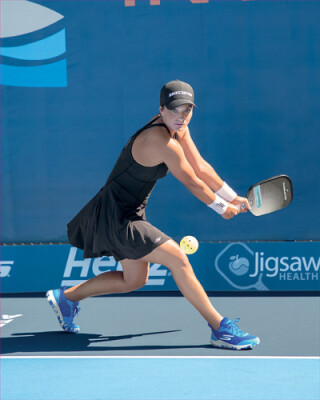 Meanwhile, footwear and lifestyle brand Skechers is also taking advantage of the pickleball boom.
"The target consumer demographics [in running and pickleball] are very similar and those who shop in run specialty like to do many activities in addition to running. The running specialty market could benefit from offering pickleball footwear," says Dan Sullivan, Skechers' group VP–performance. "We have had many stores reach out to us to capitalize on this growing sport. The run dealers have a close connection to their communities and they are seeing the explosive growth of pickleball and many understand our solid footing in pickleball."
Overall, says Sullivan, "Pickleball is an easy way for run specialty stores to serve their local communities with the fastest-growing sport in the United States."
To do this effectively, he believes that the store staff has to be educated on the benefits of a pickleball shoe versus playing in a regular shoe or even a tennis shoe.
"The store needs to call this out with POP of the pickleball product to garner attention when the store is busy. They also could do some grassroots and local marketing to get the word out that they are a pickleball destination."
____________
Advice on Selling A Little Pickleball
• "Stock pickleballs at the register, within sight. If there's room, add a couple of paddles, too," says PPA's Dan Santorum. "As far as apparel goes, people wear anything for pickleball, including running shorts; it doesn't have to be court apparel. The important thing is to put pickleball where it's visible in the store and storefront."
• Dave Kazanjian, of Whirlaway Sports Center, advises retailers to teach and educate the consumer and to not add to the confusion by carrying too much inventory. "You have to pick what you want to focus on. If you're trying to make quick money, it probably won't happen," he says. "You have to be knowledgeable with the product and know what you're doing. You have to help guide people. The sport is growing and changing and there's a lot out there, so you have to explain it to consumers."
• K-Swiss' David Malinowski stresses the importance of making consumers aware that they need a court-specific shoe, similar to how retailers work to get a runner into the correct shoe. "I would focus on having at least two to three models with different fits and create a pickleball area in the store," he says.
• Josh Higgins, of OS1st, suggests that retailers "focus on carrying two or three leading [sock and bracing] brands and you'll get everybody." He adds, "Its super cheap to promote pickleball to consumers and in many places there are local tournaments every weekend that are very inexpensive to sponsor. It creates another relationship between stores and customers." Higgins also advises retailers to make customers aware that they can get quality pickleball products in-store by putting signage in the front and/or in the window. Other initiatives can include reaching out to local pickleball providers as well as local doctors and physical therapists, especially with bracing products.
• "Visit local pickleball courts, clubs and events to get the word out that your store carries this product," says Dan Sullivan, of Skechers. "Word of mouth is very important in the run specialty community and pickleball is very similar."
_________

So You Dink You Know Pickleball
• There are an estimated 36.5 million pickleball players in the U.S., according to a new study released in January 2023 by the Association of Pickleball Professionals (APP). The research was conducted by YouGov, an online research data and analytics technology group, which tracked participation in the 12-month period from August 2021-August 2022. Most estimates anticipated 2022 participation numbers to be in the six million to nine million range, based on the trend of the past two years, but the number of 36.5 million blows that out of the water, meaning that the sport is even more popular than previously reported.
• From August 2021-August 2022, 14 percent of Americans played pickleball at least once, 8.5 million people played eight times or more, and 45 percent say they plan to play more pickleball in the next six months than they did in the prior six-month period, according to the APP report.
• There are currently 10,320 pickleball courts in the U.S.
• A post-2022 TRE poll revealed that 54 percent of running specialty retailers either carry or were considering carrying pickleball products.
• Twenty-six percent of pickleball players also participate in Running/Jogging, according to SFIA's Pickleball Single Sport Report.
• Pickleball has been the fastest-growing sport in the U.S. for the past three years and participation has increased an average of 158.6 percent over the past three years, according to SFIA.
• Pickleball isn't just for seniors. Players ages 18 to 34 comprise the largest percentage of pickleball players at 28.8 percent nationwide.
• By the way, "dink" is a pickleball term for a soft shot that barely makes over the net into the "kitchen." To learn what a "kitchen" is, go to pickleballportal.com.