The nation's racing scene continues to find its footing after COVID-19's widespread disruption. As they get back to business, three race directors stop running and sit (virtually) with Running Insight senior writer Daniel P. Smith to discuss the current state of racing in their market, pandemic-era pivots and racing's future in a post-COVID world.
Keira Henninger owns 10 trail races in California, including events such as the Leona Divide and the Sean O'Brien Trail Runs.
Megan Schultz is the chief operating officer at Sports Backers, a Richmond, VA-based non-profit that hosts the VCU Health Richmond Marathon and more than 10 other races in and around Virginia's capital city.
Brad Henz is a partner in ShaZam Racing, the race and timing operation affiliated with RC Outfitters in Peoria, IL. ShaZam hosts five of its own races each year, including the popular Detweiller at Dark cross-country race, and also provides timing services to about 150 additional cross country, track, road and trail races each year.
Running Insight: How would you characterize the current state of racing in your market?
Keira Henninger: Safe. We're safe from being cancelled again and safe from the runner safety perspective because we're hosting smaller events.
Megan Schultz: Cautiously optimistic. We're not at pre-pandemic level registration numbers, but we're strong. At our Ashland Half Marathon in August, we typically have 1000-1200 participants in a normal year. This year, we had just under 800.
Brad Henz: Everybody's trying to get back online. Participation numbers are down about 30 percent on average.
What are some things you are doing differently?
Henz: I own more signs than I'll ever want to own directing runners to wear their masks or keep a safe distance from others, but those were things you had to invest in to make a go of it.
Henninger: I haven't done anything as extreme as a vaccine mandate, but we do massive amounts of hand sanitizer and prioritize no contact. We did cup-free races anyway, but now we refill a racer's bottle only after they open it. We also dispense energy gels and other nutrition with tongs.
Schultz: Our training teams were forced to go cupless at water spots and that's carried over to races as well where Nuun provided us collapsible cups. This is a place we went for COVID safety, but it's where we wanted to go on the environmental side anyway. Thus far we have not mandated vaccines or negative COVID tests at our races, but those are steps we continue to evaluate.
As races climb back online, what's something that has surprised you?
Henninger: I was definitely worried about getting volunteers because we need a lot of them for ultras, given the food and beverage needs on the course. Overall, I found volunteers so excited to come back out and help and that was a great relief.
Schultz: Through all of this, the grace runners have shown us as race organizers has been incredible. We have been transparent with updates and participants have been and continue to be largely understanding.
Henz: I was surprised how quickly people were done with virtual races. Now, that made us think people were ready to get out the door and participate in the in-person races, but that's not something we're seeing reflected in the event numbers just yet.
What's one pandemic-era pivot you made that you foresee carrying into the future?
Henninger: The number one thing is being incredibly sanitary. At ultras before, you'd see runners putting their germy hands in the watermelon or into the jar of M&Ms and we never gave that a second thought. Those days are over.
Schultz: During the pandemic, we began assigning bibs dynamically at packet pickup rather than having pre-assigned bib numbers. We created a lot of efficiencies through that – fewer volunteers, less bib waste and cost savings as we only assigned the bibs that we were going to use.
Henz: Some of the changes we had to make I don't ever want to do again. In the broader sense, though, the pandemic inspired us to be more creative because it feels like we're starting over in so many ways. We're looking at things with creative eyes and asking ourselves, 'What can we do differently to bring in new people?'
What's one bold prediction you have for the future of races?
Henninger: I think we'll see fewer mass, giant races. We'll get there, but it's going to take time. By and large, I think people are still scared, worried and hesitant.
Schultz: When we're able to put COVID-19 behind us, I think we could see another racing boom. With more people out running, that's become an audience we're able to introduce racing to, so I hope we can expect another boom. As race directors, we're prepared and excited for this and looking forward to getting COVID-19 squarely behind us.
Henz: I feel like there's such a saturation of races, especially at the 5K distance, that I suspect we'll see fewer races. But at the same time, the 5K is a standard part of the calendar for so many non-profits that a saturated 5K market is probably here to stay.
Chicago Returns: Chicago Marathon boss Carey Pinkowski talks 2021 "special edition" race
When runners descend upon Chicago's Grant Park on Sunday, Oct. 10 for the 2021 edition of the Bank of America Chicago Marathon, it will have been 720 days since Carey Pinkowski and his crew celebrated a record-breaking 2019 race.
That October day two years ago saw nearly 46,000 participants cross the Chicago Marathon finish line, including a blistering 2:14:04 women's world record from Kenya's Brigid Kosgei.
"It really was an unbelievable day from Brigid's performance to an all-time high in participation to our charity and broadcast partners," says Pinkowski, the Chicago Marathon's executive race director since 1990. "We were all set to ride that momentum into 2020 and take the next step."
Then, of course, COVID-19 slammed into American life and forced the cancellation of the 2020 race. This month, though, the marathon returns to Chicago's streets, its 26.2-mile course winding its way through more than 29 different Windy City neighborhoods.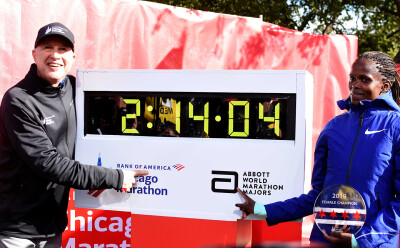 A 'Special Edition'
Pinkowski calls the 2021 edition of the Chicago Marathon a "transition year" and a "special edition." The field, he says, will be down about 25 percent. There will be no finishing bleachers or hospitality. The pre-race expo at Chicago's McCormick Place Convention Center will be more spread out than ever before.
"Still, it's a step back to the big, live events we are used to," says Pinkowski, the former Villanova University harrier who has shepherded the Chicago Marathon's growth from a modest affair into a major civic event and one of the world's premier marathons.
To pull this off, Pinkowski and his team have engaged in extensive, ongoing conversations with city officials and medical advisors. They've crafted and then re-crafted plans, announcing standards like masking in the expo hall as well as proof of COVID-19 vaccination or a negative COVID-19 test for participants. They've shared insights, data and ideas with leadership at the five other Abbott World Marathon Majors events (Boston, New York, Berlin, London and Tokyo) to establish safe processes.
"There are so many moving parts in a normal year, so many complicated ecosystems to connect together, but this year has only intensified that," Pinkowski says.
The overriding goal for Oct. 10, Pinkowski continues, is to create a safe environment for participants, volunteers and the city at large.
"I'm confident the celebration of humanity that the Chicago Marathon has become known for will spill out," he says. "But the big key for us is to get going again, to get this one off and make sure it's a safe, enjoyable event that's executed well."