Running shops have long operated racing businesses as a synergistic one-two punch. One business feeds and promotes the other while the two complementary, but often separate entities, provide diverse revenue streams as well.
The COVID-19 pandemic, however, ushered in a range of challenges, including the temporary disappearance of races from the calendar, and prompted plenty of reflection on business priorities and strategy among running store leaders who also oversee races. As race participation numbers climb back toward pre-pandemic levels, three retailers explain where they sit with races today and moving forward.
Jon Hughes, Track Shack
Hughes and Orlando-based Track Shack have been slinging running shoes and directing races for more than 40 years. Track Shack Events stages 17 of its own events and also guides 13 runDisney races over four different weekends at the Walt Disney World Resort.
Resurgent races. Yes, race participation numbers remain lower than pre-pandemic levels, about 25-30 percent lower, but they're rising, Hughes says. "By Spring 2023, I hope we're back 100 percent and I'm optimistic we will be."
"Sticky" changes to race operations. The pandemic spurred some positive changes to race operations, Hughes says. Track Shack Events now uses "mini-waves" at the start line to alleviate pinch points on the course and create a more enjoyable experience for runners. It has also become more conscious about food handling, including a heightened focus on packaged items, beefed up sanitation areas and incorporated new hydration offerings, such as the WaterMonster mass hydration solution.
Separate but equal. While some retail operations might have the same personnel ringing up a retail customer's sale and then handing out a packet during an in-store packet pickup, Hughes favors a division of labor. "It's better for the customer because we then have experts in both areas. The event personnel are there to take care of the race part and the retail employees are there to take care of customers, which is what they're on the clock to do."
Trumpeting the value of races. Track Shack began rolling out races in the Orlando area decades ago to stimulate demand for its fledgling retail operation, so Hughes can attest to the synergistic relationship between races and retail. The two have developed and prospered alongside one another. He says operating a running store and a race business is an "absolutely sustainable business" and arguably "more important than ever" given the intensifying competition for retail customers. "Any way you can increase foot traffic into your retail location is a plus. When you're involved with races, you're getting folks familiar with your brand and your store, some of whom might not even know you existed. And there's great value in pulling people into your running orbit."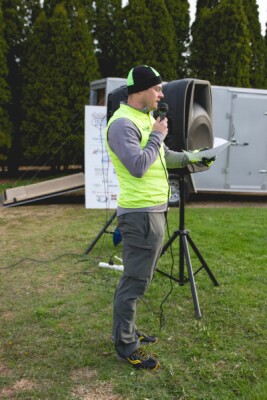 Ross McDowell, Run Away Shoes
McDowell is the owner of Run Away Shoes, which operates three stores in northeastern Wisconsin. A sister business, Run Away Events, owns a six-race series and also supplies timing and event management services to select local races as well.
"Desperate." That's the word McDowell uses to characterize the racing scene in his particular patch of the country. Participation numbers at many local races have declined 30-40 percent, if not more. In 2019, the Bellin 10K in Green Bay, one of the area's most heralded events, claimed more than 8600 finishers. This past June, less than 4200 runners crossed the finish line. "Races aren't necessarily doing anything wrong. Rather, people have just changed their traditional patterns."
A head scratcher. Though race numbers have diminished, McDowell says Run Away's retail locations remain healthy. "That's the odd part. Typically, when races do well, we do well on the retail side, too, yet falling race numbers haven't hurt our business."
Making changes. With race numbers down, McDowell has made changes at Run Away to better reflect contemporary times. He's reduced packet pickup hours at store locations and been more receptive to timing gigs and equipment rentals. He has also focused on improved utilization of staff, including training team members to work in different areas of the business, whether that's on the retail side or timing a race.
Adjusting the target. About six years ago, Run Away executed a customer survey. Only two out of five respondents indicated they had participated in a 5K race or would do so. "That told us a lot of people run, but don't necessarily race." As such, McDowell says Run Away's retail stores have increased their attention to "non-runner runners" and establishing their stores as reliable problem solvers.
Embracing new approaches. McDowell is exploring different ways to incentivize race participants to jump up in distance. More miles, after all, often translate into more shoes as well as additional purchases like socks, hydration and nutrition. "That's a way I think we can push things forward for races and the retail stores."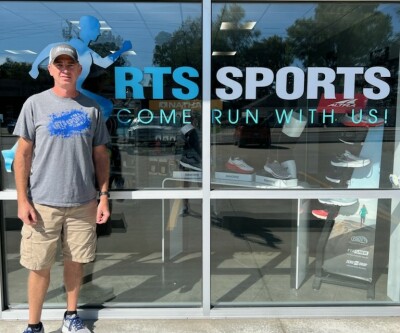 Tim Jarvis, RTS Outfitters
Jarvis opened his flagship RTS Sports store – recently rebranded to RTS Outfitters – in Marion, IL, in 2018. He has since added a second location in Paducah, KY. Years prior, though – 2014, to be exact – Jarvis launched a racing business that grew to include a dozen of his own events while also providing timing and management services to some 60 additional events.
Surveying the race scene. In and around southern Illinois, Jarvis says race participation figures have fallen 30-40 percent since the pandemic's arrival. Community 5Ks have been particularly hard hit, though Jarvis calls longer distance races, such as ultras, a bright spot. "There, we're seeing stability, if not growth, though the overall numbers are still lower."
Races as rocket fuel. Jarvis says having an existing race business was critical to RTS's retail operation gaining stability and expanding. "The race business allowed me to get established with the local running community and clubs. We had name recognition before we ever opened our retail doors and the packet pickups made sure people knew who we were."
All alone. With races evaporating during the earliest months of the pandemic, the four members of Jarvis' race operations team found employment elsewhere. That left Jarvis alone. "And I can't do 70 races a year."
Winding down. Pandemic-era realities spurred earnest self-reflection and Jarvis carefully evaluated his ability to manage both businesses. Could he continue compiling race packets in the wee hours of night? Could he continue hustling to the shop on a Saturday, the store's busiest day of the week, after spending hours at a morning race? Could he continue operating two businesses with complementary, albeit different, business models? Jarvis decided to recalibrate business and personal priorities. "It was too much to juggle." So, here in late 2022, Jarvis is slowly cutting back on racing operations to focus on retail, which might include a third location.
Handpicking races. Yet, Jarvis is not completely abandoning races. With some $20,000 invested in race equipment and gear, Jarvis intends to continue being involved in races, though he will be selective. "It's all fluid at this point and I'm just looking to find the right balance."