Founded in 2016, Floyd's of Leadville offers fully integrated seed-to-shelf CBD products, pacing their way through the pack to become an industry leader. While headquartered in the eponymous Colorado mountain town of Leadville, FOL's hemp operation has brought new life to the Amish farming community outside of Lancaster, PA, the hometown of Floyd's of Leadville's founder — retired professional cyclist Floyd Landis.
After suffering from chronic pain following a cycling injury, Landis turned to CBD to replace his prescription painkiller regime and was so impressed with the benefits he achieved with hemp-based cannabidiol, or CBD, that he took a relatively unknown compound at the time and transformed it into products that are adored and utilized by both amateur and professional athletes around the world.
Floyd's mission has always been to deliver the highest quality CBD at an affordable price. By overseeing farming, extraction and product manufacturing, Floyd is able to control every aspect of the process, ensuring the highest standards and maximizing efficiency.
Floyd's of Leadville's Farm Manager Wayne Bendistis uses "Syntropic farming," which he describes as an ecosystem management perspective rather than simply farming.
"I work with natural substances to build fertility in the soil and enhance microlife," he explains. "Good microbial life means good nutrient cycling and a strong probiotic community which inherently deters disease and pests."
Bendistis' methods have proved incredibly successful. Last year he wrapped up the hemp harvest with 51 Amish farmers on 65 acres that has yielded over 80,000 pounds of some of the finest quality and most environmentally friendly hemp on the planet. Floyd's of Leadville then uses the latest premier ultrasonic-assisted technology for the extraction process.
The result? Pure, solvent-free, premium CBD hemp oil.
Testing For Quality and Purity
During the manufacturing process, each batch of products is independently third-party laboratory tested for quality and purity and labeled with a QR code so consumers can be sure they are consuming the precise dosage and ingredients listed.
Floyd's of Leadville full spectrum and isolate products come in convenient packaging options and extensive delivery methods, thus offering products to fit into every budget and active lifestyle. These product offerings include pure hemp oil CBD tinctures, CBD gummy Gems, Recovery Protein Powders, Hydration Mixes and topicals like the extremely popular Sports Cream and Recovery Balms. Floyd's of Leadville even offers CBD infused coffee.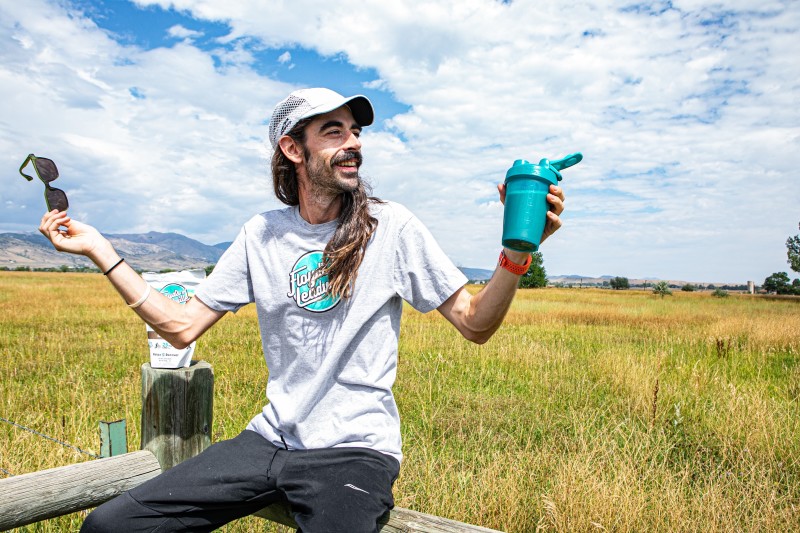 CBD has recently been embraced in the athletic community across disciplines and levels of competition as athletes look for a legal performance edge. Professional runner and Olympic hopeful Noah Droddy is an avid user of Floyd's CBD products and incorporates them into his training and recovery routine. After setting a personal best of 2:11:42 at last year's Chicago Marathon, Droddy suffered from a knee injury that forced him to spend months recovering.
"I have spent countless hours on massage tables, in the gym, and doctors' offices," Droddy says. "I have definitely used CBD as a tool in this process. I always take a Floyd's Recovery Protein shake to my gym sessions and use the SoftGels as well. At night, I'll usually slather some Warming Balm on the knee, and I've been waking up feeling pretty good!"
Avid marathoner and runner Erin Laplander credits the completion of her first Leadville Trail 100 Run to her CBD regime stating, "Floyd's CBD products did wonders. I took a 25mg Gem every two to three hours during the race and I really think they helped immensely. I also rubbed on the Sports Cream both times I passed Twin Lakes."
A Recovery and Workout Solution
Whether looking for fuel for a run or recovery after a workout, Floyd's of Leadville has a product for everyone. Their full spectrum offerings contain a wide array of natural cannabinoids, while the isolate line is THC-free and fits into any competition schedule. With products derived from organically grown American hemp and lab tested for purity, you can rest assured that you're getting the highest quality and purity at the lowest possible price - a value that can't be beat.
To learn more visit www.floydsofleadville.com
If you're registered for Running Insight Market Week, don't forget to set up a meeting with Floyd's of Leadville!