Setting The Stage … Like it has for many businesses, 2020 has brought about some very challenging times for Aetrex. But, it has also set the stage for some new, exciting opportunities for the company as well.
The Early COVID-19 Impact … Back in March, one employee at the Aetrex headquarters in Teaneck, NJ, was among the very first COVID-19 positive cases in the state. A few days later Teaneck became the epicenter in the state and one of the first towns in the country to lock down. Aetrex immediately jumped into action to keep its personnel safe and to keep its business moving forward safely under extraordinary circumstances.
More COVID Impact … In late March, 90 percent of Aetrex's retail partners closed over a 10 day period, with sales impacted significantly. Aetrex had to furlough some employees, but the majority remained, including its full technology and footwear development teams, who continued to develop new lines for 2021.
Reacting to a Pandemic … "Determined to keep the business moving forward, we proactively chose to optimize the business down time that came along with the lockdown," explains CEO Larry Schwartz, adding that the company put a tremendous amount of focus into their new technology development. In May, Aetrex transformed an empty 5,000-square-foot space above their warehouse into a working space for the technology department so employees could come back into the office safely. The technology team was able to remain hard at work, both at home and in person, to help build the next generation in foot scanning technology.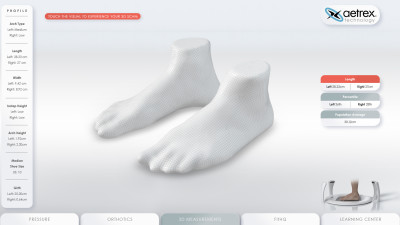 The Result: Albert 2 … Aetrex's unwavering commitment to product development paid off with their announcement of Albert 2 in October, with delivery to stores targeted for February 2021. "Albert 2's integrated technology has many moving parts that required our undivided attention," Schwartz says — from designing a new look/feel for the hardware, to working with Intel to integrate the most advanced depth cameras, to fine tuning the 3D measurement software, to building more than 500 questions and answers to input into the voice-activated Learning Center. "The continued focus and dedication during the pandemic allowed us this opportunity to create the fastest, most advanced and streamlined technology we've ever created," he adds.
The Product Impact: Since the pandemic, Aetrex has seen a shift in their footwear and orthotics sales to more athletic styles. "We attribute this to the continued trend of people wanting to stay healthy and active during the pandemic," says Schwartz. The Carly is one of Aetrex's new athletic styles and is now the top seller in their footwear line. Aetrex has also seen a similar trend in their orthotic category.
Other 2020 Initiatives … Aetrex is also very proud of the initiative they kicked off in early April called "Real Support for Real Heroes," in which the company committed to donating clogs and orthotics to health care providers working around the clock in the greater New York area to save lives. Aetrex employees from many different departments came together to help make the program possible, and the company was able to donate more than 6500 pairs to those fighting on the front lines of the crisis, offering some comfort and support.
Reaching Out to Retailers … Early in the pandemic, Aetrex understood run specialty retailers would be seeking new ways to drive sales and provide a high level of customer service under the guidelines of the new normal. "We've been promoting how our foot scanning technology allows for social distancing, offering a safer alternative to traditional foot measuring," Schwartz explains. Aetrex also introduced a hands-free mouse app option that allows retail associates to navigate the Albert software from their phones. The new Albert 2, available February 2021, will include a voice activation feature to help guide store associates and customers through the scanning process. In addition, retailers will be able to ask Albert any question about their customers' foot profile or the right orthotics based on their unique feet.
The Run Specialty Connection … Aetrex has always recognized the value of face-to-face meetings with retailers and believes it's even more important now. "However," says Schwartz, "safety remains our number one priority and all of our sales and training staff have been properly trained to ensure we are taking the right precautions, such as wearing masks, physically distancing and using hand sanitizer, to keep everyone safe." During the month of September these efforts resulted in acquiring 11 new running specialty doors that will be carrying their foot scanning technology soon.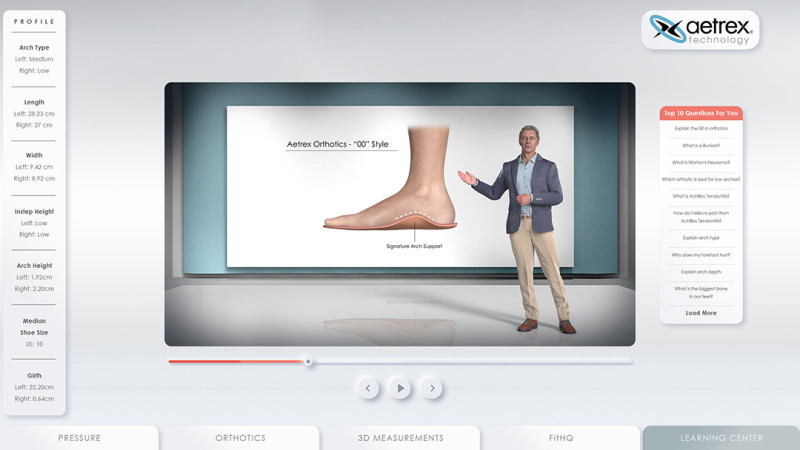 Advice to Retailers … "The advice we can offer retailers on servicing their customers is to identify ways to build their customer database and gather as much data on their customers as possible," Schwartz says. "Data really is a key to understanding customers' needs and marketing to them." An Albert 2 foot scan provides the opportunity to collect customer email addresses and phone numbers during the scanning process, making it easier for retailers to collect this data. Plus, the foot scan data provided during the scanning process can be used to help service customers during the point-of-sale, to help find the right fit. The data can also be used after they leave the store to help set up targeted digital marketing messages based on a customer's unique foot profile.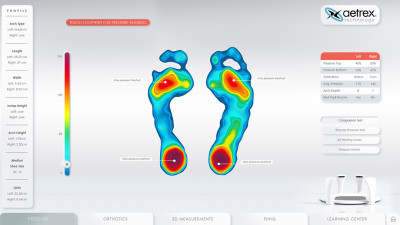 The Technology Benefits … Aetrex foot scanners capture more foot data about a customer than any scanner on the market today. The data includes 3D measurements such as length, width, height, arch height and girth, all down to 1/10 mm, plus pressure data, which informs where they have the most pressure underfoot. Retailers can choose to perform a static pressure test, taken while standing, or a dynamic pressure test where customers walk across the scanner . All of this data can be used to help retailers find the right fitting running shoe and/or orthotic for their customers.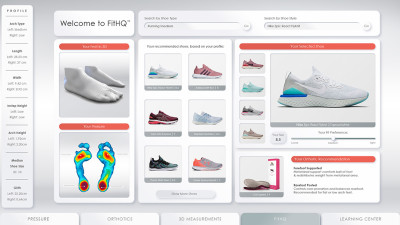 More on Albert 2 … The Albert Foot Scanner has a software feature called FitHQ that helps retailers further home in on the right fit on the first try. The program uses Artificial Intelligence to recommend the best fitting shoes by brand, style and size per customer, based on the inventory in the store. Customers can access the FitHQ data through the software while shopping in-store, or while on their phones after they leave the store.
2021 Plans: "We are always relentlessly hard at work to make our products better," Schwartz says. "Albert 2 is the most advanced technology we have created to date, but it won't be our last."