In some corners of the run specialty world, the term "mom-and-pop business" is completely apropos as numerous spousal ownership teams pepper the industry landscape.
Marching through life and business side by side with the one to whom they said, "I do," can bring its share of challenges – where does the workplace end and the homelife begin, for instance – but these couples manage the juggling act with a mix of respect, honesty and common vision.
This month in Running Insight+ we profile three such happy couples. Part 2 of this series will appear in the April 15 issue of Running insight+.
Trae and Jess Hoepner: Performance Running Outfitters
Trae and Jess Hoepner began dating as teenagers in 1995, married in 2004 and opened their first Performance Running Outfitters store in 2006. Today, the husband-and-wife tandem operates five stores across metro Milwaukee.
Being together for 25 years comes in handy when the couple faces new challenges and analyzes different business opportunities, as the two maintain a deep respect for each other's opinion and suggestions.
"We aren't afraid to speak our true thoughts with each other," Jess assures, which enables the business to act quickly, thoughtfully and confidently.
That honesty has spurred Performance Running Outfitter's growth over the last 15 years, including the acquisition of rival InStep's retail stores in 2019, and empowered each to lead in different areas. While Trae is stronger with financials, implementing efficiencies and figuring out solutions to daily issues, Jess excels at curating the stores' product selection and ensuring the company's relevance amid changing times.
"Things that we would never do on our own are implemented, which challenges our comfort levels," Trae says.
Ray and Cathy Pugsley: Potomac River Running
Two years after marrying in 2001, Ray and Cathy Pugsley opened their first Potomac River Running store in Ashburn, VA. Today, the Pugsleys oversee nine stores around Washington, D.C., and northern Virginia.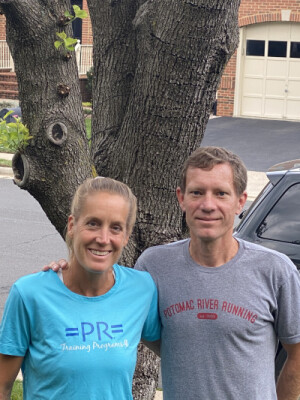 According to the couple, the partnership works because of a shared financial ethos and trust that each will operate in his or her respective area of strengths to advance Potomac River Running. For Cathy, that's guiding the strategic and financial side of the business while Ray manages operations.
"He doesn't understand QuickBooks and there's no way I could fix broken vacuums or work with contractors to build out spaces, which Ray has done about 15 times between new doors and moves," Cathy says.
Adds Ray: "From my perspective, we don't have any ego issues. I know Cathy is smarter than me and I'm not afraid to admit it."
Of course, they acknowledge some challenges. Shop talk often dominates conversations in the stores and at home – perhaps to the chagrin of the couple's two girls – while their social network has shrunk due to the demands of the business.
"Sometimes I do miss the days when we each had our own jobs and our own work friends, such that my 'work husband' wasn't my actual husband," Cathy jokes.
Ron and Sandra Elliott … Game Changers Running Company
Ron and Sandra Elliott opened Game Changers Running Company in Richmond Hill, GA, on the opening day of the 2012 Olympic Games. Both U.S. military veterans, Ron serves as "the numbers guy," while Sandra, a physical therapist, provides technical support and guidance to customers and staff.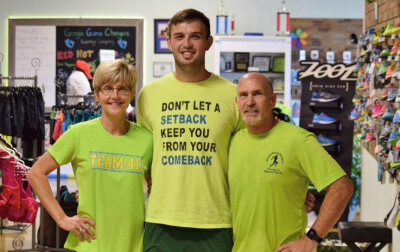 The couple, who celebrated their 30th wedding anniversary in 2020, attributes their success to capitalizing on each other's individual expertise, but, above all, a shared mission to serve others and "change the game" for their customers.
"It's not about selling shoes. It's about meeting the customer's needs, so they walk out of here better than they came in," Ron says.
Adds Sandra: "Truly, the long hours that we both work seem effortless when, at the end of the day, we know we have worked as a team to change others' lives."
Though Ron identifies one other important element at play, one initially cultivated over years of toiling alongside each other in their respective military careers.
"It doesn't hurt that we enjoy working together," Ron says.