A unique partnership between Pacers Running and a race/training organization called Sound Running aims to expand the running specialty retailer's reach nationally while promoting a new apparel brand with a novel sizing and marketing concept.
In essence, Sound Running, whose stated mission is "to Improve the sport we love and inspire runners everywhere," has gotten together with Pacers Running, based in the Washington, D.C. metro area, to market and sell its Apparel for the Sport project both at Pacers Running's retail stores and as part of its expanding e-commerce effort.
Sound Running gets the benefit of working with a top run specialty retailer who can market, sell and fulfill product and can introduce its brand in a major metropolitan area on the East Coast since most Sound Running events are on the West Coast.
On the other side, Pacers Running is the exclusive retail partner nationally and the arrangement gives it a new way to connect with more customers digitally.
"The benefit to us is we get to leverage Sound Running's unique apparel expertise and also get in front of their audience in the event space," Ryan Callahan, marketing director at Pacers Running, tells Running Insight. "Their events have quickly become must-watch for fans of competitive running and we think it's a new place for us to show up."
It is a unique partnership given the geographical differences, but both sides say they are looking to promote the running culture and boast a mutual desire to make the sport more inclusive. Sound Running will design, source and produce the product while Pacers Running will sell, fulfill and market it.
"The Sound Running initiative is one of the most expansive partnerships we have ever gotten involved in," says Callahan, adding that the retailer is promoting this through a steady stream of content and advertising as well as having a dedicated "shop-in-shop" on its website -- https://runpacers.com/pages/sound-running – where customers can shop the product and learn more about Sound Running, Athlete Sizing and the partnership.
"Inclusivity is critically important to us and when Sound Running came to us with their concept for a more gender-inclusive Athlete Sizing, we felt it was something different and wanted to be part of it," Callahan explains. "We will build out the line together and our audience will get the full benefit of Athlete Sizing and how the products can be uniquely adapted to each athlete's specific needs."
"Partnering with Pacers will help bring this idea to so many more runners," points out Jesse Williams, founder of Sound Running, who stresses that this is a specific effort to put more money into the sport and to connect with more runners through the Pacers Running retail network. The revenue produced from the Sound Running apparel feeds back into its professional track events.
"We launched with Pacers Running as they will really help us reach more runners and specifically on the opposite coast since most of our events are in Southern California right now," Williams explains. "We'd love to expand as our goals are very big for the sport and we will need as many runners and fans as possible."
Adds Chris Farley, founder and owner of Pacers Running: "We love what Sound Running has been doing in our sport and we wanted to support their efforts to build the sport through our retail network."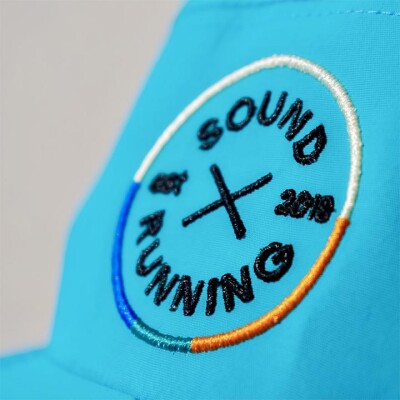 The first part of the partnership focuses on apparel, where both sides see an opportunity to do something new while growing their respective businesses. At the core of the apparel is "Athlete Sizing," a new approach to comfort and shape that allows the athlete to determine his or her perfect fit based on their body and desired performance.
The limited apparel line currently focuses on pre- and post-run moments with a hoodie, short and hat, with plans to unveil some event-specific merchandise.
Another aspect of the partnership for Pacers Running is that it will help expand its reach nationally through its e-commerce efforts.
"D.C. will always be our home and our retail stores are where we are able to best showcase who we are," says Callahan. "That said, we feel a strong conviction to speak to as many runners as possible and new technology and trends in e-commerce are expanding our ability to do that."
He points out that since 2020 an increasing number of its local customer base has been working remotely and the lines between national and local are becoming murkier. "Our strategy is to help as many people as possible through running," Callahan adds, stressing that Pacers Running will continue to sell its own branded apparel. "We don't put a border around that vision."
At this early point in the partnership both sides are taking small steps to launch, but Pacers Running is optimistic it will have a significant impact on its sales and revenue and on Sound Running's grow-the-sport initiatives.
"We don't always know where these partnerships will end up, but we are both laser focused on centering the runner in everything we do," Callahan says. "We believe it's a recipe for a great partnership and are excited about where it's going from here."
For more on the Apparel for the Sport project: HERE