Aidan and Lindsay Walsh had a novel idea back in 2014 to make and sell running apparel. After all, Aidan was an accomplished runner involved in coaching at the collegiate level along with race directing, while Lindsay had a family background in manufacturing and importing, an eye for fashion and an innate knowledge for what the running customer wanted — what could go be so difficult?
So, they began designing and manufacturing their own apparel line and proceeded to solicit run specialty stores to carry it. Cliche as it sounds, Aidan recalls, nobody wanted to give them a chance – too unknown and new – and they were turned down by retailer after retailer.
Left with very few options, but with what they felt was outstanding product, the two opened their own pop-up store to sell apparel they believed in. Literally returning to the drawing board to expand the collection enough to fill out a store, they opened a pop-up running apparel store in the basement of a bookstore in Ridgewood, NJ.
"In hindsight it was a long shot, but as I like to say, if we could make it there, in the basement of a bookstore, we could make it anywhere," Aidan recalls. Thus a running specialty retailer called Racefaster was born and it has since relocated its Ridgewood store to a street-level location on the upscale town's main avenue and eventually opened locations at the Garden State Plaza Mall (Paramus, NJ) and the Mall at Short Hills in Short Hills, NJ.
And it all started with apparel.
The pair believed there was a niche within the northern New Jersey running market for products that are, as Aidan puts it, "uncompromising in quality and functionally designed" specifically for running.
"I realized that if we designed with a very runner-focused approach, they would appreciate it," he recalls, pointing to run-specific design elements such as the placement of pockets, zippers, reflectivity, materials, cuts and performance fabrics.
With a traditional background in finance and business, Lindsay nevertheless proved to have a natural talent for fashion and design, allowing her to look at styles and colors from an outside, consumer perspective versus a designers' eye.
"We think from scratch, so more often our products are very different from our competitors — in a good way," she says.
Sold under the Racefaster label, the target market tends to be the mid- to higher-end consumer, befitting its affluent northern New Jersey locations. Its focus is on running function first; for example, they will often place a reflective zipper on the back of a tight, which is great for running, but would not be so for a gym workout.
Racefaster doesn't necessarily follow a seasonal approach in the traditional sense, although it will introduce seasonal items ahead of winter it we will continue to introduce shorts, tees and tanks throughout the year because many of its customers run indoors during the colder months.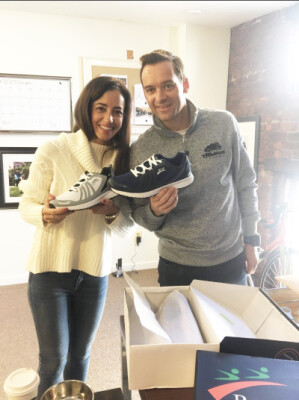 The Racefaster Lineup
The impressive line in early 2022 consists of shorts, indoor and outdoor tights, capris, half tights, sports bras, tank tops, singlets, T-shirts, long sleeve shirts, half-zip and full-zip jackets, vests, winter running jackets, waterproof rain jackets, joggers and pants. Complementing the apparel is an accessories collection that includes socks, beanies, running hats, gloves, mittens, gaiters, headbands and orthotics. For the winter months, a fleece line has proved popular as well.
Racefaster is most certainly a niche label and proud of it, calling itself "a throwback to the days of uncompromising fabrics that last forever, yet ahead of the curve on style."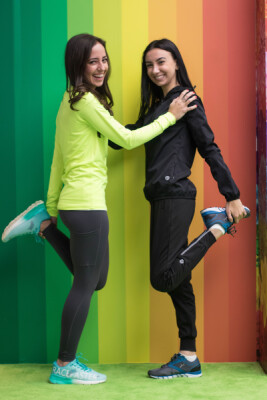 "It's not uncommon to see styles uncharacteristically similar to ours being introduced by other brands a season or two after we've released it in our stores," Aidan says, adding that the three-store chain has only ever sold its own apparel. (As a sidenote, Racefaster introduced its own brand of sneakers three years ago and today the shoe line is also the only brand it sells in its stores.)
Undeterred by their initial experiences, the Walshes still set their sights on getting their apparel into other run specialty stores and earlier this year took the leap into wholesaling both their sneakers and apparel.
"It's the next step for us as a brand," Aidan says, "We want to work with retail partners towards a mutual benefit."