1. More people than ever hit the trails to hike and run in 2020
Many hikers are runners – and vice versa – and the pandemic-era trends in both endeavors seem to mirror each other and bode well for run specialty retailers that sell trail running shoes – as well as for the brands they carry that are worn out on the trail.
And the good news is that hiking – and trail running – in the U.S. has never been more popular.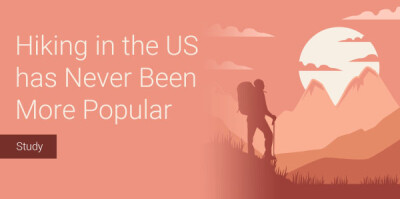 That's the conclusion of a recent study of pandemic exercise trends conducted by RunRepeat in partnership with AllTrails, the largest hiking and trail-specific navigation app, that set out to explore what effect COVID-19 has had on hiking since the pandemic started. To do this the two organizations analyzed and amazing 7.9 million activities logged on AllTrails since January 1, 2016.
It has already been well documented that 2020 saw big changes in the hiking world. With gyms closed early on in the pandemic, and social distancing in order around the globe, hiking saw bumps in the number of hikes, the number of users recording hikes and hikes per user.
The biggest change in 2020 was the sheer volume of people hitting the trails — the number of logged hikes was up 171.36 percent compared to 2019 (4.7 million compared to 1.7 million).
Among other key findings:
The number of individual hikers in 2020 increased 134.7 percent compared to 2019. That's a 12.97 percent increase from the combined total of 2016-2019.
The number of hikes logged per user (HPU) increased by 52.12 percent in 2020 compared to the total for 2016-2019
Amazingly, when the study compared 2020 to the previous four years combined (2016-2019), 2020 was still up 46.67 percent.
And in what can be correlated to trail running, people seemed to be moving quicker in April 2020, whether to save time or for other motivations — the average moving pace was actually 8.4 percent faster in April 2020 than 2019.
And in a small sidenote that most likely reflects the number of new people out on the trails, these hikes were getting easier too, with average elevation gain per month decreasing by 22.4 percent.
RunRepeat concludes that since April there has been a rebound in hike time, calories burned and elevation gain with thousands of participants recording more hikes than ever before; however, hikers are still logging less total time, burning fewer calories and climbing less elevation than pre-pandemic.
For more on the report contact Paul Ronto at [email protected]
2. An athlete motivations study indicates strong desire for return to racing
Specialist research and consultancy firm MultiSport Research has released summary findings from a new and updated study into athlete motivations during the current COVID-19 crisis that points to a desire to return to racing, even with some concern around safety at events. This tracks sentiment in January 2021, comparing with previous studies undertaken in April and June 2020.
"These remain challenging times with much uncertainty for the industry," says Gary Roethenbaugh, managing director at MultiSport Research, who adds that "it is encouraging to see a clear willingness from athletes to return to racing."
Summary findings from the January 2021 Endurance Sport Athlete Motivations Study include:
83 percent expect to race this year; of this 68 percent expect to race by Spring/Summer 2021. A smaller proportion have already returned to racing.
Staggered race starts, aid station hygiene and distancing are seen as key areas to help athletes feel safe.
Levels of worry about the health impacts of COVID-19 dropped in June 2020, but have risen back to April 2020 levels in the latest January 2021 survey. Financial concerns about coronavirus have, however, dropped steadily.
98 percent of athletes see their training regime as being important for their health and wellbeing.
81 percent see maintaining a training regime as being important for event goals this year.
National events are currently much more preferred than international event travel — 32 percent of athletes favor local/national events that involve travelling less than 30 miles. A notable 35 percent are willing to travel more than 100 miles for a national event. For international event travel, this resonates with less than 10 percent of respondents.
70 percent of athletes appear willing to tolerate some form of price rise to keep events viable in 2021. Around 30 percent are unsure, or unwilling to accept a price rise.
Virtual events have resonated with athletes — 60 percent of respondents have participated in a virtual run event during lockdown and 46 percent have participated in a virtual bike event.
47 percent have reduced their expenditure on endurance sport gear due to the pandemic and a reduction in opportunities to race. Post-COVID, 27 percent expect to increase on normal gear spending levels and 53 percent expect their endurance gear spending to return to normal levels.
"The importance of maintaining a training regime has come through very strongly from athletes," says Roethenbaugh. "This covers both a health and wellbeing aspect, as well as for building fitness – in anticipation of a race season of some sort in 2021.
"Not surprisingly, there is still caution in the air as the pandemic shows no sign of abating," he adds. " Yet, there is a sense that athletes are keen to get back to racing as soon as restrictions allow. This is in order to support local events, and in turn get back to the fun and euphoria that racing can provide."
For more: www.multisportresearch.com
3. Walking faster could help you live longer
Walking at an average pace was linked to a 20 percent reduction in the risk of mortality compared with walking at a slow pace, while walking at a brisk or fast pace was associated with a risk reduction of 24 percent, according to a new study. A similar result was found for risk of dying from cardiovascular disease.
According to an article in Marketwatch, the benefits were far more dramatic for older walkers. Average-pace walkers aged 60 years or over experienced a 46 percent reduction in risk of death from cardiovascular causes and fast-pace walkers a 53 percent risk reduction, the study found.
The findings appear in a special issue of the British Journal of Sports Medicine dedicated to walking and health, edited by Emmanuel Stamatakis, a professor of physical activity, lifestyle and population health at the University of Sydney's Charles Perkins Center and School of Public Health in Australia.
"A fast pace is generally five to seven kilometers (three to 4.3 miles) per hour, but it really depends on a walker's fitness levels," Stamatakis said in a statement. He has another suggestion to increase your heart rate: "Walk at a pace that makes you slightly out of breath or sweaty when sustained."
A recent Harvard University study concluded that individuals could add 10 years to your life by following five habits: eating a healthy diet; exercising 30 minutes or more a day; maintaining a healthy weight — a body mass index between 18.5 and 24.9 — never smoking and drinking only a moderate amount of alcohol.
3. The rise in at-home workouts has helped people run faster
At-home workouts are here to stay and with the start of running season as temperatures warm up Les Mills On Demand reveals specific core exercises that increase speed and decrease the risk of injury. Core exercises that have been scientifically proven to work – and are published in The Journal of Sports Medicine and Physical Fitness in a study that shows three-dimensional core exercises can improve running symmetry which helps achieve quicker run times.
And that is good news for the run business as the country emerges from pandemic isolation, as faster and healthier runners means more customers buying more gear.
Jinger Gottschall, associate professor at Penn State University (at the time of the study) and lead researcher of the Les Mills Running & Core Training Study, says her findings demonstrate that runners can improve their performance by focusing on integrated core exercises that target big muscle groups around the hips, lower back, glutes and abs.
"Running is a three-dimensional activity," Gottschall explains. "While your legs are moving forward in one plane, the movement of your arms and torso moving in another plane is also important for force production and running economy."
The six-week study, which engaged runners in the Les Mills CORE three-dimensional 30-minute program to test its effectiveness, revealed that:
Participants' running speed increased
Running economy improved (a measure of how efficient you are as a runner)
They decreased their five kilometer run times by an average of 66 seconds without a significant difference in mean heart rate
They increased their ability to hold a plank by over 60%
Ankle range-of-motion asymmetry decreased by 46% while running at level
"This research establishes the critical three-dimensional core component of running training," says Gottschall, herself a long-time running enthusiast. "Endurance athletes typically live by the slogan 'more is better' and simply run more miles. Our research demonstrates that integrated core training – so often a missing component - can improve performance and symmetry."
5. Casual Shoes to lead footwear sales this spring; running shoes are next
While casual shoes/sneakers are ranked as the most popular shoe choice this Spring, among 53 percent of likely shoe buyers, running shoes are second on the list with 32 percent, according to a survey commissioned by the FDRA as part of its Spring 2021 Footwear Buying Trends report.
Next in line are work shoes or other footwear (nine percent) and fashion-focused shoes (five percent).
Running or gym shoes are actually the most popular choice for the important 18-to-29 age group (49 percent), while ages 30-to-39 are split between running shoes (43 percent) and casual shoes/sneakers (47 percent). The majority in every other age category of shoe buyers plans to purchase casual shoes or sneakers.
Among other findings:
Shoppers were split on where they plan to purchase footwear this spring, with 45 percent planning on shopping in-store, 44 percent buying online shipped to their home and 11 percent buying online for in-store or curbside pickup.
A majority (52 percent) of respondents are very likely to purchase new shoes this spring.
Younger respondents are more likely to go shoe shopping, with 68 percent of those ages 18-to-29 and 61 percent of those ages 30-to-39 very likely to purchase, compared to 50 percent of ages 40-to-49, 48 percent of those ages 50-to-59, and 42 percent of those ages 60-to-69 who are very likely to purchase.
Using data from this survey and a Spring 2018 survey conducted by FDRA and Emerson College polling, there is a noticeable increase in online shopping by age category. Shoppers who ordered online to pick up curbside this year were placed into the in-store category. While the youngest shoppers, those ages 18-to-29, are shopping online at a slightly lower rate in 2021 (58 percent) than in 2018 (64 percent), all other age categories have seen a shift to e-commerce.
For shoe shoppers that plan to purchase in-store, a plurality (39 percent) plan to shop at a local store such as DSW or Famous Footwear, while 27 percent plan to shop at a big-box retailer like Target, 15 percent plan to shop at a department store like Nordstrom and 19 percent plan to shop at a different in-store location.