Running Insight editors were all over the place during The Running Event 2021, held Nov. 30-Dec. 2 at the Austin Convention Center in appropriately weird Austin, TX. After two years of virtual meetings and Zoom calls, the run specialty industry was anxious to get back together in person for three days of education, exhibits and networking. Here are some observations from the floor.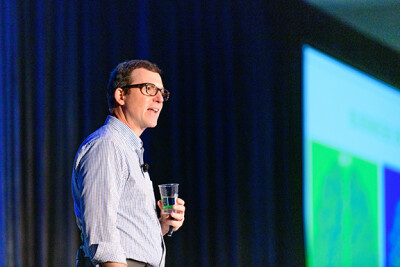 The 'I'm Not A Runner' Theme
The celebration kicked off with a keynote presentation by industry guru Parker Karnan, who said while most projections call for 10-25 percent growth for run specialty in 2022, he definitely comes down on the higher side of the estimates. Price increases that will average eight percent will contribute to this top-line growth, but the continuing running boom – fueled by new runners who don't necessarily consider themselves runners – will keep the momentum going well into the new year as the supply chain issues hopefully iron out by Q2.
The "I'm not a runner" customer was a recurrent theme through TRE, as most major vendors focused new product development on the customer who took up running during the pandemic and plan to keep at it – not necessarily by running a marathon, but by maintaining their healthy "non-runner who runs" lifestyle.
DEI in the Forefront
Attendees came to the keynote session to hear Karnan's insights and stayed for the "The Future of Running Is Diverse" panel discussion. It featured such heavy hitters as Fleet Feet's Joey Pointer, Pacers Runnings' Kathy Dalby, Britt Olson of On Running, who made the trip despite being on maternity leave, and Sasha Spencer Atwood, of the World Athletics Championships. Moderated by consultant Skot Welch of Global Bridgebuilders, the session was perhaps the most important – and, for many, uncomfortable – session ever held at TRE.
The discussion focused on the need for improved diversity efforts within the run specialty industry and how these efforts demand commitment. The fact that hundreds of people – retailers and brands alike – sat through it is testament to how important the session was. Diversity played a central theme through TRE as RIDC and others attempt to improve efforts.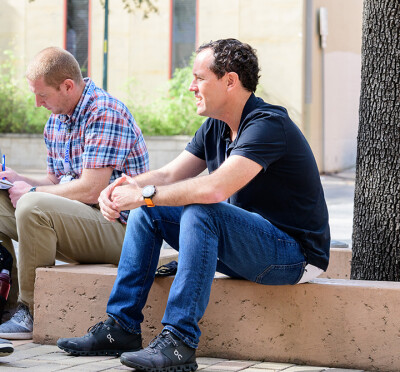 Good Timing For Fleet Feet
Having announced its major acquisition of the 60 JackRabbit stores a little more than a week earlier, TRE provided a well-timed opportunity for Fleet Feet to bring together its new and old stores to explain, well, what to expect for both the new and old stores. The franchisor held a private session for its members on the first afternoon to provide a State of Fleet Feet presentation by FF execs.
And Fleet Feet CEO Joey Pointer sat down – literally, on the sidewalk outside of the Austin Convention Center to allow mask-free conversation – with Running Insight senior writer Danny Smith for an exclusive chat to provide insight into how the JackRabbit deal came about and what to expect.
Pointer spent the rest of the week meeting with vendors to provide that same insight and we spotted him in deep conversation on a couch in the Brooks Running booth with Jim Weber. We would have loved to have been a fly on the exhibit wall to hear what those two were talking about.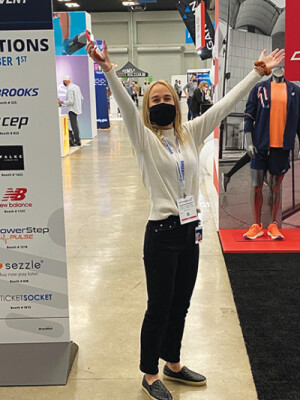 Masked Up
It took some getting used to, and there was a little bit of grumbling, but with safety protocols that mandated masks inside of all city-owned buildings, including the Austin Convention Center, in place attendees soon got used to what turned out to be a minor inconvenience. There was basically 100 percent compliance, except for the very few outliers who didn't understand you have to cover both your mouth and nose.
But everyone agreed it was a small price to pay for the chance to meet face-to-face (well, mask-to-mask). And it was much, much better than another virtual meeting.
And speakers did certainly appreciate the fact that they could remove their masks while speaking in front of the room. It made communicating much clearer.
IRL Explained
It seems the new pandemic-inspired term popular in business is IRL. It means "In real life," as in "I did my first IRL 5K last week."
The Broken Chain
Ongoing concerns about supply chain disruptions no doubt dominated conversations between retailers and their major vendors, from footwear to accessories. The general consensus is that it is something we all have to live with and as long as the vendors are upfront with the situation – allowing retailers to plan for late or partial shipments – then we can all get through this challenge together.
Most interestingly, many of the footwear vendors included very vague release dates for early 2022 product. The typical March 1 drop date, for example, most often became "Spring 2022." One vendor even printed its catalog with explanations of which products were in limited supply or will be delayed until mid-to-late 2022. Or, as one brand told us, "the launch dates are still a bit tentative, as we continue to work through some of the supply chain challenges." A sure sign of these times.
Very Happy Hours
One welcome addition to TRE this year was the preponderance of official Happy Hours on the show floor starting at 4 p.m. on the first day of the exhibition. Mimicking the atmosphere of the Outdoor Retailer shows, which have traditionally welcomed on-floor beverages, the TRE Happy Hours provided a wonderful exclamation point on a successful first day together.
And even before that, the ice cream truck at UnTapped provided an afternoon snack for hungry attendees.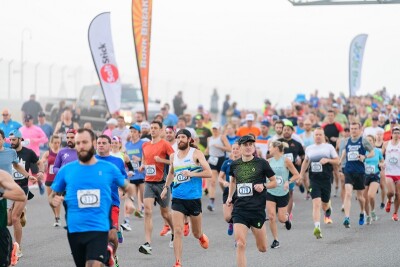 Early Runners Abound
TRE attendees know they have to get up early to get their daily run in and so they did in Austin, where the streets and running paths were filled with pre-dawn runners at organized and informal runs.
Highlighting the racing scene once again was the annual Indie 5K, what was billed as the "Too Fast, Too Furious" edition because it took place at the unique Circuit of The Americas venue that normally hosts the United States Grand Prix motorsports race. Here are the Official Results:
Fastest Male (Overall)
Dylan Marx, San Diego, CA: 14:04
Gatien Airiau, France: 14:19
Ben Anderson, Oklahoma City, OK: 14:31
Fastest Female (Overall)
Julie Wiemerslage, Chicago, IL: 17:25
Macie Gale, Eugene, OR: 17:26
Marisa Hird, Naperville, IL: 17:40
Fastest Manufacturer (Male)
Fastest Manufacturer (Female)
Fastest Retailer (Male)
Fastest Retailer (Female)
Fastest Store Owner (Male)
Fastest Store Owner (Female)
For complete results, click here.
RIDC Runs for Diversity
The other highlight was the Running Industry Diversity Council (RIDC) CommUnity Run, powered by Saucony, on Wednesday morning that brought together more than 300 running industry participants with a host of Austin diverse local run clubs. It was quite an event to complement the RIDC's efforts to educate the industry into long-overdue diversity efforts.
The Brooks Run for Naught
But the fastest retailers were probably those that raced back to the Brooks Running booth as TRE opened its doors on Wednesday morning to grab the pair of free shoes the brand traditionally hands out to early attendees. Trouble was there were no free shoes this year – some other swag took their place – but it was fun to watch nonetheless.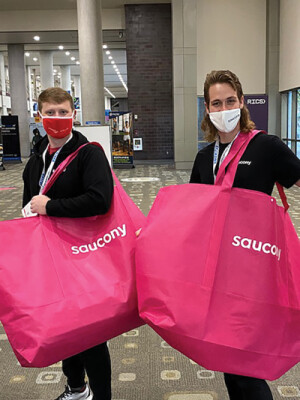 Pink Guerilla Marketing
The award for the most innovative in-show marketing has to go to Saucony, a major sponsor of TRE whose logo and Sock-A--Knee theme was ubiquitous around Austin. (We even saw a Saucony ad at the luggage carousel at the airport, but that may have just been a coincidence.) The best impact was the handing out of mega-sized fabric bags to attendees as they entered the hall as the show opened. It was funny to see people toting those huge bags into other footwear brand booths.
Even nicer, the Saucony-logoed food truck outside of the Hilton Austin Hotel provided a few lucky TRE-goers with an early breakfast on their way to the show.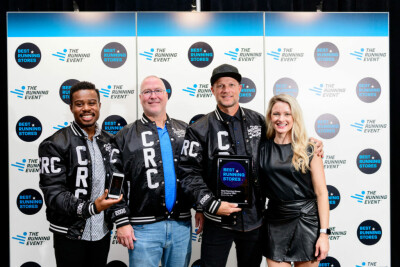 The Best of the Best
After three full days of education, exhibits and networking, The Running Event 2021 closed on Thursday, Dec. 2, with an appropriately festive evening honoring The Best Running Stores. Highlighting the evening was the announcement of Charlotte Running Company as the 2021 Store of the Year. Also receiving special recognition were the three other finalists for the prestigious annual award — Fleet Feet Montclair, John's Run/Walk and Run Hub Northwest.
And the Winners Are …
The Best Running Stores evening also featured the presentation of five sponsored industry awards given to well-deserving individuals and stores for efforts that went above and beyond normal retailing in a very challenging year. Here's a recap of the winners:
Brooks Run Happy Award. Chelsea Kipp, Mill City Running
Saucony Run for Good Award: Bull City Running
Skechers Performance Miles of Comfort Award: Run Detroit
Impact Award from On: Palmetto Running Company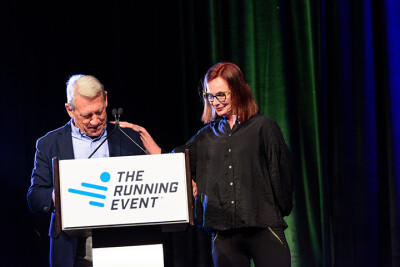 And finally, the most emotional award of the evening – the Ubuntu Award, presented by Balega – went to Bert and Tanya Pictor, the retiring founders of Balega who actually founded the award. It was a deserving and heartfelt tribute to two very deserving Individuals.
Finally, Our Favorites
We don't necessarily like to highlight one booth over another – we appreciate all exhibitors and sponsors for their support of The Running Event – but Running Insight editors got together and voted on our favorite booths/products. Our own results:
Taser Self Defense. Self-defense is on everyone's minds these days and run retailers might want to consider carrying these protective devices, the same as law enforcement wields. There are different variations, but the concept is the same – self-defense on the run. We loved the demonstrations of the power, although we didn't see anyone actually get tased during TRE.
Bluetooth sunglasses, who would have figured? But Lucyd not only had a cool collection of sunglasses with Bluetooth audio designed right into the frames, but a computer-generated "virtual try-on" feature on a computer let you see how you looked without even putting the glasses on. We kept bringing people over to experience it.
With carbon fiber all the rage in shoe design, we went right to the source and spent some time with Carbitex founder Junus Khan. His explanations of what carbon in its many forms can do in modern running shoes helped us to look smart when we sat down with all of the shoe brands incorporating the new miracle fiber in various forms into their shoes. Plus his business card was made out of carbon fiber – how cool!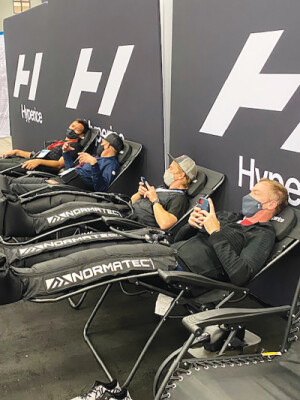 Sitting down on the job while testing product is one of our favorite ways to work a trade show, and Hyperice provided just the opportunity with its row of comfy chairs and Normatec Legs. Talk about rejuvenation in the middle of the day.
And finally, we were more than impressed with the combination Sock Bar and New Product Showcase put together by the show organizers. Saucony was voted the best new product and Stunt Puppy's simple doggie bowl was runner-up, and dozens and dozens of free socks were handed out, making the corner spot one of the busier locations on the show floor.