Resiliency and creativity have long been hallmarks of the run specialty channel, which boasts a lengthy history of confronting market forces head on and finding paths to success and sustainability.
Consider the enterprising running store in a frigid, hockey-mad college town.
Or the run specialty chain in Alaska and the blossoming two-store operation in Sin City.
Across the U.S. landscape, running shops exist and thrive in some of the most unlikely places, overcoming the inherent challenges of their environment – and, more recently, a global pandemic – with a mix of entrepreneurial fire, spirited solutions and customer-centric focus.
In daylight-starved Alaska …
Up against it: Skinny Raven, a 26-year-old operation with two stores in Anchorage, including its 4500-square-foot downtown flagship, faces an uncharacteristic seasonal pattern. While Anchorage isn't much colder than "Lower 48" running hotbeds like Madison, WI, or Des Moines, IA, its long winter covers the city in darkness for upwards of 20 hours a day and typically delivers more than six feet of annual snowfall. And when runners do make it out, they risk encountering a potentially testy opponent: moose, who can become aggressive when hungry, tired and wading through deep snow.
Overcoming the odds: Despite the city's challenging conditions, Anchorage boasts a year-round running community, something Skinny Raven has fostered over the years through nearly a dozen of its own community events and free weekly pub runs from various local watering holes.
"Being active outdoors with others is your savior in an Anchorage winter," Skinny Raven GM Aimee Chauvot says, noting that Anchorage runners do enjoy some 30 miles of regularly groomed running trails as well as rather swift access to scenic trailheads.
One of Skinny Raven's most popular events is a 5K run on New Year's Eve, an event held at 6:00 p.m. on the local trail system. Though pitch black outside, the Skinny Raven crew irradiates the race route with party lights and illuminated tunnels.
"We put energy into this, but the community spends it back with us," Chauvot says.
Skinny Raven also stocks its two storefronts with relevant gear. Its winter selection, for instance, includes gritty technical footwear from the likes of Icebug and Salomon as well as an array of reflective products such as bracelets, lights and battery-powered running vests. Most residents make strong efforts to buy local, especially since online shopping isn't as kind to Alaskan residents.
"We never take it for granted that we operate to serve our customers," Chauvot says.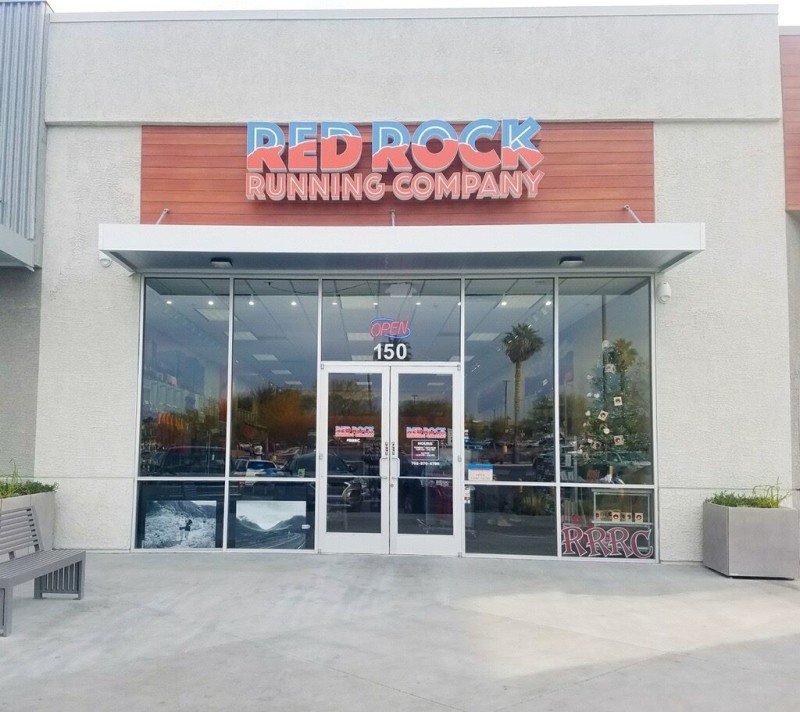 In sweltering Sin City …
Up against it: Beyond the obvious weather challenges in its desert climate – on average, one out of every five days in Las Vegas hits triple digits – Sin City has struggled to establish itself as a runner's mecca. Despite several different local running groups, there isn't much of a collaborative spirit, says Mark Jimenez, who purchased Red Rock Running Company with business partner, Joshua Deuermeyer, in 2018. Hosting a rather transient population and being a 24-hour town makes it hard to build community.
"Most businesses are open all the time, so no matter when you're scheduling something, you're cutting out parts of your population," Jimenez says.
Overcoming the odds: Jimenez and Deuermeyer have worked to cultivate community at both of Red Rock's Las Vegas area locations by hosting three weekly runs, implementing an ambassador program, spotlighting community members on the store's digital channels (a blog, newsletter and social media) and deepening the stores' ties to the more than 40 high schools in the metro area.
"We've created a social environment that's building our tribe," says Jimenez, a local high school math teacher and coach.
Red Rock has also worked to build strategic alliances with community partners. To wit: the store hosts an invitation-only event for incoming police recruits, who must show up on day one of the academy with a pair of running shoes in hand. The event includes injury prevention tips and information on selecting the proper footwear.
"We're working hard to become known as the running experts in Las Vegas," Jimenez says.
As for the heat, Red Rock doesn't cower from those triple-digit days and continues holding its regular group runs throughout the summer months, albeit with social distancing and face coverings these days.
"It could be 108 degrees outside, but we're still here," Jimenez says.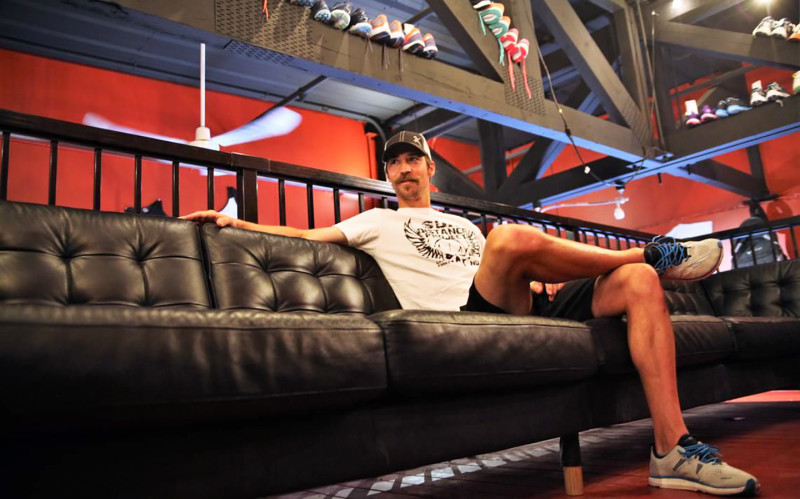 In a frigid, hockey-mad city …
Up against it: Grand Forks, ND, is America's second-coldest city, trailing only Fairbanks, AK, and stands a hockey-mad town dominated by one the nation's premier collegiate hockey programs, the University of North Dakota Fighting Hawks.
"If we were dependent on runners to keep us around, we would have been out of business in six months," See Dick Run owner Richard Dafoe says.
Yet more, Dafoe adds, run specialty stands a rather foreign idea in North Dakota, which claims but three run specialty shops in the entire state. Scheels, a regional sporting goods powerhouse, has a store in Grand Forks, while its corporate headquarters sits in nearby Fargo.
Overcoming the odds: A local high school cross country and track coach, Dafoe opened See Dick Run in November 2015 and immediately capitalized on relationships with athletes, coaches and families to form the foundation of his business. As the track season approaches, See Dick Run hosts pre-season speed training for local athletes on its high-quality, in-store treadmill, while two youth events – a fall cross country series and an indoor mile at the University of North Dakota football stadium – have further established See Dick Run as the local running scene's most ardent champion.
"We make the sport accessible, fill in the gaps and help youth get more involved," Dafoe says.
With an unrelenting focus on customer service and the fitting experience, See Dick Run has earned a solid reputation with local healthcare and fitness providers, thereby extending its customer base beyond runners. The store confronts Mother Nature's wrath, meanwhile, with a mix of carefully selected product, including traction aids, Craft apparel and insulated running jackets, as well as a year-round brewery run that blasts the #OptOutside hashtag on social media to encourage outdoor activity.
"All of this helps us push back against the challenges of big box, online and weather," Dafoe says.