She is … Rebecca Hohenstein, the owner of Tortoise & Hare Sports. Hohenstein and her husband, Nathan, opened their Glendale, AZ-based store in 2012.
She has … 3 children – Finnigan (9), Gabriel (7) and Quinn (3).
The biggest challenge of balancing motherhood with owning a running store: Time management, Hohenstein says. "It's hectic balancing small business ownership with the demands of kids, school and extracurriculars. You have to have a calendar and be flexible – starting earlier on store business one day or working on the weekends – while still being mindful and present with the kids."
Hohenstein sees clear parallels between business ownership and parenting and tries to apply the same guiding principles at Tortoise & Hare – connecting with others and serving individual needs, for example – to parenthood. Gabriel, for instance, likes bedtime reading with his mother.
"I reflect on how I'm connecting with my kids at home and how I can serve each of them in the best way," she says.
And instead of viewing the work-life balance as an unavoidable curse, she embraces it as a blessing. Hohenstein, for example, was able to bring each of her children into the shop – and even to The Running Event – as nursing infants.
"I was lucky to have that flexibility as the business owner and it helped from a bonding standpoint," she says.
Hohenstein also calls "finding a tribe of other moms" important. When Finn was an infant, Hohenstein leaned on the perspective of two other moms working at Tortoise & Hare. One showed Hohenstein how to exercise kindness, compassion and patience; the other shared organizational strategies.
"With other moms, I can sift through challenges and realize I'm not the only person struggling," says Hohenstein, adding that connecting with other moms underscores another key parenting lesson. "As parents we can be so hard on ourselves, but it's important to give ourselves grace.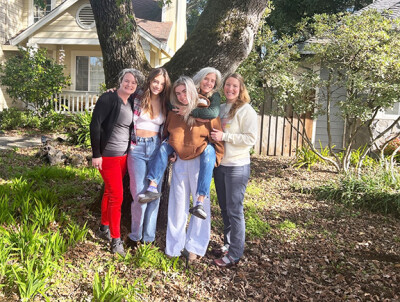 She is … Rhonda Roman, the owner of Fleet Feet Santa Rosa since 1997. In 2007, Roman became the sole owner of the store and a single mother following a divorce.

She has … two children – Maddie (20) and Avery (18).
The biggest challenge of balancing motherhood with owning a store: "Both as a business owner and a mom, the to-do list can grow exponentially each day, but you only have a certain number of hours you can put into each day."
After her 2007 divorce, Roman had to decide whether to keep the store or return to her previous life in public health. While choosing the latter would have been more financially robust, she remained in running retail because of the flexibility it afforded her as a working mom — and the passion she had developed for it.
Still, Roman admits it was tough to find personal and professional equilibrium, especially since she didn't have family to lean on. However, two of Roman's young employees – Cassondra Combs and Chandra Farnham – became trustworthy allies, contributing not only at the store but at Roman's home, where they became de facto older sisters to Maddie and Avery.
"Cassondra and Chandra helped me keep the business afloat and my family together," Roman says, adding that her immediate post-divorce years underscored the importance of asking for help. "When you surround yourself with good people and you help them, they want to help you back."
Roman's other important lesson: compartmentalization. Whenever she thought of her daily to-do list as mom and small business owner, she prioritized the most urgent matters and the most feasible tasks.
"If I didn't compartmentalize and focus, then it became too overwhelming to get anything done," she says.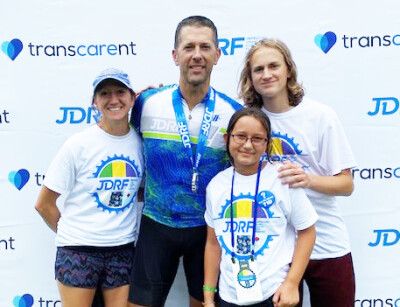 She is … Jessica Anderson, the owner of Fleet Feet Madison in Wisconsin alongside her husband, Matt. The couple opened their first store in 2005 – before becoming parents – and added a second store to the mix in 2014.
She has … two children – Cooper (15) and Maleena (11).

The biggest challenge of balancing motherhood with owning a store: "The constant tug of putting your family first while also understanding your livelihood depends on the income of the store."
Though admittedly easier said than done, Anderson calls investing in full-time personnel key to cultivating a strong work-life balance. Absent external help, the scales can quickly tilt toward the store. She and Matt have worked hard to identify the strengths of capable staff members, delegate tasks or responsibilities to them and, most critically, offered benefits like health care and paid time off to drive staff retention.
"That's been good for the business and also my personal life, allowing me more flexibility as a parent to find the right balance," she says. "You're never going to be able to do everything all by yourself, so it's necessary to find the right people and create a culture at the store where people want to stay."
Anderson also favors honesty as the best policy. She is candid with Matt as well as her two children.
"I don't miss much – I take my kids to school in the morning and go on field trips – but I explain to my kids if I'm going to miss something," says Anderson, adding that she also exposes her children to the business so they can see the work environment of their parents and understand its dynamic. "My kids know about going to a race two hours early because that's what's called for."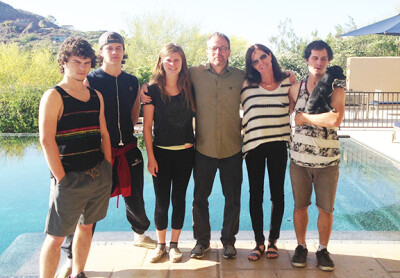 She is … Tiffany Cruickshank, who opened Peak Running in Downers Grove, IL, in 2014. Cruickshank has since added three additional Peak Running stores – two more in suburban Chicago and another in Breckenridge, CO – as well as Peak Lifestyle in Hinsdale, IL.

She has … four children – Masen (28), Austen (25), Mackensie (23), Aidan (21).
The biggest challenge of balancing motherhood with owning a store: "Feeling guilty that I wasn't the same mom for my kids once I became a business owner."
When Cruickshank opened her first store, her children ranged from middle school to college and her move into running retail represented a drastic shift from the mom-at-home life they had all known. Though she missed soccer, football and rugby games, she worked hard to maintain normalcy – "The kids still had a full breakfast and left with packed lunches." – and to keep family as her priority. During a recent conversation with her kids, they each confirmed she succeeded in that realm and that they never felt secondary.
"That made me feel good as a mom," Cruickshank says, admitting it can be tough to see the positive amid the entrepreneurial grind — and guilt.
But now that her four children are all in their 20s, she sees a benefit to building a business from the ground up while they were off at school and involved in their different extracurricular activities.
"My kids walked away with a clear example of how hard work and grit lead to good results and that's a positive in the big picture," Cruickshank says. "Them seeing the fruits of determination, growth and putting yourself out there far outweighs the guilt I often felt back then. It's actually magical to hear them talk about what we've built at Peak."